This airplane addon is useful for anyone who usually needs to travel long distances to transport items from one location to another. Besides your own inventory you will also be able to access the inventory of the airplane which can in total include hundreds of different items. It's also useful in case you want an airplane but don't necessary want it to start shooting whenever it sees something hostile.
Creator: Gona, Twitter Account
How does it work?
The wooden airplane replaces chickens.
The main advantage of this aircraft compared to the other ones is that it got 27 slots of empty storage space. Access the inventory and load it up with whatever items you need to bring on your trip.
iOS / Android: Sneak and long press on the airplane to open the chest
Windows 10: Sneak and right-click it to open the chest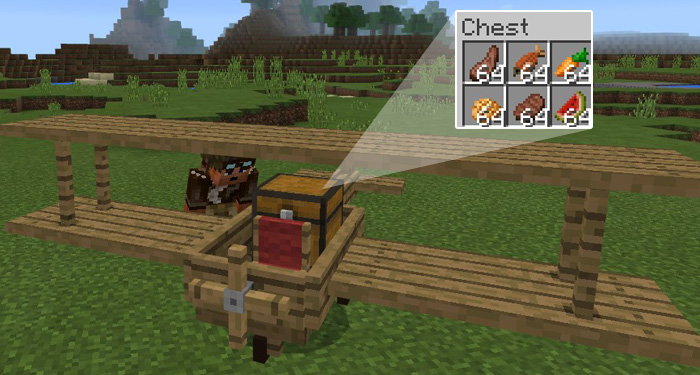 Once you've loaded up the vehicle with the items you need then it's time to take a seat and get going.
iOS / Android: Long press on the aircraft and press Ride
Windows 10: Right-click on the aircraft
Hold an iron sword to control the direction of the airplane. Throw some petrol cans (snowballs) at the airplane to make it start flying.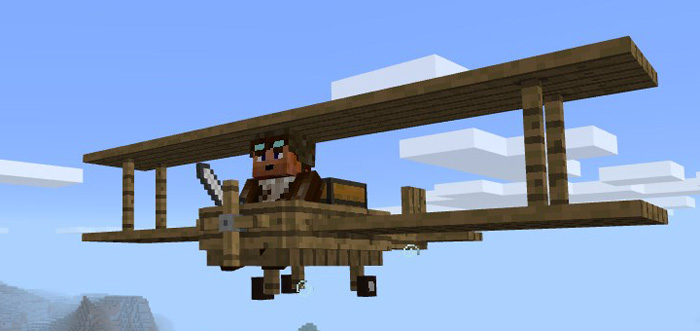 General Features
Replaces the chicken
Rideable, use an iron sword to control it
27 chest slots
Health: 15 hearts
Installation
Activate the packs for a world in-game
You can get a .ZIP file for this addon here.