This addon replaces a couple of the mobs in-game with a bunch of world famous wrestlers and one referee. There are lots of ways you can make use of the addon. For example, you can set up fights and bet on the fights (for fun) or you can arrange fights with you (or your friends) versus the wrestlers. However, wrestling in Minecraft is basically fight to death with no exceptions.
Creator: umerkk164, Twitter Account
How to arrange a fight?
The wrestlers replace some of the mobs in-game. You can initiate a fight between two (or more) wrestlers by spawning them close to one another. Players can either sit back, relax and watch the fight or switch to survival mode and participate in the fight themselves.
Wrestling in Minecraft is a little different seeing as a fight will only stop as soon as one of the participants have died. But to make things less brutal maybe you could just pretend one is knocked out instead.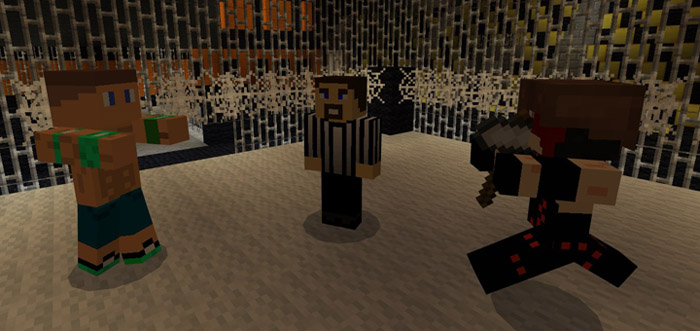 The wrestlers include Kane, The Undertaker, John Cena, Randy Orton and Brock Lesnar. All of them replace hostile mobs which will fight one another (and players). Included is also a referee but he won't do anything, but his presence definitely makes the match seem more realistic.

Installation
Activate the packs for a world in-game
Other Files