Formerly known as Xchange. MineConomy is a feature intended for people who kept working – mining, crafting, digging, resource gathering! Now you can see all your hardwork (with experience levels) and use it for your own deed! With MineConomy, you can use your experience levels for some items you need – shulker boxes, foods, basic stuff and much more!
Normally, in Survival mode, you'd gain experience levels by breaking blocks, trading with villagers, and doing other certain activities such as killing mobs, etc. And, on the other hand, you can use them by enchanting or repairing your tools and armor.
With this function's pack, you can exchange it for resources, and items!
Commands & Usage
I. Primary Commands
/function xc/help

shows the main help page and also informations for other commands included. Such as follows:

This command also shows the current version, pack's name, and if you are on Creative or so.
B. Exchangeables
》 Basic Resources:
/function xc-list/basic
These resources mainly found in your natural world. Price exchanges may vary from the item.

》 Foods: /function xc-list/food
Provides cooked food and some other foods that does not need cooking. Price exchanges may vary from the item.

》 Ores/Minerals: /function xc-list/minerals
Naturals ores found deeper in your natural-generated world. Price varies depending on the ore rarity.

》 Rare Items: /function xc-list/rare
Rare items that are only obtained from certain places, and very rare drops from only certain mobs, etc. Price varies from the item rarity.

》 Shulker Boxes: /function xc-list/shulkerbox
Undyed shulker box costs only 10 XP LVL. Colored ones costs 16 XP LVL each. 15 different color variants, and an ordinary undyed one.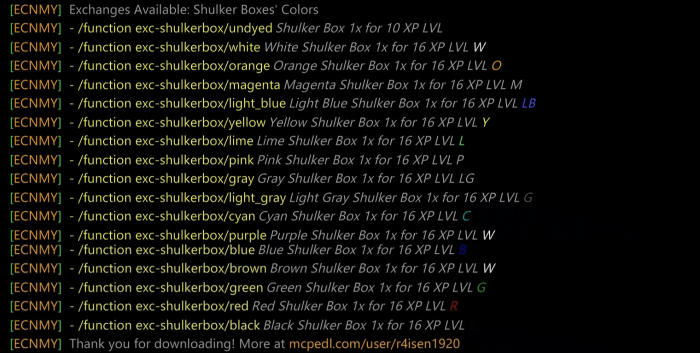 》 Kits: /function xc-list/kits
Exchanges for armor, tools, and other useful things in one go. Price may vary depending on the quality of the tools exchanged for.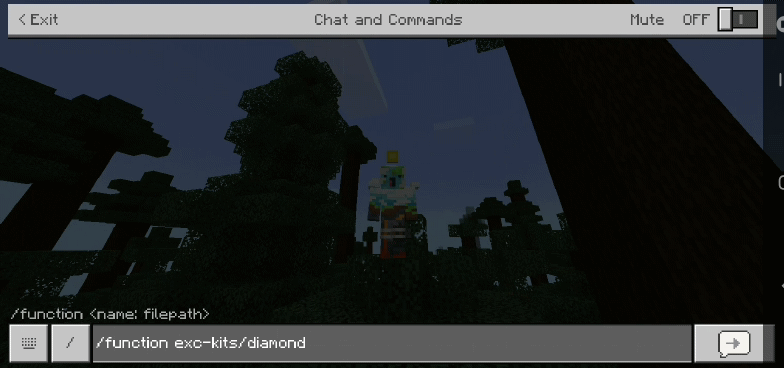 C. Exchanging Information
Once exchanged, you'll see a message will appear to confirm your purchase.
If by any chance, your exchanging fails, a confirmation message should appear ( ie. If you don't have enough experience levels or If you are in Creative )

MORE INFORMATION
A. Reminders
You can play this on any map, but requires with cheats on. But by using its file components is not really tolerated! Consider requesting for my permission before doing so, that is.
Works on 1.11 Bedrock Minecraft or above. May require to turn experimental gameplay on.
B. Additional Credits
Major command syntax changes
Changed the entire pack name
Added more exchanges as listed above.
Main Additions and Changes
Added Kits - a new exchangeables that'll allows you to buy some useful tools and items with a single command - all in one kit!
Adventure gamemode support - now you can freely buy at Adventure mode, the same as buying in the Survival mode!
Additional Info
Feel free to use this Function Pack in your maps! Just make sure to do proper crediting - whether if its for private or public use! Also, please inform me about it before doing so.
Some hotfix, and changes include:
Fixed Grass exchanging giving 32x instead of 64x.
Changes in some texts, such as correcting color indicator in shulker boxes list of Gray and Light Gray; as well as some other texts in lists.
No additions for exchanges. Some minor hotfix and translation only.
Russian translation provided by Jivk. Optionally available to download seperately in order to support him.
Jivk on Youtube: https://bit.ly/2KfDscY
Download from one of the download links (RU), and is available in .mcpack and .zip versions!
Installation
Ad? Follow these steps!
Click the download button below
You should be redirected to an Ad. 
Patiently wait for 5 seconds, then  click Skip Ad after
Now, you will be redirected to a dropbox link where you can download the functions pack.
In regards to installation, you may read the ReadMe.txt file within the same folder of it as well.
Downloads
Supported Minecraft versions
1.11
1.12
1.13