yBiomesCraft is here! Have 25 FULL NATURAL GENERATION biomes in your game! For you to have fun with many new trees, structures and biomes very interesting and great to complete your survival and their worlds!
The diversity of biomes to make your game even more exciting is so huge! Frozen, cold, flooded, hot, tropical, islands, flowering, muddy biomes among many other different types !!
I recommend you install ExoticBiomes next to yBiomesCraft to get 50 new biomes in your game.
Creator Channel (Brazilian): yBrothers
Creator Twitter: @GabrielCas29007
THIS ADD-ON CANNOT BE PUBLISHED IN APPLICATIONS LIKE:
Mcpe master
Add-ons for minecraft
UTK.io
And in NO other add-ons app! It is unique to MCPEDl, disregarding this requirement can cause various problems.
It can NOT be published on other sites or create applications!
Always leave credits !!
ATTENTION! IF YOU ARE RECORDING SOME VIDEO, YOU HAVE NO AUTHORIZATION TO MAKE YOUR OWN DOWNLOAD LINK, USE THE AVAILABLE LINK, OR SHORT JUST THE ADDON OFFICIAL PAGE LINK ON MCPEDL!
ATENÇÃO! CASO VOCÊ FOR GRAVAR ALGUM VÍDEO, VOCÊ NAO TEM AUTORIZAÇÃO PARA FAZER SEU PRÓPRIO LINK DO DOWNLOAD, USE O LINK DISPONÍVEL, OU ENCURTE APENAS O LINK DA PÁGINA OFICIAL DO ADDON NA MCPEDL!
yBiomesCraft!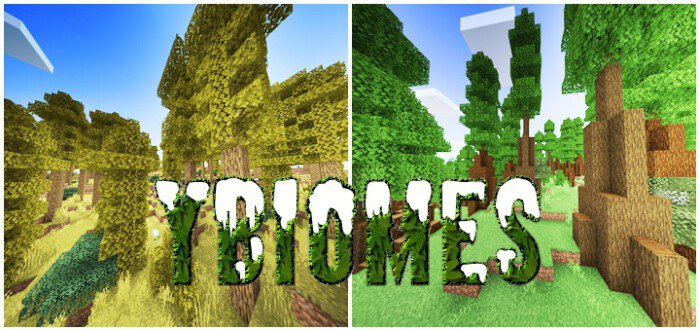 25 amazing biomes for your worlds! Here you can find rare biomes and more common biomes, and even sub-biomes!
The biomes are completely natural generation, this means that NO structures will appear throughout your game!
The biomes are already generated and rendered with their own trees!
Check out the list of biomes, with their photos and a brief description of each!
Biomes are not invasive and the rarity of some is still being worked on!
You can find game animals through biomes and lots of wood, so biomes are great to survive!
Savannah of Baobabs!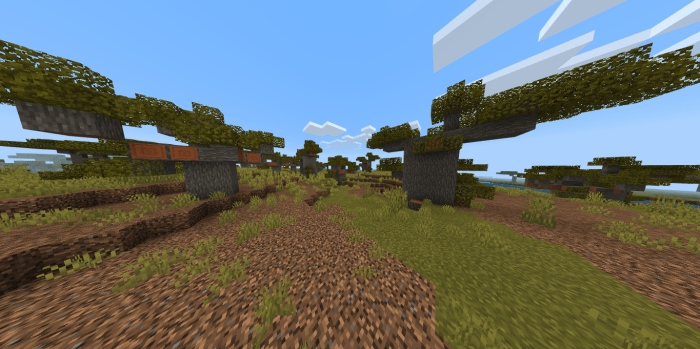 New savanna variant, found near hot biomes like savannas and deserts, filled with large, majestic baobabs!
Rarity: Common
Bayou!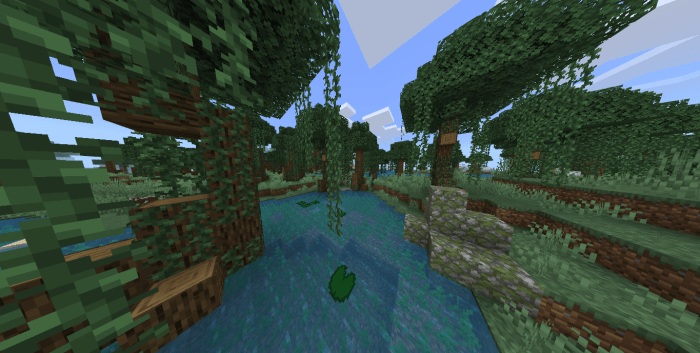 Cold swamp, with tall, murky custom trees, lots of vineyards and some mangroves and custom rocks!
Rarity: Average
Alps!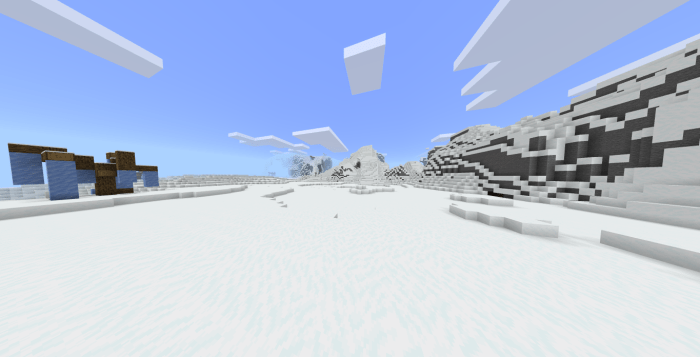 Rocky mountains, covered by a large and thick layer of soft snow! You may find little vegetation and some dead and frozen trees!
Rarity: Little Rare
Bog!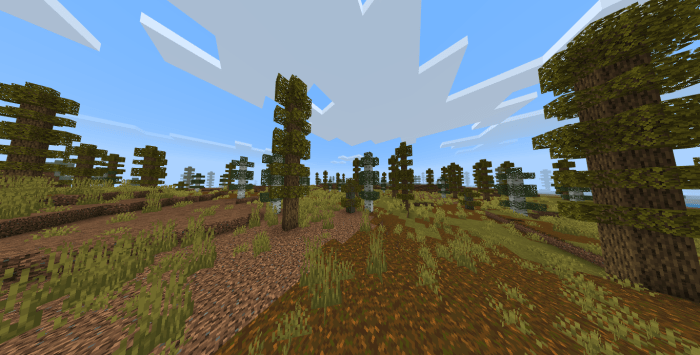 Plain warm and muddy, with some wells and lots of dry and cloudy trees! Here you can find three types of wood! Acacia, Birch and Oak!
Rarity: Common
Brushland!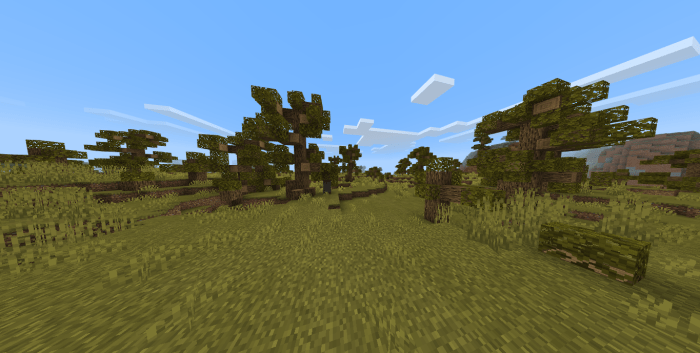 Plain drought with crooked and dead trees, wide variety of dry vegetation! You can find a lot of area and tree customization in this biome, as well as wood and animals!
Rarity: Uncommon
Charparral!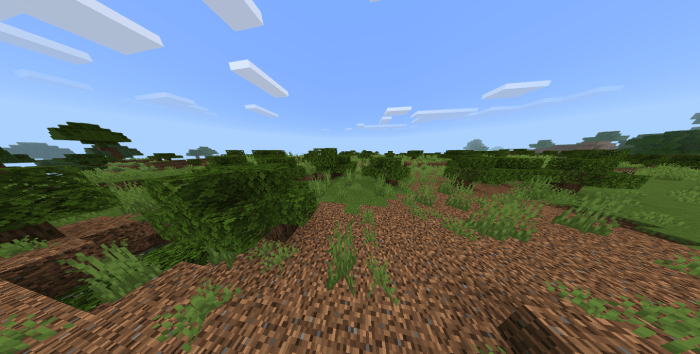 Plain seasoned with loads of coarse dirt and grass! You will also see in this biome a vegetation of small sneaky trees!
Rarity: Common
Cherry Forest Flower!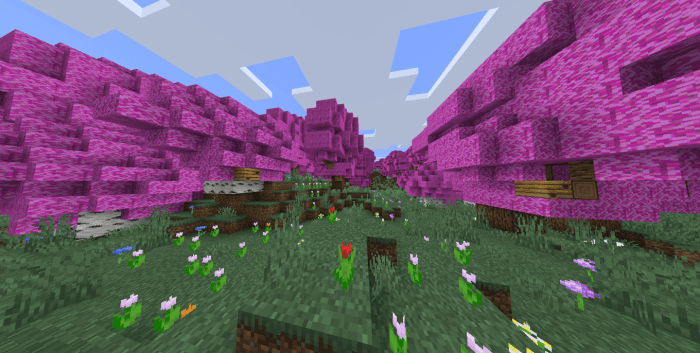 Cold forest full of cherry trees, flowers and hives! Through the cherry leaves you can get fruits!
Rarity: Average
Dead Forest!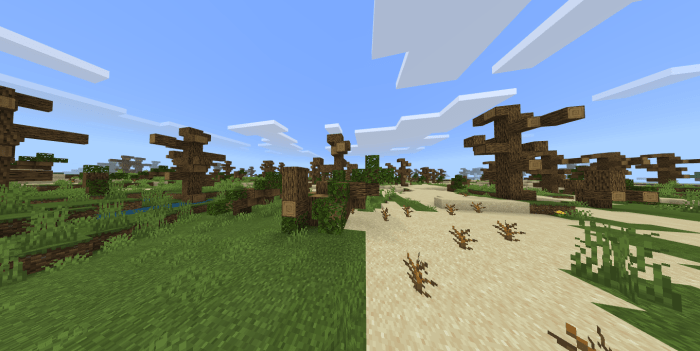 Forest full of dead trees, dead bushes and some undergrowth and almost lifeless vegetation! It has a lot of sand and dry wood!
Rarity: Uncommon
Deciduous Forest!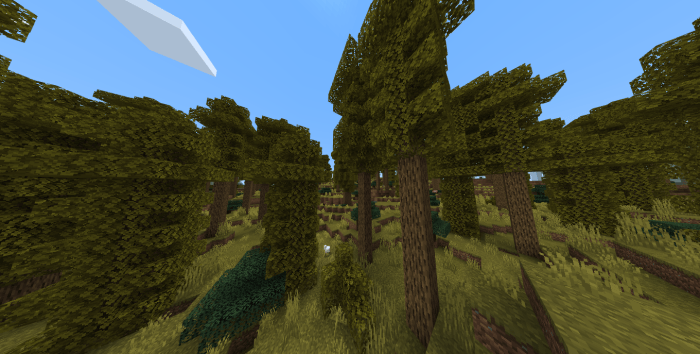 Dry / temperate forest with majestic tall trees and small shrubs of other varieties!
Rarity: Common
Coniferous Forest!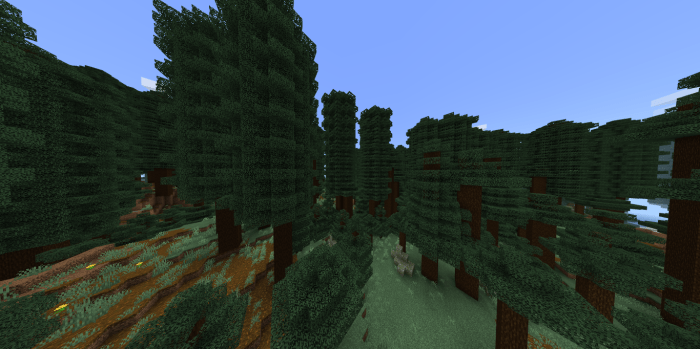 Cold forest with large conifers and mixed soil between thick dirt and mud, and lots of grass and rocks!
Rarity: Common
Snowy Forest!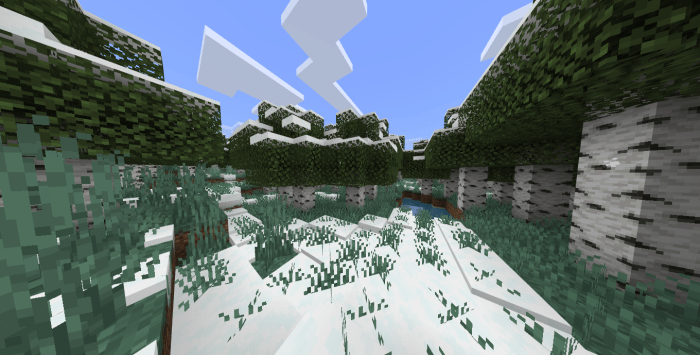 Cold and dense birch forest!
Rarity: Uncommon
Flower Plains!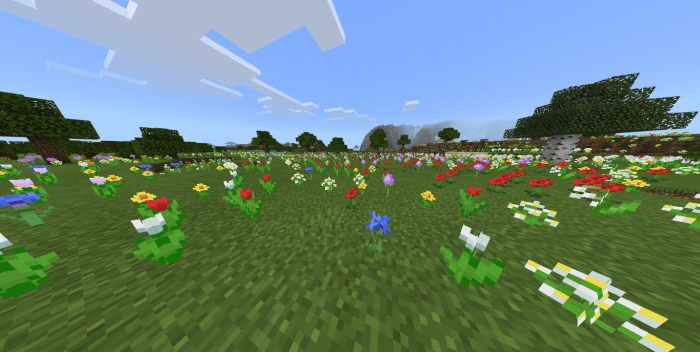 Landscape completely covered with flowers and some beehive trees!
Rarity: Rare
Frozen Crystal Forest!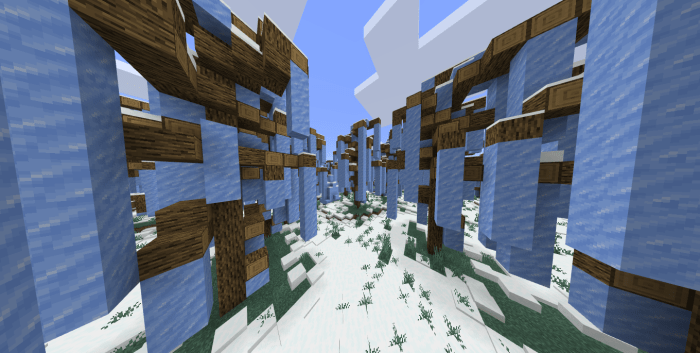 Frozen forest full of dead and fully frozen trees! With big ice crystals!
Rarity: Uncommon
Fungi Forest!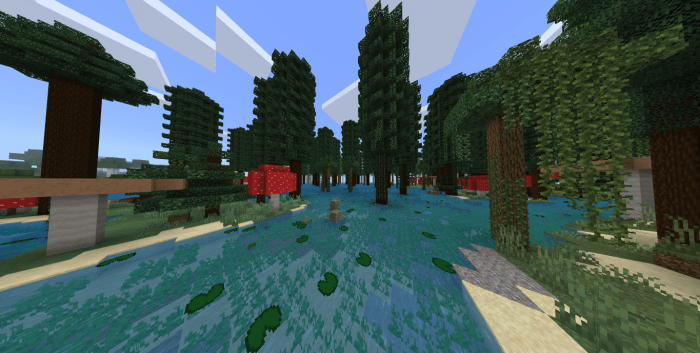 Cold swamp of coniferous trees and full of large mushrooms!
Rarity: Rare
Fungi Swamp!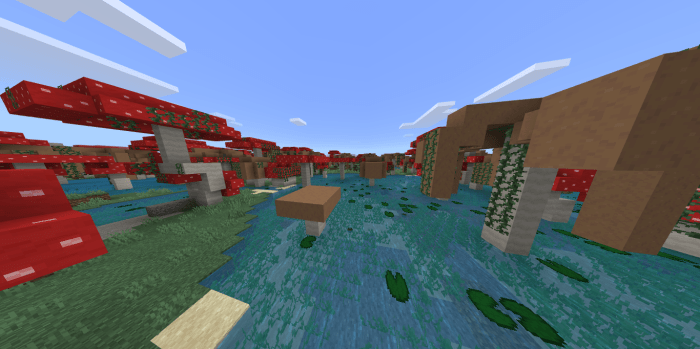 Swamp full of large mushroom trees, remodeled and in various styles!
Rarity: Rare
Glacial Mountains!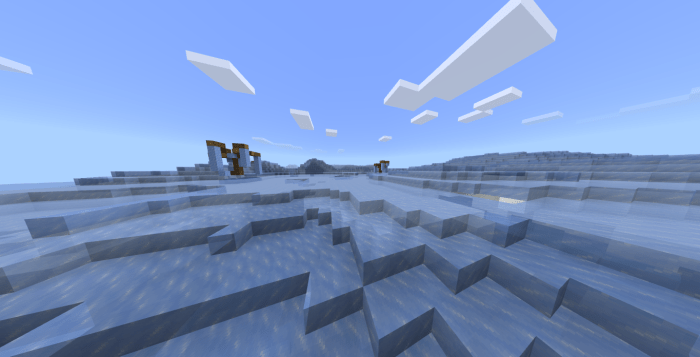 Snowy mountains covered by a thick layer of ice! With some dead and frozen trees, etc!
Rarity: Rare
Grove!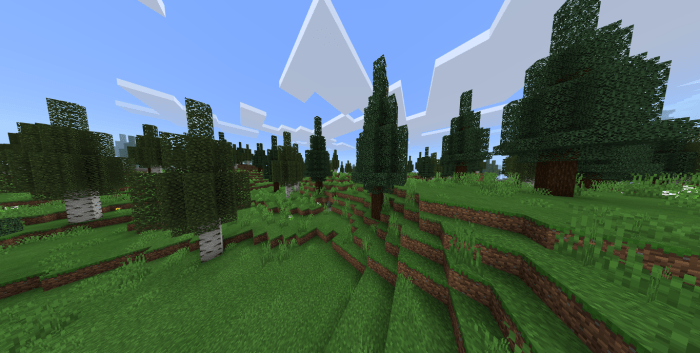 Temperate forest of birch and pine trees, completely refurbished and majestic!
Rarity: Common
Lush Swamp and Lush Desert!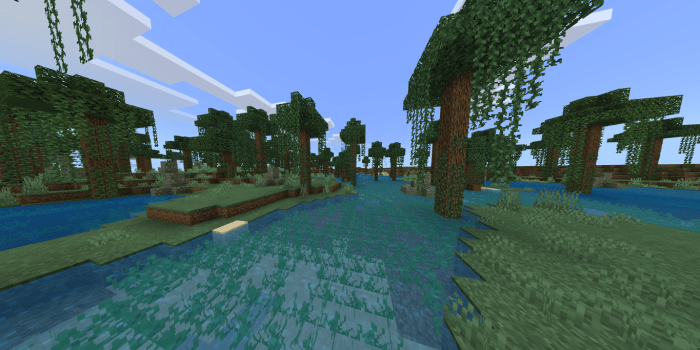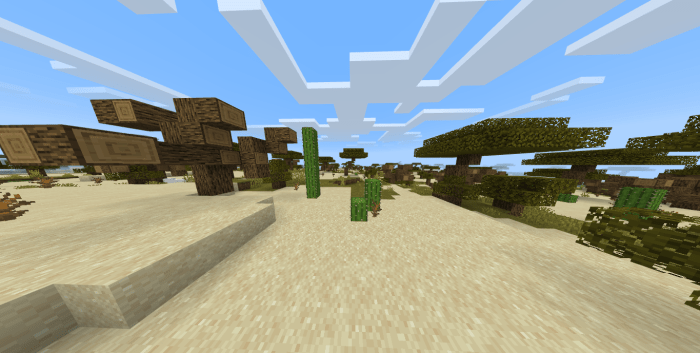 Luxurious desert and swampland, with tall trees and beautiful, tall, combinative and majestic structures!
Rarity: Uncommon
Mangrove!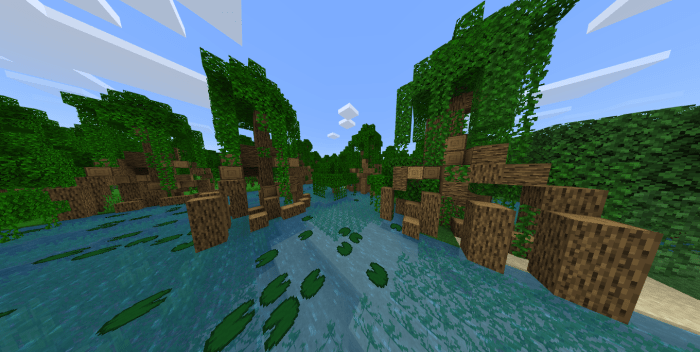 Mangroves full of custom trees and full of great roots! And a lot of water!
Rarity: Common
Oasis!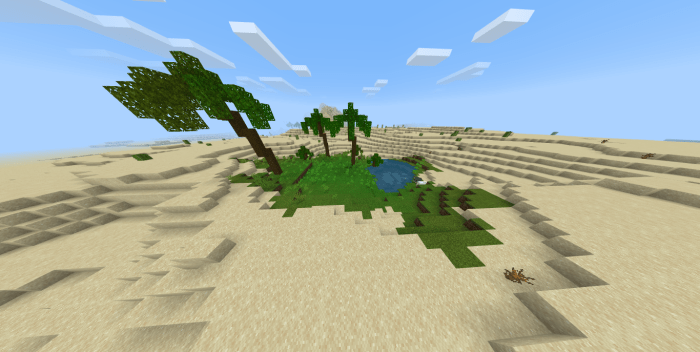 Oasis is a sub biome found in the hot desert, here you will find palm trees, coconut trees, typical vegetation and lots of water!
Rarity: Common in deserts!
Redwood common Forest!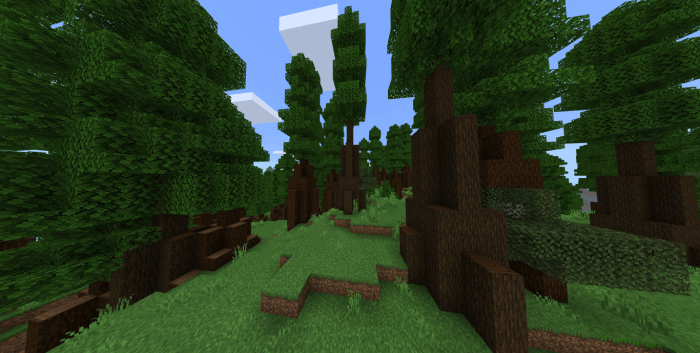 Temperate forests with thick, tall and majestic trees! Beehives, flowers and bees also appear here!
Trees with spruce wood and dark oak wood!
Rarity: Common
Redwood oak Forest!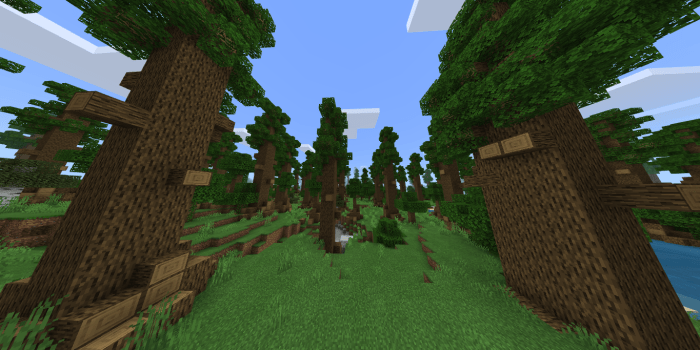 Temperate forest full of large oaks and tall redwoods (sequoias)! You can also find Bees and Beehives!
Rarity: Common
Shield!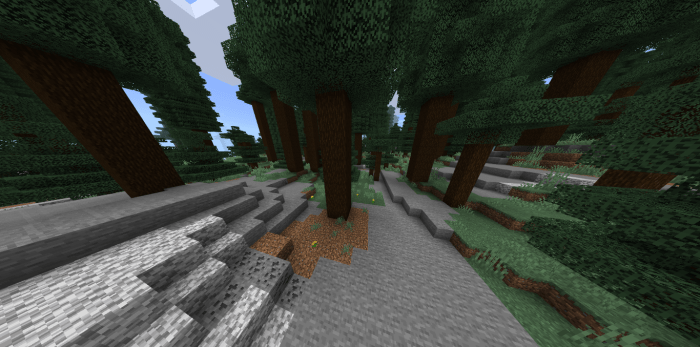 New coniferous forest mixed with taiga, temperate / cold climate, with lots of rock and tall trees!
Rarity: Common
Tropical Island!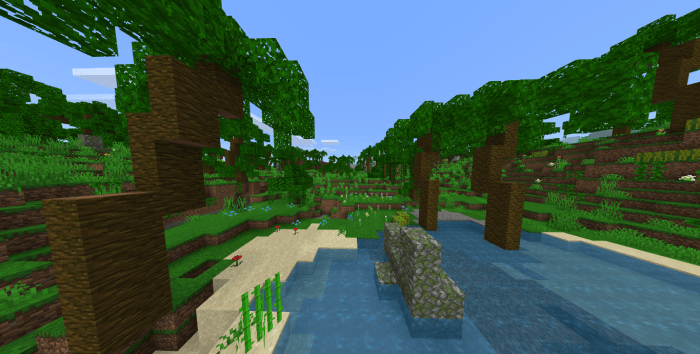 Tropical ISLAND full of flowers, watermelon, vineyards, coconut palms, palm trees, jungle trees and very nice weather! In addition to super clear and warm water!
Rarity: Common for the deep oceans!
And there's more:
These are all biomes present for now in the add-on! They are easy to meet, but they are not too invasive!
Have animal spawn so you can get your resources like meats, litter, wood, stones, etc!
All biomes have caves and are adapted to not disturb their survival!
In some cases you may be lucky to find a rare biome right in your spawn!
Have fun with these new 25 add-on biomes!
Downloads
Supported Minecraft versions
1.14