Candy Island Addon is released! With it you can explore gigantic biomes completely made out of sweets! With over ten new structures, dungeons and more!
Check all the information in the description, any questions – contact the developer!
IT IS PROHIBITED TO CREATE APPLICATIONS AND PUBLISH THIS ADDON ON OTHER WEBSITES WITHOUT AUTHORIZATION FROM THE ADD-ON CREATOR !!!
Creator Channel (Brazilian): yBrothers
Creator Twitter: @GabrielCas29007
Always leave credits !!
ATTENTION! IF YOU ARE RECORDING SOME VIDEO, YOU HAVE NO AUTHORIZATION TO MAKE YOUR OWN DOWNLOAD LINK, USE THE AVAILABLE LINK, OR SHORT JUST THE ADD-ON OFFICIAL PAGE LINK ON MCPEDL!
ATENÇÃO! CASO VOCÊ FOR GRAVAR ALGUM VÍDEO, VOCÊ NAO TEM AUTORIZAÇÃO PARA FAZER SEU PRÓPRIO LINK DO DOWNLOAD, USE O LINK DISPONÍVEL, OU ENCURTE APENAS O LINK DA PÁGINA OFICIAL DO ADD-ON NA MCPEDL!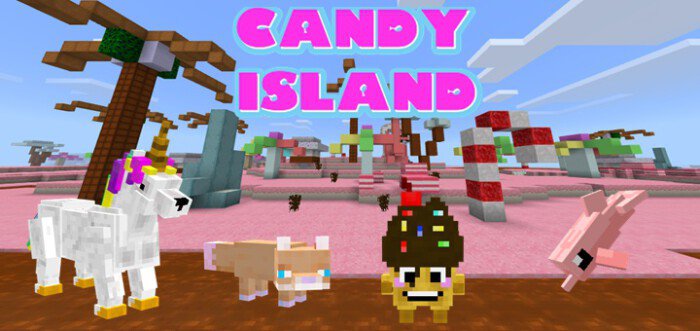 New biomes, new structures, new CupCake Pets, new unicorns, new monsters, floating islands and more !!
The candy biome can be found in a common way as your world is rendered, not uncommon! And on it you'll find unique things as well as. Such as new items, blocks, animals, monsters, bosses, structures, and more! Check out some of these news!
Some observations:
– All recipes can usually be found in the cookbook, or you can watch a review on the creator's channel!
– To share, do not use your own link! Use a direct link from the MCPEDL website!
What's new?
A great CANDY ISLAND !! Round of rivers and chocolate seas!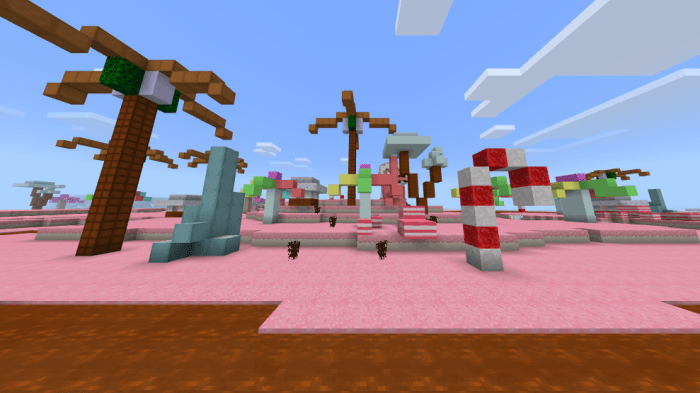 The Candy Biome!!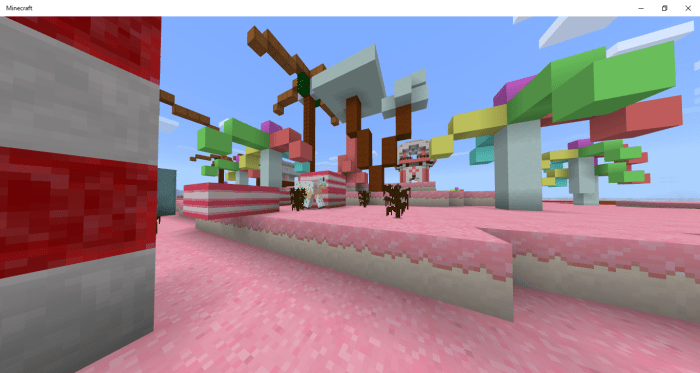 An immense generation of sweets, with personalized structures, find them by your world!
BLOCKS:

According to the image, the blocks added are:
– Chocolate Block (Bloco de chocolate)
– Block of Honey (Bloco de Mel)
– Sugar Block (bloco de açucar)
– Gelatine Block's five variants! (Blocos de galatina, cinco variantes!!l)
– Chantilly Block! (Bloco de chantily)
– Marshmallow Block (Bloco de marshmallow)
– Bullet Block (Bloco de bala)
– Leaves and cherry wood (Folhas e madeira de cerejeira)
– Block of Granulated Cream (Bloco de creme granulado)
– Block of Cotton Candy (Bloco de algodão doce)
– Chocolate Brick's (Tijolos de chocolate)
– Candy Bricks (Tijolos doce)
– Block Of Blueberry Ice Cream (Bloco de sorvete de blueberrye)
– CupCake Block! (Bloco de CupCake)
– Caramel Block (Bloco de caramelo)
– Red Candy Block (Bloco doce vermelho)
– Blueberry Bush (Arbusto de blueberry)
– Confectionery bench – no function for now (Bancada de confeitaria – Sem função por enquanto)
– Candy Block (Bloco doce)
– Cherry boards (Tábuas de cerejeira)
– Marshmallow Bush – In work (Moita de marshmallow, em trabalho)
– Cottom Candy Flower – In work (Flor de algodão doce, em trabalho)
– Chocolate Bush – In work (Arbusto de chocolate em trabalho)
MOBS (ANIMALS AND MONSTERS):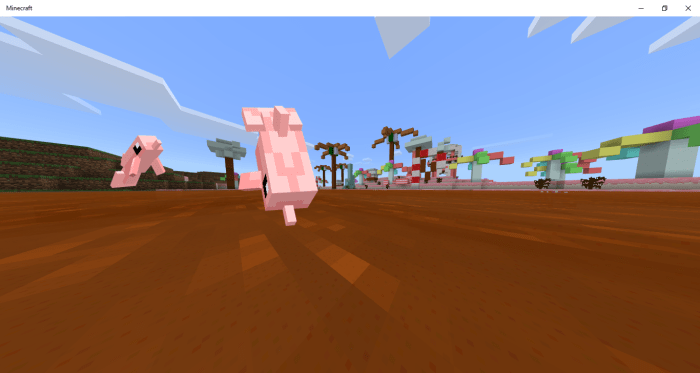 – Sweet dolphins! Beautiful and bouncy!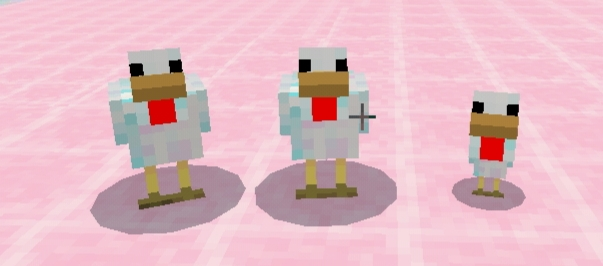 – Candy Chickens (Galinha doce)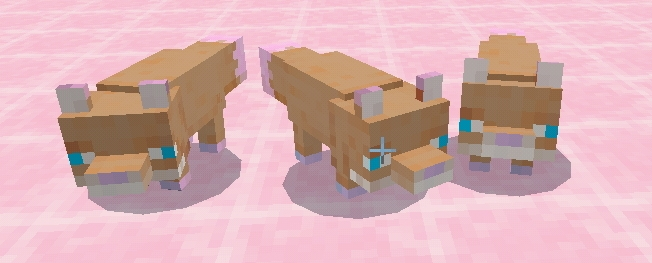 – Caramel Foxes (Raposa de caramelo)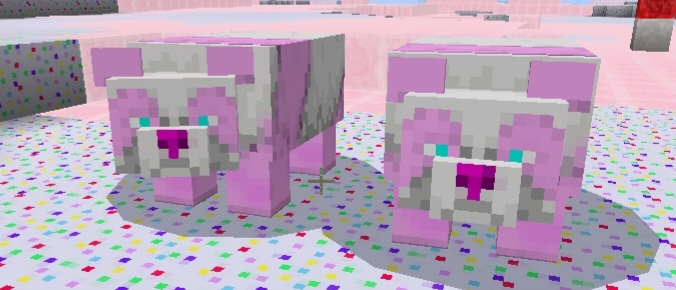 – Sweet Bears (Ursinhos doces)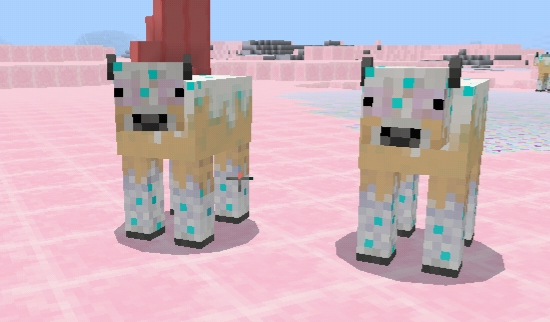 – Candy Cow (Vaca doce)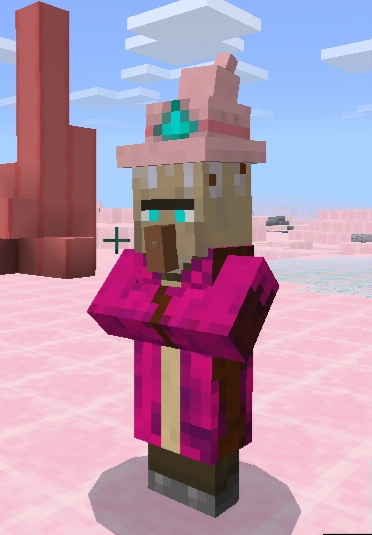 – Candy keeper (Anciã dos doces)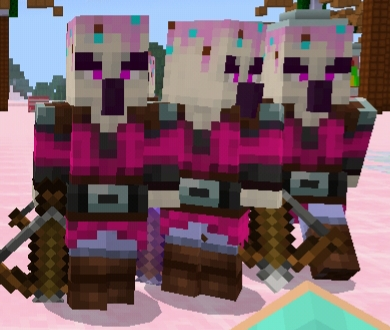 – Guardian Pillagoce (Guardião saqueadoce)
– Guardian Ravagoce – BOSS (Guardião devastadoce) – He appears rarely and only at night, he is a powerful boss !!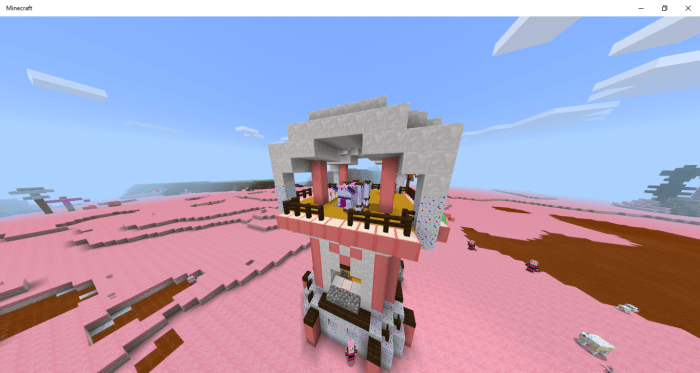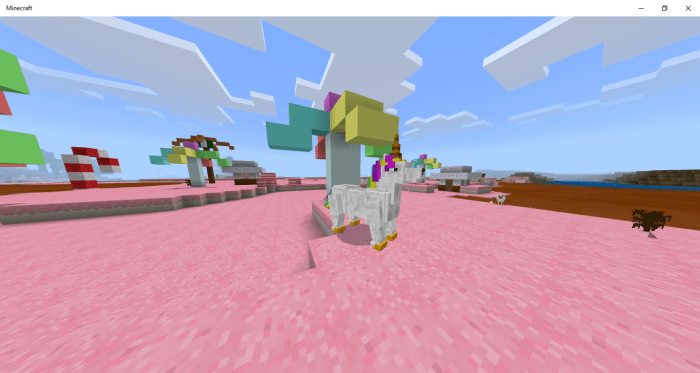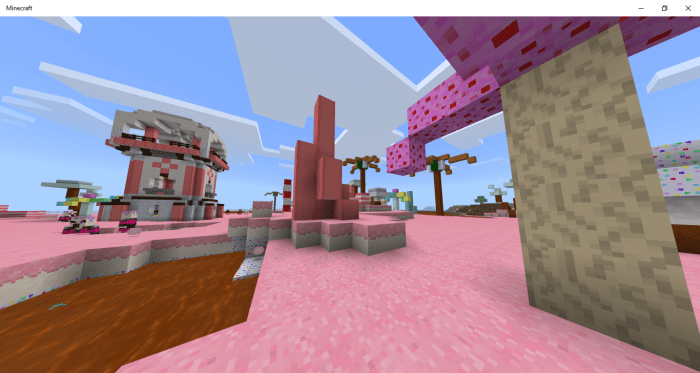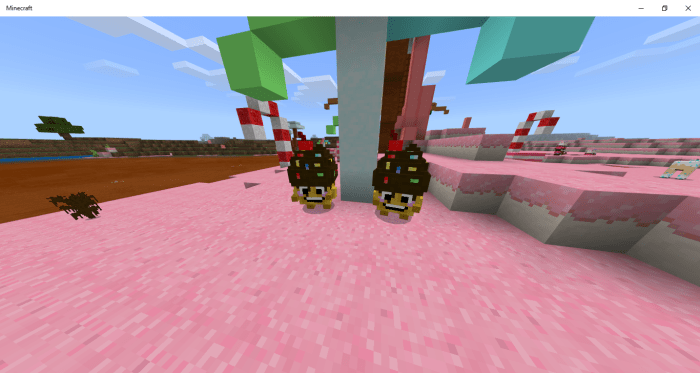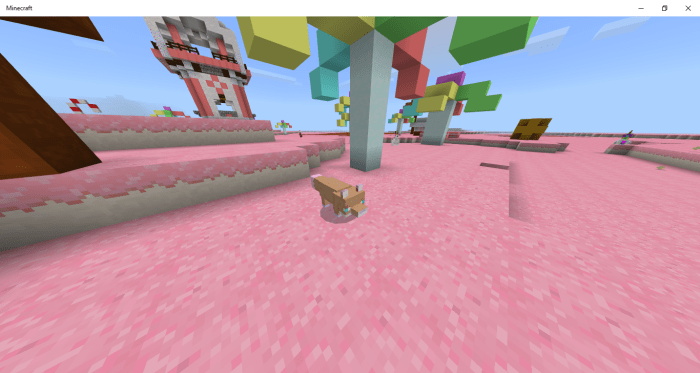 ITEMS:
– Jelly (Geleia)
– Marshmallow (Tree forms) (Marshmallow, em três formas)
– Cotton Candy (Algodão doce)
– Sweet cane (Bengala doce)
– Blueberry (Blueberry)
– Bluberry Ice Cream (Sorvete de blueberry)
– CupCake Magical (Bolinho Magic)
– Caramel (Caramelo)
– Chocolate (Chocolate)
– Cocoa Candy (Cacau adoçado)
To get the items, give the command / give @p candy: (item) or make them through recipes, shown in the cookbook, or you can also get them in the custom addon blocks!
DUNGEON: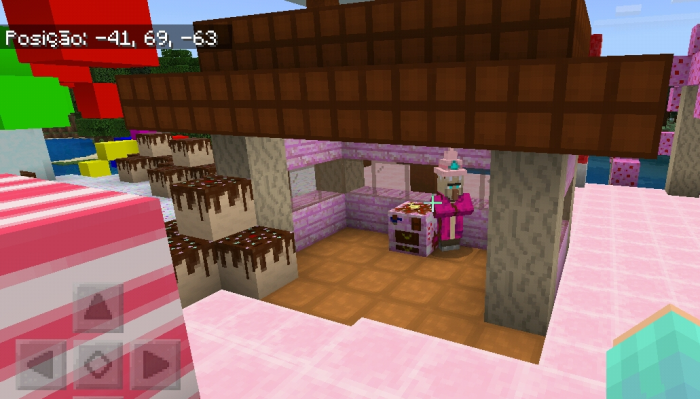 – House of the elderly !! In it you can find hidden chests, the guardian, candy counter and new blocks! Be careful when you face it !! RARE STRUCTURE
– Added new armor, swords, and tools made of candy!
– Add new dungeons!!
Seed Candy Island in Spawn: 627231061
- Many bug fixes! 

- Sweet Biome completely remodeled!
- Added sweet dolphins!
- Spawn of structures stabilized!
- Removed candy pig!
- Villagers no longer have clothes in their snow biomes!"
- Tidy snowy grass bug is invisible!
- Added all sounds!
- Added new textures!
- Added the chocolate rivers!
- Added more drop to lucky candy!
- Added new candy plants and kelps candy!
- Candy Island animals no longer spawn in other biomes!
- And several improvements!
- Fixed several bugs that occurred when activating and using the behavior pack in the world.
- Added new mobs!

- Added new candy structures!

- Added four new candy biomes!
- Added Floating Island!!!
- Villagers have custom skin for candy biomes, which allows you to create villages !!
- Added new Sword!
- Added new ore!
- Added new jujube rain!!
- Added new itens!
- Added new foods!
* MAJOR BUGS CORRECTED BETA 1.3 YCANDY: *
Magic cupcakes now work properly giving temporary effect to the player.
 Sweet shrubs now have no black spot error in their texture.

 Corrected and revised every translation from yCandy to English.
 Gelatine creature had its name changed correctly.
 Minecraft foxes and the caramel fox now have completely separate animations.
 Minecraft foxes worked properly again when they slept.
 Fixed sound bug issued by caramel foxes.
 Sweet blocks now look grungy, and have modified texture.
 Sweet blocks now emit light 2x more than the other versions of the addon.
 Structures now must no longer generate above the others.
 Candy confectionery now has its rarity enhanced even more.
 The devastated Guardian boss now appears more easily.
 For English language, the names of the guardians were changed, for Ravandy and Pillandy.
 Decrease in structures spawn.
 Increased spawn of creatures.
 Gelatine creatures re-generated inside sweet houses.
 Candy elder does not throw more snowballs as before.
 Pillagoces now must generate in the ground correctly.
 Fixed other errors when playing in win10 edition.
 Bullet blocks should no longer crash when done on a desk.
 Sweet block now has the correct texture.
 Fixed crash problems due to excess structures.
 Sweet little bears are not now aggressive with caramel foxes.
 Caramel foxes flee faster than sweet chickens.
 Caramel blocks should drop caramel again.
 Sweet cows now order caramel properly.
 Fixed and reshaped gelatine creature drop.
 Correct increase in light emitted by sweet blocks.
 Retrieved non-dependency error when activating behavior packet in the world.
 Correction in the spawn egg of the candy elder.
 Changing the cookie name to CupCake (in the Brazilian Portuguese translation)
BUG FUXES:
- Caramel Foxes and Minecraft Foxes now work correctly in 1.13 betas.
- Many biome-generation bugs and structures have been fixed.
- yCandy should now work correctly in win10 edition.
- Bug Fixes
- Crash bug during gameplay in sweet tidy biomes!
- Bug Fixes
- Corrected boss bar of the guardian ravagoce!
Installation
Downloads
Supported Minecraft versions
1.14