The Youtubers Blocks Mod lets you craft blocks which resembles the heads of your favorite Minecraft Youtubers. You will find almost every MCPE and PC Minecraft Youtuber there is in the mod.
Ported by: wilco375
Creator: 314owen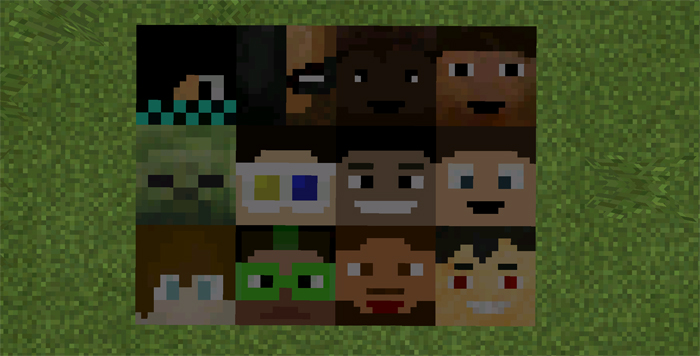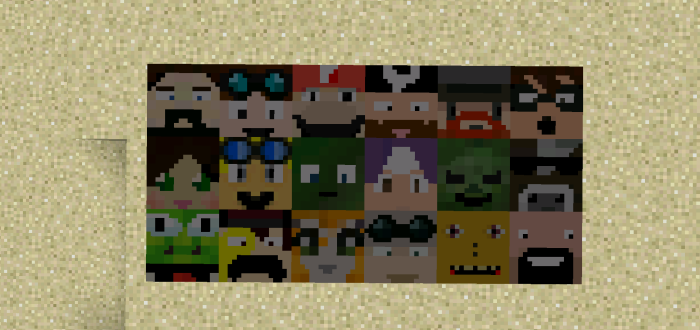 What are they for?
The blocks are mainly just a fun addition to the game but they also serve a purpose. Whenever you walk on top of a block or in some other way comes in contact with it you will attract a potion effect.
How to craft the Youtube blocks?
First you will need to mine some Youtube Ores (ID: 254). They are a new type of ore which spawn randomly in the world.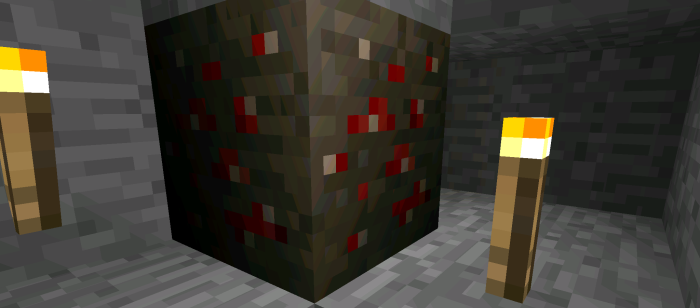 Once you've found some ores then smelt them to get Youtube Essence (ID: 420).

For each crafting recipe you will need 8 Youtube Essences and the block which is mentioned below depending on which Youtuber block you want.
PopularMMOs (75) – Diamond Block
SkydoesMinecraft (76) – Gold Block
Yogscast Simon (77) – Cookie
Yogscast Lewis (88) – Book
Yogscast Sips (90) – Dirt
Yogscast Sjin (93) – Diamond Hoe
Yogscast Duncan (94) – Carrot
Munchingbrotato (113) – Potato
TheDiamondMinecart (115) – Minecart
CaptainSparklez (116) – Emerald
Deadlox (117) – Bone
MinecraftUniverse (118) – Raw Porkchop
Sethbling (119) – Redstone Block
AntVenom (122) – String
ASFJerome (123) – Brown Wool
BajanCanadian (124) – Bow
Bashur (125) – Melon
CavemanFilms (126) – Stone
Notch (130) – Golden Helmet
Sarc (131) – Powered Rail
SSundee (132) – Iron Sword
Stampy (137) – Diamond Pickaxe
ThnxCya (138) – Coal
Tobuscus (140) – Diamond Sword
Dartron (143) – Diamond Chestplate
TCTNGaming (144) – Snowball
ChimneySwift (145) – Bricks
Bodil40 (146) – Leaves
PauseUnPause (147) – Boat
Hypixel (148) – Stone Bricks
AviatorGaming (149) – Gunpowder
NoahCraftFTW (150) – Flint and Steel
Gizzy14Gazza (151) – Raw Beef
BebopVox (153) – Diamond
SeaNanners (154) – Bucket of Water
IHasCupquake (160) – Cake
Yogscast Martyn (165) – Sappling
Annoying Orange (166) – Apple
iBallisticSquid (167) – Empty Bucket
Etho (168) – Rotten Flesh
Dragonz (169) – Redstone
Lanceypooh (176) – Iron Pickaxe
SuperGirlyGamer (177) – Steak
Gold Solace (178) – Gold Ingot
TheAtlanticCraft (179) – Snow Block
VideoMakerGuy (180) – Golden Pickaxe
ZexyZek (181) – TNT
JackerTud (182) – Leather Tunic
ACTennisAC (188) – Wood Log
SCMowns (189) – Steak
Ashley Mariee (190) – Dirt
Aureylian (191) – Pink Dye
BigBadManPig (192) – Cooked Porkchop
BlueBayou (193) – Lapis Lazulli
BlueMonkey (194) – Blue Wool
CraftyGarrett (195) – Crafting Table
Direwolf20 (196) – Compass
Exploding TNT (197) – Painting
Game Chap (199) – Glass Pane
Generikb (200) – Pumpkin Seeds
GhostGaming (201) – Feather
Guude (202) – Golden Sword
Hat Films (203) – Iron Helmet
ItsJerryandHarry (204) – Sign
KermitPlaysMC (205) – Cactus
LittleLizardGaming (206) – Green Wool
Logdotzip (207) – Cobblestone
Markiplier (208) – Torch
Paulsoaresjr (209) – Iron Ore
Setosorcerer (210) – Cooked Chicken
Sevadus (211) – Paper
Slamacow (212) – Hardened Clay
SubZeroExtrabyte (213) – Stained Clay
Syndicate (214) – Wooden Sword
TheCampingRusher (215) – Wooden Planks
TheMiningMovies (216) – Gold Ore
ThinkNoodles (217) – Mushroom Stew
Weedlion (218) – Sugar Cane
Wipper178 (219) – White Wool
Woofless (220) – Egg
xRpMx13 (221) – Arrow
JackFrostMiner (222) – Glass
DrummerBoy0109 (223) – Stick
xDarkAbsolute (224) – Diamond Chestplate