Zombie Archers is a simple but very useful add-on. It gives zombies a bow which they will now use instead of their hands to attack players. It also changes a few other things about zombies such as that it will no longer burn in sunlight.
Even though zombies would probably be too stupid to use any kind of weapon it's still a nice idea which adds some difficulty to the game.
Creator: Amon28, Dewdimpple
New Zombie Features
The zombie has bunch of new features. Besides having a bow it will no longer burn in sunlight. Check out the list down below to see all changes.
No longer burns in sunlight
Equips a bow
Bow drops when killed
Only uses the bow to attack
Bow range is increased compared to a skeleton
It's still hostile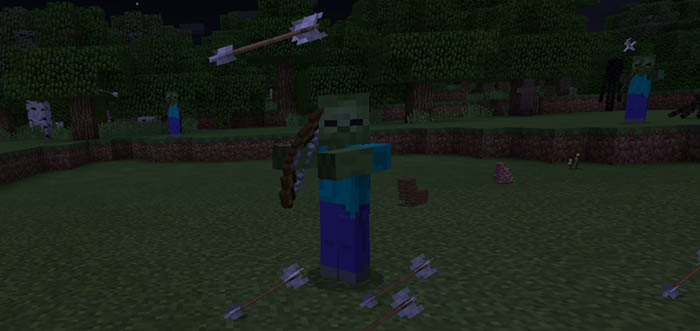 Important: You can find install guides in the second menu. Once you've extracted the zip file then copy the Zombie Archers folder and paste it in your behavior_packs folder.
(iOS / Windows 10 / Android? Click here to download the zombie-archers.mcpack file. Don't forget to apply it for a world in-game.)