Zombie World adds an apocalyptic feel to the world of Minecraft. Everywhere you turn there will be zombies and they are just as hostile during the day as they are during night. To survive this world of horror you must kill zombies to get the items needed to craft zombie-proof armor, night vision goggles and firearms.
This mod is entirely in Portuguese/Spanish but we've done our best to translate the names of things to English in this post.
Creator: MasterPE3, Twitter Account
Armors
Once you've spawned zombies will randomly start to spawn. The world has quickly gone mad and the only ones who are surviving are those who can protect themselves. Choose from three different armors sets and plenty of weapons. In this case I decided togo with the Night Vision Goggles and a Bulletproof Vest.
Night Vision Goggles (1700) – only creative inventory
Bulletproof Vest (1701) – only creative inventory
Press the buttons on the right side of the screen to enable armor protection and night vision.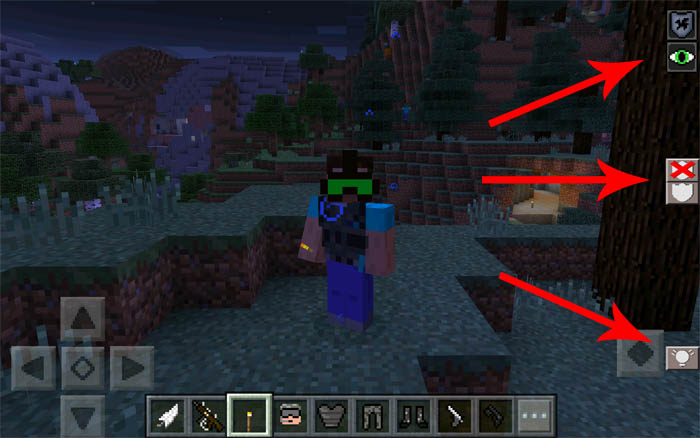 There is also an FBI armor set and a Modern Soldier armor set which you can use. You can find IDs for those items further down on this page. Neither of the two sets provide any extra GUI or special abilities. They are just for the looks.
Weapons
There are tons of weapons but only a handful of them can actually be crafted. Some of the weapons require money (dollars) to be crafted. Money can be crafted or obtained by killing the different types of zombies.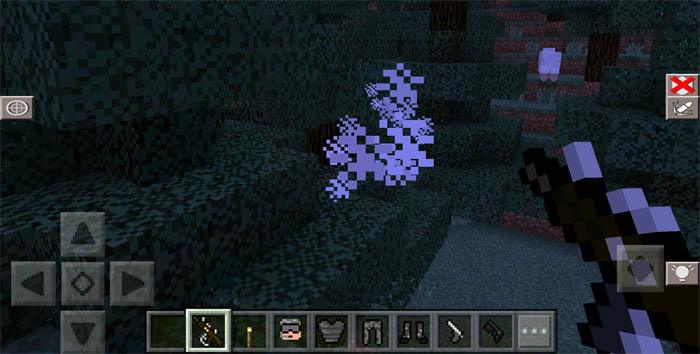 Magnum .44 (1703) – 4 iron ingots + 1 x 100 Dollars
Medic Kit (1702) – dropped by Medics
AA12 (1704) – 1 x 100 Dolars + 5 iron ingots
AK47 (1705) – 1 x 100 Dollars + 5 iron ingots + 1 gunpowder
AK74 (1706) – 1 x 100 Dollars + 5 iron ingots + 2 gunpowders
Desert Eagle (1707) – 1 x 20 Dollars + 4 iron ingots
R 870 (1708) – 1 x 100 Dollars + 5 iron ingots + 3 gunpowders
G3 (1709) – 1 x 100 Dollars + 4 iron ingots + 2 gunpowders
1 Dollar (1715) – 1 iron ingot OR dropped by Blooding Zombies
2 Dollars (1711) – 2 x 1 Dolars OR dropped by Clickers, Day Zombies
5 Dollars (1712) – 2 x 2 Dollars + 1 Dollar
20 Dollars (1713) – 4 x 5 Dollars
100 Dollars (1714) – 5 x 20 dollars OR dropped by Iron Golem Zombie
Scroll down to the bottom of the post to find IDs for weapons which can only be obtained by using the creative inventory or a commands mod.
Zombies
There are a couple of new zombies and all of them spawn at random during the night and day. Kill zombies to get money which you can use to craft weapons.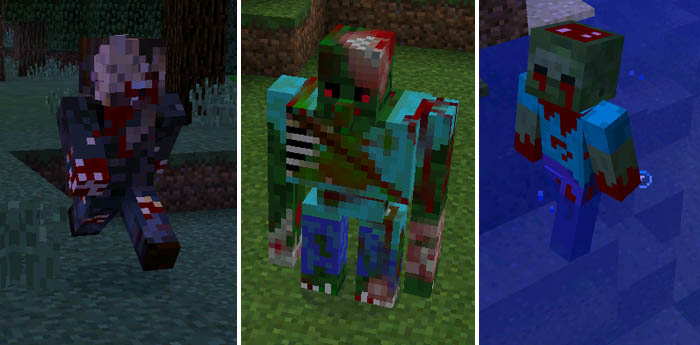 Other Item IDs
The following items can only be obtained by using the creative inventory or by using X-Commands to give yourself the items in survival mode.
FBI Helmet (1721)
FBI Chest (1722)
FBI Leggings (1723)
FBI Boots (1724)
Modern Soldier Helmet (1725)
Modern Soldier Chestplate (1726)
Modern Soldier Leggings (1727)
Modern Soldier Boots (1728)
US Gun (1716)
Barret (1717)
GL6 (1718)
RPK (1719)
AT4 (1720)
Medic Spawn Egg (1729)
Iron Golem Zombie (1730)
Install Guide
Use ES File Explorer to extract Zumbie Sagas Mod v3.0 0.15.X.zip
Copy the ZS-Sounds folder and move it to /games/com.mojang/
Start BlockLauncher and use it for installing Zumbie Sagas Mod V3.0.modpkg
Restart BlockLauncher.