This addon replaces several of the mobs in-game with characters and creatures from the Doctor Who universe. The models for the mobs are very well designed and also some of their behaviors have been reconfigured to better suit their new character behaviors. If you consider yourself a true Whovian then you definitely have to give this addon a try!
Creator: DingDong61, Twitter Account
Updated: 5 May, 2018 (read changelog)
How does it work?
Most of the hostile and neutral mobs in-game have been replaced by characters from the Doctor Who TV show. Some of them also got custom behaviors. This add-on was created mainly to use with the Tardis Prototype map.
Further down on this page you will find a full list of changes and new features.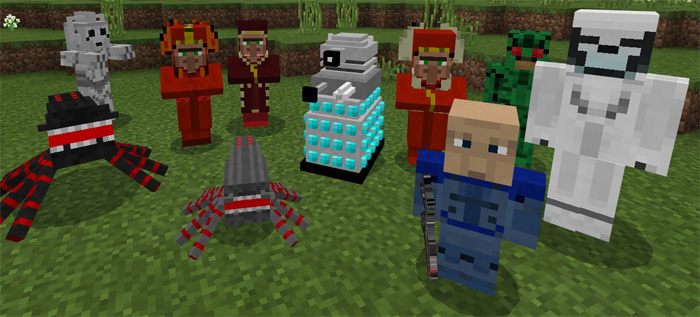 The creeper is replaced by a hostile Dalek. It will automatically detect and attack cybermen and players within a certain radius.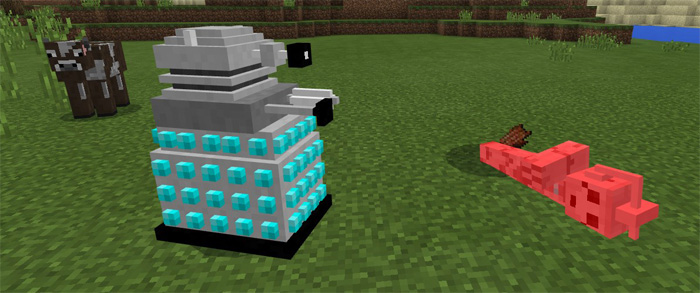 Items such as the bow has been replaced by a Sontaran Rifle. It works very similar to a bow except that it fires lasers instead of arrows.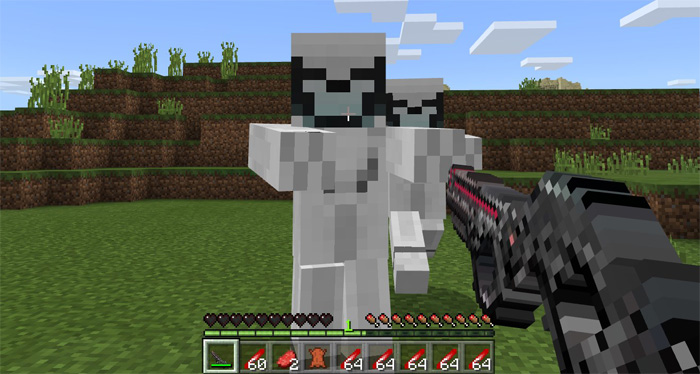 There are plenty of more to experience. Check out the list down below to learn more about the new mob behaviors and items.
Items & Mobs
Here is a full list of changes for the items and mobs in-game.
Sontaran Rifle (Bow)

Custom sounds (doesn't always play for some reason)

Laser Bolt (Arrow)
Dalek (Creeper)

Fires lasers
2.5% chance drop rate for Dalek Head (Creeper Head)
Attacks cybermen
Custom sounds

Silence (Enderman)

Resized to match player size
Long strides from legs unavoidable due to DingDon's lack of success with pivot values
Custom sounds

Sontaran (Skeleton)

2.5% chance to drop a Sontaran Helmet (Skeleton Skull)
Custom sounds

Ice Warrior (Stray)

Fires lasers without a rifle
2.5% chance to drop and Ice Warior's Helmet (Steve Skull)
Custom sounds

Vashta Nerada (Wither Skeleton)
K-9 (Wolf)

Tamed with iron ingots
Healed with iron ingot (5 health) or gold ingot (10 health)
Pups can be fed with gold ingots, iron ingots, gold nuggets and iron nuggets
Breedable with gold ingots, iron ingots, gold nuggets or iron nuggets
The eye and box on the side change color depending on tamed (red), wild (green) or angry (purple)
Removed the collar option was it was on the nose and looked bad
Custom sounds

Cybus Cyberman (Zombie)

2.5% chance to drop a Cyberman Head (no handles)
Custom sounds

Mondasian Cyberman (Husk)
Cyber Villagers
Ood (Zombie Pigman)
Time Lords (Evoker and Vindicator)
Priestess from the Sisterhood of Karn (Witch)
Chronovore (Vex)
Germ Spider (Cave Spider and Spider)
Changelog
Replaced Rabbits with Daleks: 2.5% chance to drop Dalek Head (Wither Skull)
Replaced Creepers with Weeping Angels (sorry, they don\'t freeze when you look at them, working on it though): 2.5% chance to drop Weeping Angel Head (Creeper Head)
Replaced Ghasts with the Face of Boe.
Snowmen (Polar Bears) re-added.
Daleks and Cybermen still do not attack each other. Still working on it, they are still ignoring everything else if the other is nearby.
The Handles Resource Pack is included here, but it is optional. It just makes the skulls look better. When used, it must be given priority of the Doctor Who Mobs Resource Pack and the Doctor Who Tardis Map Resource Pack, otherwise it gets glitchy.
Installation
Download Handles Resource Pack (optional) (improves the design for skulls) (if used, give priority of the other packs)
Activate the packs for a world in-game