Natural Mystic Shaders is a shader pack for Minecraft Bedrock aiming to be as realistic as possible. It will change many aspects of your game, some which includes shadows, torch light, sunlight, moonlight and other.
Creator: PHO, Website
Updated: 14 January, 2019 (read changelog)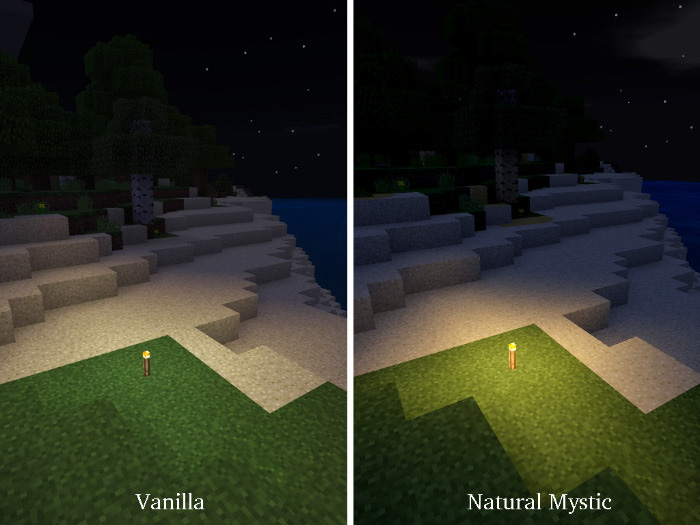 Enhancements
Added fake specular light for water and improved its wave. The opacity of water surface now changes depending on the angle between the camera and the surface. There is still a room for improvement in the specular light though.
Features
Shadows
Non-blocky clouds
Waves for water and leaves (but not plants)
Camera-angle dependent transparency and specular light for water
Improved torch light with flickering effect (unstable in 1.8 due to vanilla bug)
Sunlight and moonlight colors with night time desaturation
Desaturation under a bad weather condition
Exposure adjustment, contrast filter, and tone mapping
Issue Tracker: https://github.com/depressed-pho/natural-mystic-shaders/issues
Supported Platforms
Changelog
Fixed vanilla clouds being shown when "Fancy Graphics" is disabled.
The scene no longer becomes unplayably dark when underwater or in The End.
Moonlight no longer affects the scene on a rainy night.
The color of the ambient light is no longer a constant white. It now changes depending on the terrain-dependent sunlight level and the time-dependent daylight level. That is, when in an occluded area like a cave, the only possible light sources are torches so the color of ambient light resembles that of torch light. Likewise, when on the ground of the Overworld, either the color of the sun or the moon will affect the ambient depending on the in-game time.
Changed the fog type from linear fog (vanilla) to exponential squared fog (#12). It is slightly more expensive but produces better results.
Distant terrain is now rendered with gradually reduced contrast to express a light scattering effect caused by particles flowing in the air (#5).
Cluster of torches no longer flicker in a synchronized manner (#48).
Installation
Start Minecraft
Settings > Global Resources > Apply the shaders pack