This map is a recreation of the game Splatoon in Minecraft: Bedrock Edition. It combines a behavior pack and a few command blocks to create a PvP / turf wars styled type of game. It's inspired by SethBling's original Splatoon minigame for Minecraft: Java Edition. It's a lot of fun to play in multiplayer, and you can reset the minigame in-game!
Creator: ChefFranky
Updated: 29 April, 2018 (read changelog)
How to play?
The objective of the game is to get the most turf covered in ink (or rather wool) in under 3 minutes. This map features four unique weapons, an automated 3 minute timer and also an option to reset it. It's recommended for 2 vs 2 players, but is also suitable for up to 4 vs 4 players.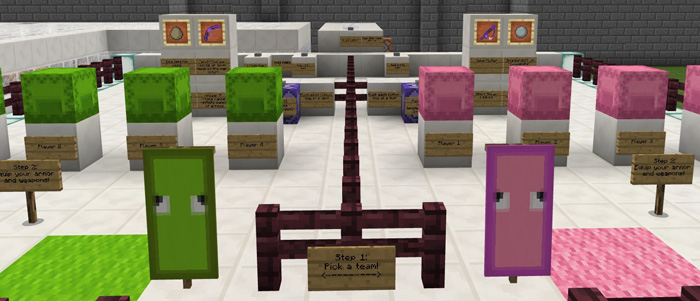 Here are the different weapons for each team.
Green Team Weapons
Splat-Charger – Only works on the lower level of the map. Long range, pre-enchanted with Power V, infinite supply of ink
Egg-Splatter: 2-hit kill, long range, limited supply of ink (comes with a lot of ink though)
Pink Team Weapons
Splat-Roller: 1 hit kill, short range, infinite supply of ink
Splattershot Junior: Long range, no attack damage, limited supply of ink (comes with a lot of ink though)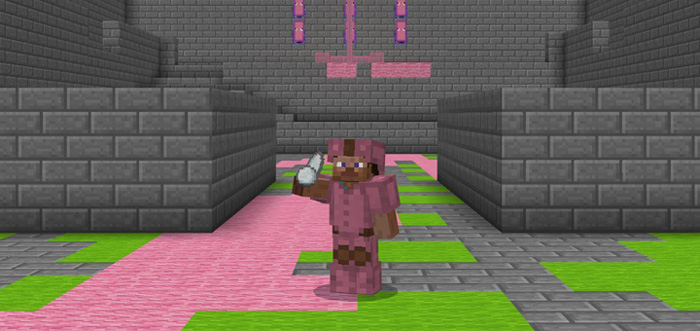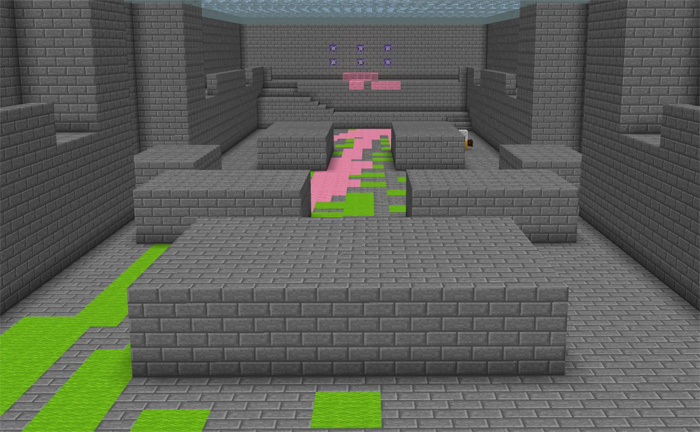 Trailer
Changelog
Added the Hero Shot Replica (Trident) to Pink team
Made some adjustments for a better experience
Installation