The Redstonist Bedwars is a minigame where your goal is to protect your bed from being destroyed by other players as well as trying to destroy theirs so you can be the last one standing. You can do this by trading with villagers the iron and gold that is coming from the generators. This map includes 8 bases with beds. Each bed at the bases are each their own color.
Creator: Herobrine270550 / TheRedstonist, Twitter Account, YouTube Channel
Updated: 20 November, 2018 (read changelog)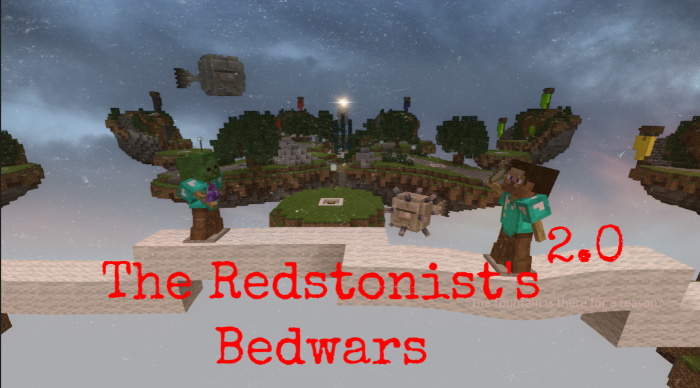 How to play?
In order to survive, you'll to make trades with the custom villagers provided. Such trades can be made with the iron, gold, diamond and emerald generators. Gold generators are slower than the iron generators but you can get triple gold using diamonds.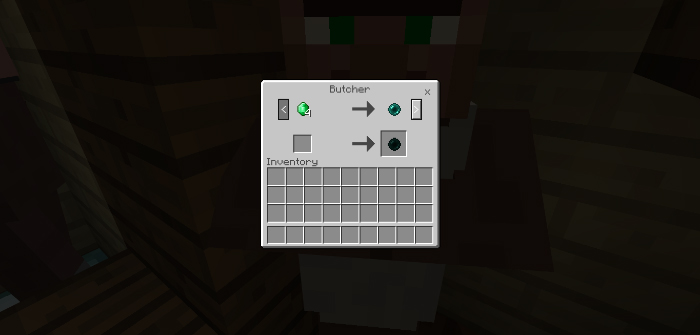 To make your trades, you will be using the villagers provided at your base. Trades are categorized by type and each villager sells a type of trade. These categorize include:
Building Blocks
Armor
Weapons
Tools
Utility
Use the trades to buy blocks to protect your bed and buy weapons to defend yourself. Or you can destroy other beds. These general trades include:
Building Blocks

4 Iron -> 20 Wool
12 Iron -> 16 Sandstone
24 Iron -> 12 Endstone
4 Gold -> 16 Wood Planks
4 Emeralds -> 2 Obsidian

Armor

20 Iron -> Chain Chestplate
12 Gold -> Iron Chestplate
6 Emerald -> Diamond Chestplate

Weapons

10 Iron -> Stone Sword
7 Gold -> Iron Sword
4 Emerald -> Diamond Sword
2 Gold -> 8 Arrows
12 Gold -> Bow

Tools

10 Iron -> Wood Pickaxe
20 Iron -> Stone Pickaxe
8 Gold -> Iron Pickaxe
12 Gold -> Diamond Pickaxe
12 Gold -> Diamond Axe
5 Iron -> Shears

Utility

4 Emerald -> Ender Pearl
4 Gold -> TNT
2 Iron -> Flint and Steel
8 Gold -> 4 Stone Monster Eggs(Bed Traps)
2 Emeralds -> 1 Silverfish Eggs
Please note that the villages can run out and it will take a while for them to replace their trades again so be wise on what you buy and the amount. You don\'t want to slow down progress for 12 pieces of endstone. And of course, you can go to other bases that are empty or other players to use their villagers but beware of other players.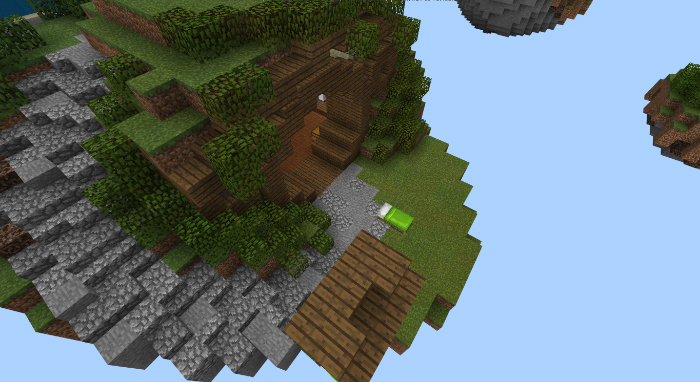 Bed Colors: 
Cyan
White
Pink
Grey
Red
Blue
Green
Yellow
Trailer
Changelog
Added
New Bed Destruction Mechanics!
New Bed Status Scoreboard! Know who\'s bed is destroyed and who\'s isn\'t
New Bridge Eggs!
A player\'s base beacon turns off when bed is destroyed
A elder guardian at center fountian?? I wonder why…(future update)
KeepInventory only if killed in action
Wither Potion in Utility Trade(WIP)
New Map Design
Removed
Diamond Related Items
Old Bed Mechanics
Installation