Now you can ride a Strider with a partner, you can travel together through the lava seas of the Nether, but be very careful around monsters, especially Ghast and Magma Cubes.
By default the Strider can only be ridden by one player, sometimes it is difficult to find nearby Striders, so you and your partner may want to ride the same Strider as follows: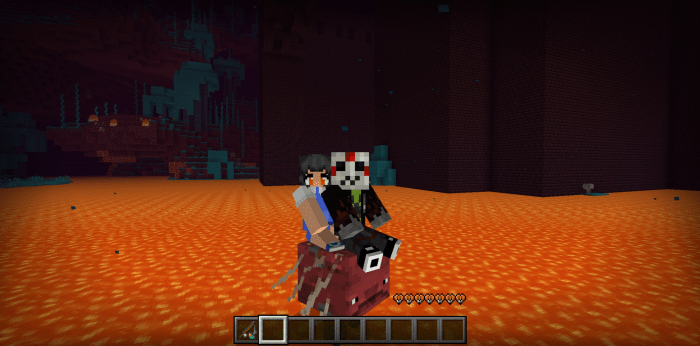 Here I am with Sofía Redmond
One thing they should know is that the player behind must ride first and then the driver.
To make the Strider walk you need a fishing rod with a deformed mushroom, this is obvious but what you have to know is that any of the mounted players can make it walk, but the Strider will only go where the player in front looks.
My Networks
YouTube // Facebook // Twitter // Instagram
The original link only contains a shortener, adding your own shorteners and captchas is prohibited.
If you are going to make a video about this add-on, you must leave the link to this page and not to the direct download, because when there is an update the previous link will be deactivated.
And please give me credits.

Select version for changelog:

Changelog
- Fixed download links.
- The positions where players sit on the Strider have been moved slightly.
- Miniature recreated
Installation
To install the ZIP file you just have to go to your Downloads folder, unzip the file and move the texture folder to the path "games/com.mojang /behavior_packs", so that you will have the add-on available in the game.
To install the MCADDON file you must go to your Downloads folder, touch the file and in the options to Open you must choose Minecraft, this will open the game and automatically import the add-on.
It is necessary that every time you update the add-on you delete the previous folder so that there is no problem with Minecraft detecting duplicate packages.
You only need to download one file, they both work the same, it's just up to you how you want to install it.