This add-on implements brand-new features such as new villagers, blocks and items. Everything to make Minecraft more interesting and fun to play.  There are plenty of cool features included with this add-on which makes it suitable for a new Minecraft survival experience.
Creator: 
JEBR_Gaming
, 
Twitter Account
,
Website
Updated:
21 August, 2018 (
read changelog
)
How does it work?
You can only obtain the new items and blocks by trading with villagers or by the use of different text commands. Two new villagers have been introduced to the game and they are called the Advanced Item Seller and the Advanced Block Seller. They are very easy to recognize as they wear orange robes and they spawn frequently in villages.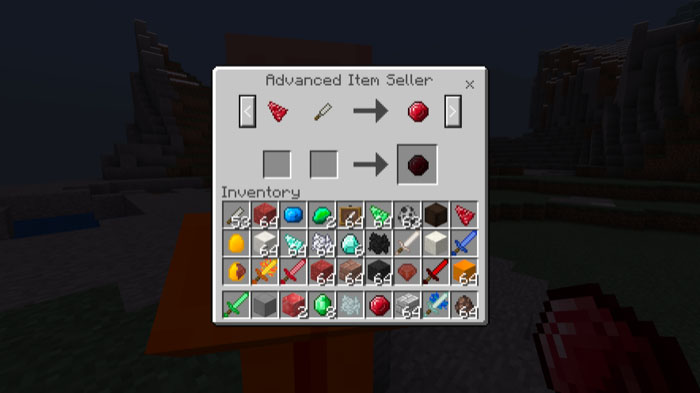 Bone Items
There are two new types of bones and they are called Wither Bones and Stray Bones. If you have some of these bones then you can trade them with a villager for Wither Bonemeal and Stray Bonemeal which each have unique abilities.
Wither Bonemeal: Immune to Wither Effect
Stray Bonemeal: Immune to arrows
Swords
Here is a list of swords which you can obtain by trading with the new villagers.
Emerald Sword - 8 Attack Damage
Redstone Sword - 5 Attack Damage
Lapis Lazuli Sword - 7 Attack Damage
Quartz Sword - 5 Attack Damage
Ruby Sword - 6 Attack Damage
Aquatic Sword - 8 Attack Damage, Conduit Powers
Blaze Sword - 8 Attack Damage, Fire Resistance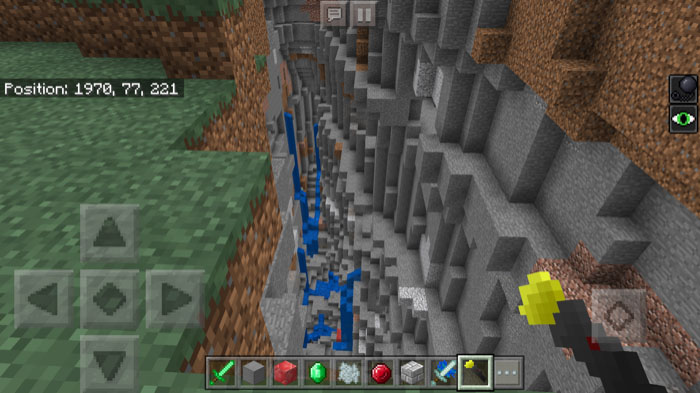 Power Gem
This is an item which is extremely powerful, so it's really something you should strive for obtaining. The first things you will need are 4 Key Gems. They are obtained by killing four different mobs: Witch, Iron Golem, Elder Guardian and the Wither Boss. You can then combine the Key Gems by trading with the new villagers in order to create the Power Gem.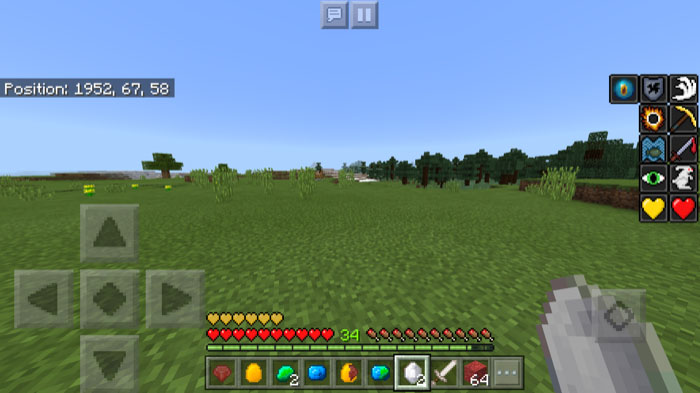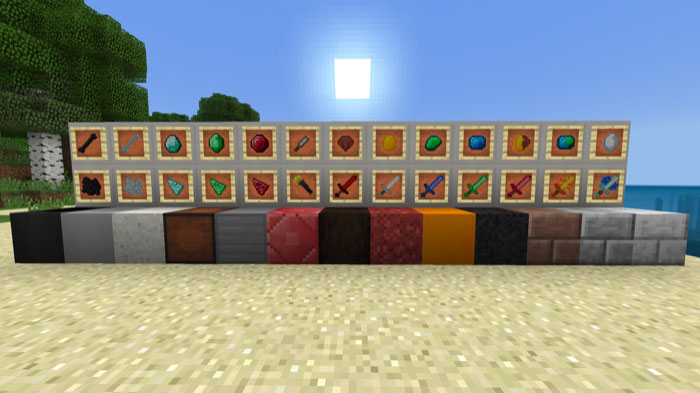 Features
Here is a list of all features and their IDs and data values, so that you can easily obtain them by using the 
/give
text command.
Swords (yellow_flower 1, 6-10, 15)
Key Gems and Power Gem (red_flower 9-15)
Wither and Skeleton Bones (dropped by Skeletons), Bonemeal, and Bone Blocks (yellow_flower 2-3, sapling 6-7, bone_block 1-2)
White Sand (purpur_block 3)
Block of Steel (purpur_block 1)
Rough and Polished Diamond and Emerald (diamond, emerald, yellow_flower 4-5)
Chisel (yellow_flower 11)
Flashlight (yellow_flower 12)
Rough and Polished Ruby (yellow_flower 13-14)
Block of Flesh, Ash, Blaze, and Granite, Andesite, and Diorite Bricks (monster_egg 0-5)
Block of Ruby (quartz_block 3)
Block of Leather (stone 7)
Changelog
Download Resources & Behaviors .McAddon
Apply the packs for a world
Create the world