This addon is useful for Realms owners who want it better protected against players who are using X-Ray cheats or coordinates. The server protection is considered highly reliable since it has been tested with some of the most common X-Ray and coordinates addons. Hopefully some more protections (e.g. grief protection) could be added in the future.
Creator: URNR, Twitter Account
How does it work?
By setting the resource pack as required players who join will be required to download and use the server protection resource pack in order to play on your Realms server. This basically prevents the functionality of any X-Ray or coordinates addons.
You can find a detailed install guide further down on this page.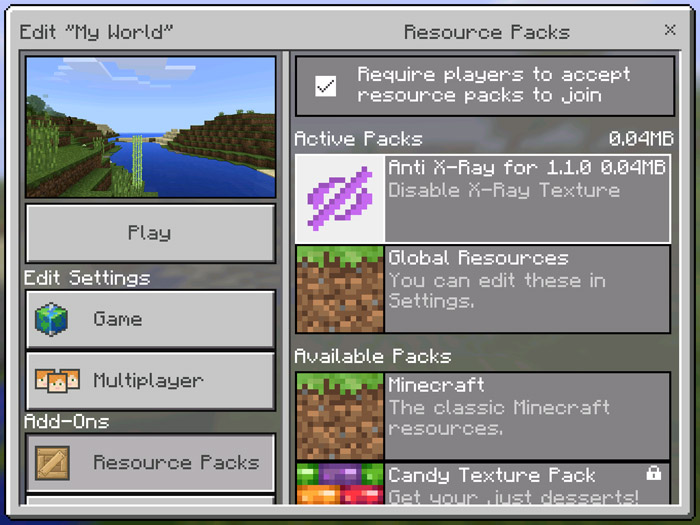 If you find any bugs please make sure to report it in the comments so that the developer can provide a fix.
Installation
This guide is assuming you want to install the pack for a Realms server.
Open Minecraft PE
Select the option to create a new world (or download the existing Realms world and edit it)
Activate the resource pack for the world

Select the checkbox for "Require players to accept resource packs to join"

Create the world ('Play')
Exit the world
Edit the Realms server (in Minecraft PE)
Click "Replace World" and select the world which you previously created
Done!