What could be better than ANTS? Just about anything I guess. BUT what about ants that are tameable, ridable, and adorable? Yes, different story now isn't it! Your wish (as long is it's a wish for tameable, ridable, and adorable ants) is our command.
These are the best things ever. Well, top 10 at least. Top 15…?
Soooo, what do you need to know about these cool critters….
Find them mainly in deserts, but plains and savanna also hold hope.
The smaller ants can't be tamed but can certainly kill you; the tiny ants are weaker but faster and their sting is nasty. Red and brown ants are neutral (if you're not a pillager!) unless you attack them first.
The tameable ants are larger and have a green marking on their back
You can ride the tameable ants! Sit on them until they love you and add a saddle. You can also add diamond horse armor (ants don't like the other ones).
They can fit through a 1×1 gap. You should see these babies tackle jungles and dense forests.
Heal them with sugar, apples, melons, glistening melons.
All ants love to eat wasps
All ants can sting
Ants won't attack ants. Not even if you ask nicely.
This list is getting big (this point is optional)
They'll never be as fast as the fastest horses, or jump as high as the jumpiest (is that even a word?)
Sit them by sneaking when you right-click on them / tap the 'sit' button.
Adding diamond armor to your nice little ant does these things:
Makes them look super cool
Removes all fall damage
Removes most (all, maybe) melee damage (skeletons, withers, witches, blazes, etc are still a very real threat)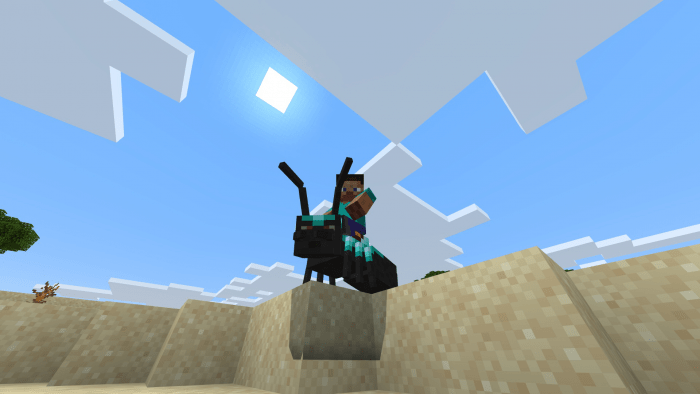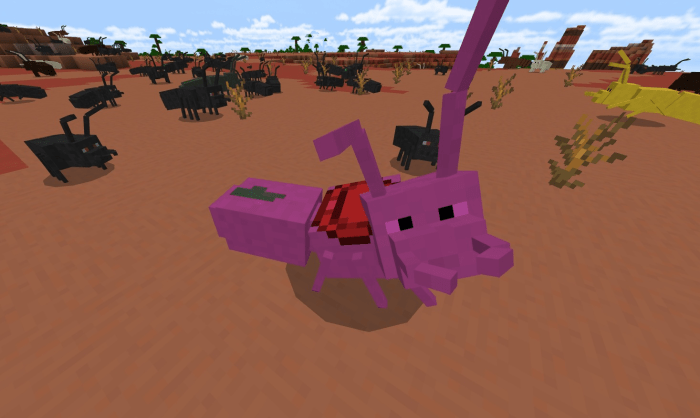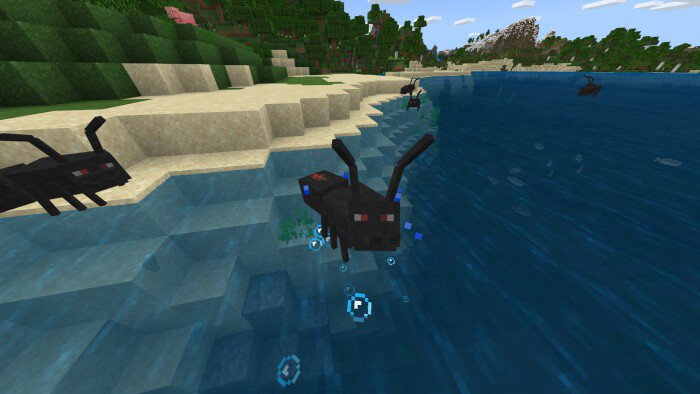 To the merry youtubers out there, if you do a review/showcase, thank you! Please link back to *this page* on mcpedl. Cheers!
Improved sit animation
Added some colorful (rare) variants including one dyeable variant
Confirmed working with 1.16

Re-uploading Android/iOS content due to import issues on some devices.


Made them 'pushable' again, introduced a new tameable variant (sand-ish color, bigger, stronger, rarer), confirmed working with 1.14.,

Minor bugfixes, added some new (very rare) neutral brown variants, tested with 1.13. 

Added red ants that are neutral and can't be tamed. Thanks
Cthulhu Warrior and Anonymous for their ideas! We're not quite there yet, but getting closer.

Added tiny ants - thanks to dinoking 2007 for the idea!

Installation
Downloads
Supported Minecraft versions
1.12
1.13
1.14
1.16