Bring your game to life with creatures that can now blink, even have better animations or improvements to their skins! You can also adapt these animations to almost any other texture!
Who wouldn't want to spice up their game with creatures that can blink or have their animations enhanced? And best of all, you don't need a behavior pack for this and you can adapt it to other textures!
Here I bring you a good pack that you can use all the time, keeping the vanilla look of Minecraft.
Blink animations adapt to any texture as long as they eyes are in the same position. Other animations like open mouths and others do not adapt to other packages.
But this package could not have been possible had it not been for the help of KID丶SKY, he teach me how to do these animations. I must also thank Netongas NG who helped me to correct the problem of the package compatibility on different devices, I am very grateful to both!


Animations!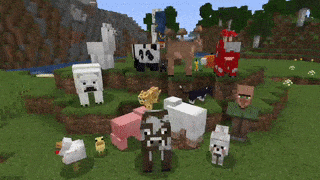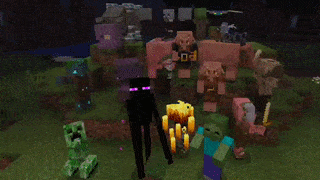 New Animations!
-Goats can now blink.
-Villagers and cats shake their heads slightly and close their eyes when sleeping.
Some mobs were not visible here, but I am going to improve the presentation as I already mentioned. You can see the video where the animations are better shown.
Coming soon!
This package will have big changes, among these there will be a better animation of blinking, movement of the mouth in some mobs, movement of the eyebrows, movement of pupils, rocking when walking for most mobs and other surprise things.
For the moment I have released this small update, the next one will take time to finish.
And I'll make a better presentation for the package.
Animated Mobs for Minecraft Bedrock Edition
IMPORTANT
The original link only contains a shortener, adding your own shorteners and captchas is prohibited.
If you are going to make a video about this add-on, you must leave the link to this page and not to the direct download, because when there is an update the previous link will be deactivated.
And please give me credits.
MY NETWORKS
YouTube // Facebook // Twitter // Instagram
Normally I upload progress of my plugins on my Facebook page and on my Twitter, if you have something to tell me or report to me about my plugins you can tell me through my networks.
Select version for changelog:

Changelog
-Goats can now blink.
-Villagers and cats shake their heads slightly and close their eyes when sleeping.
-Fixed links (again...)
MCPE DL, I want to request a link change, this will stop being "blinking-mobs-pack" and will now be "animated-mobs-be-pack"
Installation
How to pass the shortener
The shorteners help me earn some money for my work, hope you can understand this.
Here I leave you how to pass the shortener or captcha that has been used in the link.
•AdFly
-Wait 5 seconds
-Skip ad
-Block notifications in case permission is requested to activate them
-Don't touch the advertising, you just have to pass it
-In case the shortener sends you to CalienteSport, you just have to close that page, as it will not take you anywhere
-At the end of the process it will take you to the MediaFire link
•LinkVertise
-Continue with free access
-Discover advertising
-Touch the × button
-Wait 10 seconds
-Touch the × button again
-Continue
-After this it will take you to the MediaFire link
How to install the package
•To install the ZIP file you just have to go to your Downloads folder, unzip the file and move the texture folder to the path "games/com.mojang /resource_packs", so that you will have the add-on available in the game.
•To install the MCPACK file you must go to your Downloads folder, touch the file and in the options to Open you must choose Minecraft, this will open the game and automatically import the texture.
•It is necessary that every time you update the add-on you delete the previous folder so that there is no problem with Minecraft detecting duplicate packages.
•You only need to download one file, they both work the same, it's just up to you how you want to install it.