This addon adds coordinates which are displayed in-game once you've entered a world. Coordinates are a numerical representation of your current location. This means they can be used to more easily navigate the world. Up until now it has only been possible to find out your current location by using a lengthy text command (/teleport <username> ~ ~ ~). The Coordinates Unlocker makes it so much easier!
Creator: Fraxx01, Twitter Account
Updated: 10 June, 2017 (read changelog)
How does it work?
Open a world and look at the bottom right corner of the screen. There you will see a line of text containing the coordinates for your current location.
As soon as you move the coordinates will be automatically updated.
You might need to configure your current GUI scale to make it fit on your screen. To do that, just go to "Settings", "Video" and then use the top slider to change the GUI scale.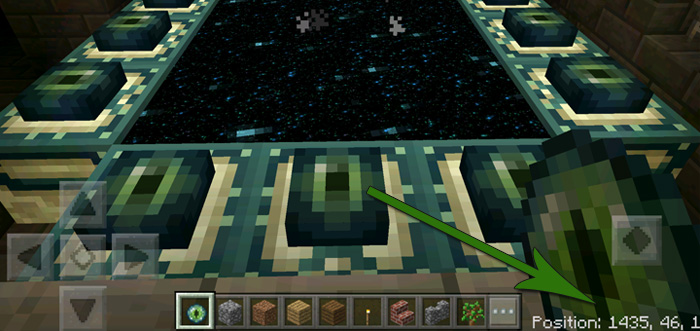 Why is this useful?
Let's say you find a desert temple but don't have the possibility to explore it right now because you need to get back to your base. Then you can easily get the coordinates for the location using this addon. Just note the numbers down on a piece of paper.
And then whenever you've got the time you can more easily find your way back using the coordinates. (And if you've got cheats turned on you can use the /teleport command.)
There are of course plenty of more uses but that's just an example to get your head going.
Demo Video
To really show that this works we've recorded a short video. Check it out and you will get a better idea how this works in-game!
Demo video is currently out of date. Will post a new one soon.
Changelog
Updated to be fully compatible with the latest 1.1 PE version
New coordinates position for Windows 10
/title bug fixed!
Installation
iOS / Android / Windows 10 / Other:
Make sure to read all steps.
Open Minecraft PE.
Go to "Settings" > "Global Resources" and apply Coordinates Unlocker as an active pack
Close Minecraft PE (important!)
Open the game again.
Enter a world of your choice and it should now be working!
Other Files: