This addon is a remake of the mod for Java Edition called "Crafting Dead". RedstoneLover decided to create it after he had watched Pat and Jen play the Java mod. The add-on includes several elements which you would recognize if you've ever watched The Walking Dead which is a very popular TV show about people surviving a zombie apocalypse. Some features include new zombies like the Walker and Runner and also new weapons.
Creator: RedstoneLover
Updated: 11 September, 2018 (read changelog)
Mobs
Walker - Replaces normal zombie, no longer burns in day light, slowed down, same health (20 points)
Runner - Replaces husk zombie, fast, leaps at players like spiders, less health (15 points)
Survivors - Replaces skeletons, will help kill zombies but neutral to players.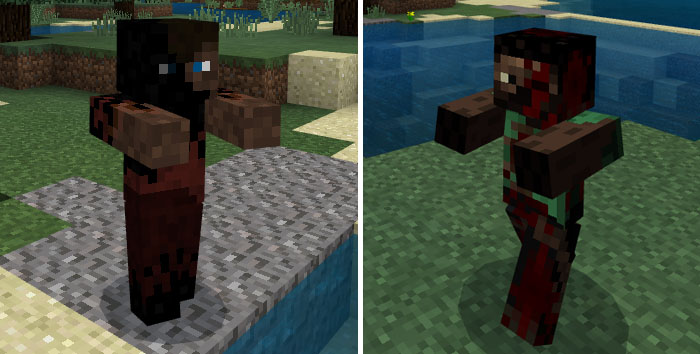 Melee Weapons
Baseball Bat - Wooden Sword
Crowbar - Stone Sword
Fire Axe - Iron Axe
Samurai Sword - Iron Sword
Bowie Knife - Replaces Golden Sword
Chainsaw - Replaces Diamond Axe
Diamond Samurai Sword - Replaces Diamond Sword
The sprites and ideas for the melee weapons were all obviously taken away from the original mod, the sprites are custom, but are based on the high-resolution original sprites.

Ranged Weapons (Guns)
Pistol - Replaces bow, uses bullets (Arrows)
Throwing Knife - I LOVE this one, it replaces the snowball. And deals 5 damage (Stone Sword Atk Damage)
Rifle - My favorite! It replaces the ender pearl, and is really accurate (try turning on the pc crossfire) It has a cooldown.
Harpoon Gun - Replaces fishing rod, sticks on to an entity until it dies, disappears afterwards
M4A1
P90
None of the ranged weapons were taken from the original. "That's IT!?" I hear you saying. But with addons you can only replace current items...There's nothing we can do about that.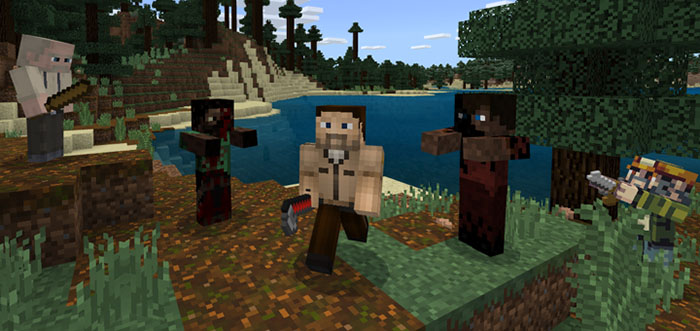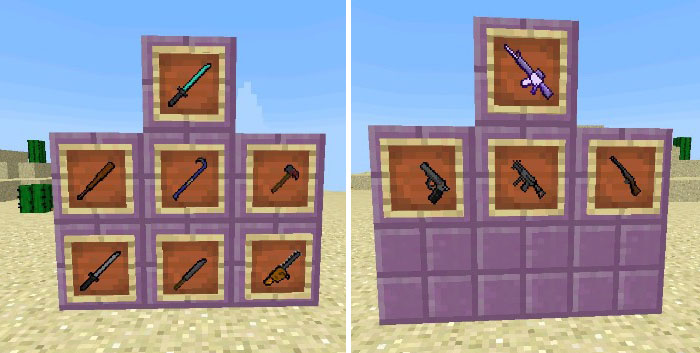 Changelog
v2.0.5
Runners now leap at their targets similar to a spider.
Survivors now make player sounds when hurt.
Zombie loot tables have been removed, they now drop what they used to drop. (no more endless supply of deep fried chicken.)
Walkers have been slowed down.
Runners are slightly faster.
Removed Mega TNT.
Zombies can see targets 40 blocks away now.
Installation
Activate the packs for a world in-game