Ever wanted Minecraft mobs to look like anime girls? Today is now your day, This add-on transforms every creature (except Fireflies in The Wild Update) from Minecraft to anime girls from Cute Mob Models/Mob Talker Series.
Ported by: LugiaGamerYT since late 2017 and released in 2019
Modeling Crew: Yarrmateys (Original Models), Minedoll, Rokuyon Shirotamaya, Kyubi, Kayasa, Emmie and Myself.
Other Modelers: It's me Siri, and Phelip.
Design Crew: AT2, Rokuyon Shirotamaya, Kyubi, Mechanical Rabbit, EZPinZee, Kayasa, Emmie and Myself.
Other Designers: QCoolKan, Phelip, RandomRaven, and It's me Siri.
Thumbnail Creator: Shingel42
There is many visuals to explore.
Screenshots by: Phelip. that's why there was spanish text.
This add-on only adds one mob to the game
Ghast Sister: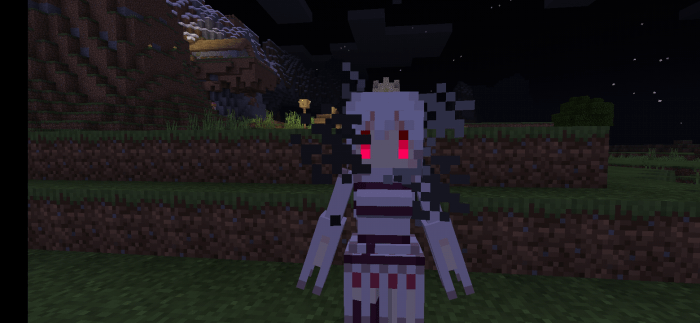 She has 20 health, She acts like a Blaze but shoots Ghast fireballs, And She only attacks players, she spawns the same way the Ghast spawns.
I recommend you to use the behavior pack with the resource pack in your world
It wouldn't work if you applied it as a Global Resource Pack and it will give you an error, so you must need to apply both of the resource pack and behavior pack, since they are connected to each other and it works properly in worlds.
Plans: Might Make a Minecraft Dungeons Mod with the Cute Mob Models Team which adds the models from cute mob models and newer mob models for the rest of the mobs like the Wind Caller, and that's why it's stored in the addon files. might do the same thing with Minecraft Story Mode and Minecraft Earth.
Plans about the mobs inside the files: I would love to make an Add-on plugin thing for different add-ons that will use Cute Mob Models Designs once the plugin is used. it means I would make a different resource pack like Cute Mob Models Wraith Design for Sekretboi's Wraith Add-on that will have CMM Support.
Known bugs: I am aware that armor renders weird when baby zombies wear it, sometimes when using this resource pack the mobs can be glitchy like when you are using another addon with Cute Mobs.
Note: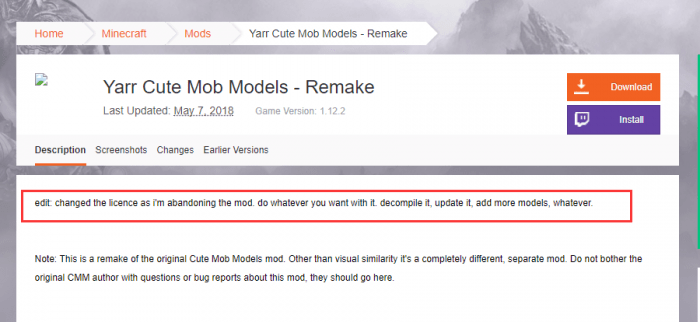 That's the latest messages what the original mod creator added in his mod.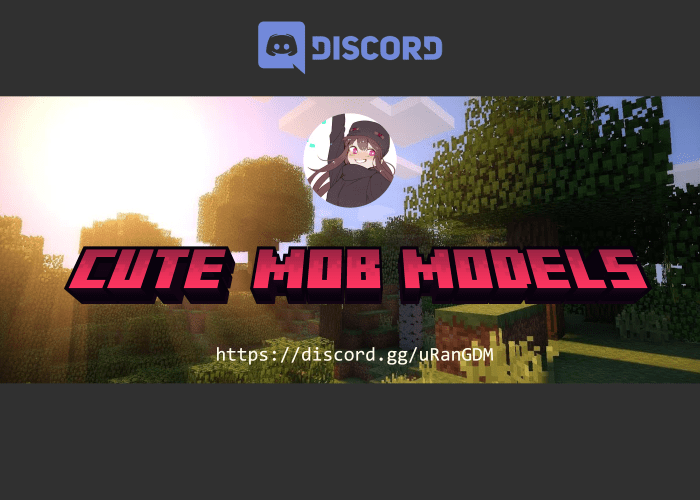 You can join to our CMM/Mob Talker Discord Community Server here in this link
A Link to the CMM/Mob Talker Discord Community Server (https://discord.gg/uRanGDM)
If you want to enjoy the Cute Mob Models Mod in Java Edition go to this link below (it's outdated).
(https://www.curseforge.com/minecraft/mc-mods/yarr-cute-mob-models-remake)
And if you want the Emmie's updated Java resource pack version of cute mobs go to this link below.
(https://www.curseforge.com/minecraft/texture-packs/cute-mob-models-resource-pack)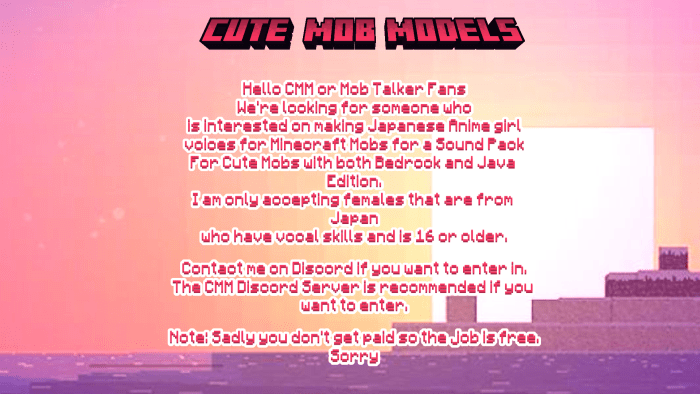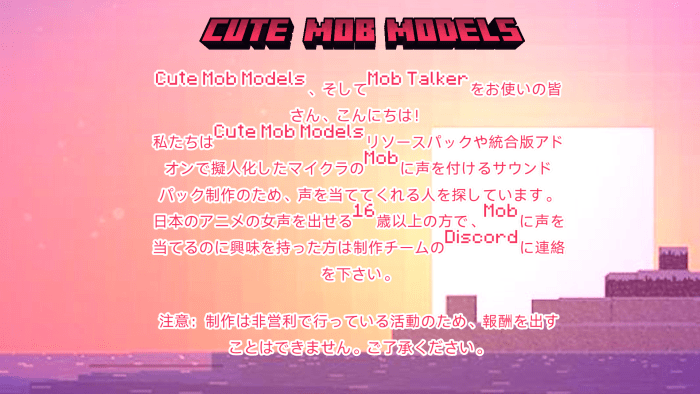 if you want to participate in voice acting for the team, you must need to join the CMM/Mob Talker Community Server in the link below.
A Link to the CMM/Mob Talker Discord Community Server (https://discord.gg/uRanGDM)
Select version for changelog:

Changelog
10/25/2021 Website Update:
Added new Updated photos of the current update.
Thanks Phelip
1.17.40 Update:
Made some Website Changes in this page.
Fixed: The Skeleton not rendering due to the removal of the male skeleton.
Internal: Added Copper Golem and a second Geomancer design in the files.
Changed: Hatsune Miku NPC texture and model to match Friday Night Funkin's version of Miku.
October 20th. Changes: Added real links to the Discord Server, to the Curseforge Links, and added supported Minecraft versions to the page.
also replaced the old mcaddon link to a new link for those who can't install the add-on.
1.17.34 Update:
Sorry for the disappearance guys, I had some development with my other add-on and I came back to work on Cute Mobs again.
Added:
Horse, Axolotl, Ender Dragon, Mule, Zombie Horse, Skeleton Horse, and Donkey.
Added back the old Vindicator outfit.
Changed:
Ghast SIster Sounds.
Polar Bear, Creeper, Skeleton, Ravager, Cat, and Pandas.
Fixed:
Villagers and Zombie Villagers for having glitchy hats, so I found a way to fix it.
Installation
Things you can do and what you can't do:
Can do:
You can make fan models of any character in the style of Cute Mob Models in the Cute Mobs Community Discord Server.
You can review the add-on to your Youtube Channel but at least give me credit with the MCPEDL link.
Can't do:
You can't modify the add-on files unless you're a developer from the Cute Mobs Team.
You can't release an add-on with my models on your add-on.
You can't give away Mediafire links that involves with this add-on directly.