Frieza is one of the mysterious races in the Dragon Ball manga series. Most members of the race are incredibly strong and they are also believed to possess an abnormal level of cruelty. And that's probably why they are sometimes referred to as the Frost Demons. This addon brings some of those characters to Minecraft Pocket Edition.
Creator: Jgmods
Models/Textures by: JinRyuu (original PC mod)
How does it work?
Five of the mobs in-game have been replaced by ones which originate from the Frieza race in the Dragon Ball manga series. All of them are very strong and can be found roaming around the world both day and night. I'll admit already that I don't know much about the Dragon Ball manga series so please excuse (and correct) any errors I make!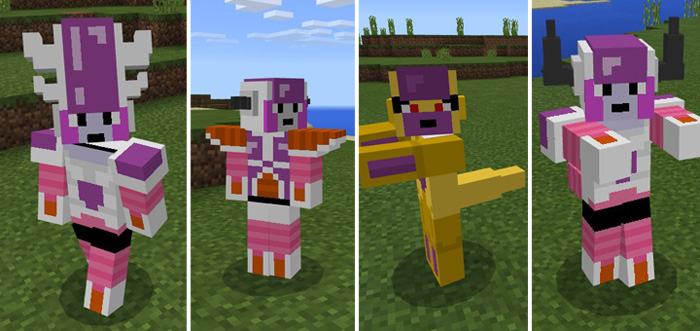 Frieza 1st Form

Replaces stray
Health: 75 hearts
Immune to fire
Shoots modified snowballs

Frieza 2nd Form

Replaces husk
Health: 90 hearts
Immune to fire
Melee attack damage: 4

Frieza 3rd Form

Replaces skeletons
Health: 90 hearts
Shoots small fireballs
Immune to fire

Gold Frieza

Replaces zombie pigman
Health: 90 hearts
Immune to fire
Melee attack damage: 4

Final Form Frieza

Replaces wither skeletons
Health: 110 hearts
Melee attack: 4
Shoots modified snowballs
Immune to fire
Installation
Activate the packs for a world in-game