This add-on adds a bunch of cool dragons to your world. By installing this add-on you will be able to tame dragons, use them as flying mounts or get them to help you to take down your enemy. They are very strong creatures and even though they can be absolutely terrifying, they are also be loyal and helpful if you manage to tame one of them.
Creator: 
Jujustyle7
, 
Twitter Account
How does it work?
Each different dragon drop their own unique Dragon Ingot (Ice, Fire, Forest, Water and Ender). The Dragon Ingots can be used for fertilizing a Dragon Egg. You can get a Dragon Egg from a Dragon Keeper which is one of the new villagers you will find in villages. It takes a total amount of 8 minutes for a fertilized egg to hatch. Around the 6 minute mark you will notice that the egg starts cracking and it's getting ready for hatching.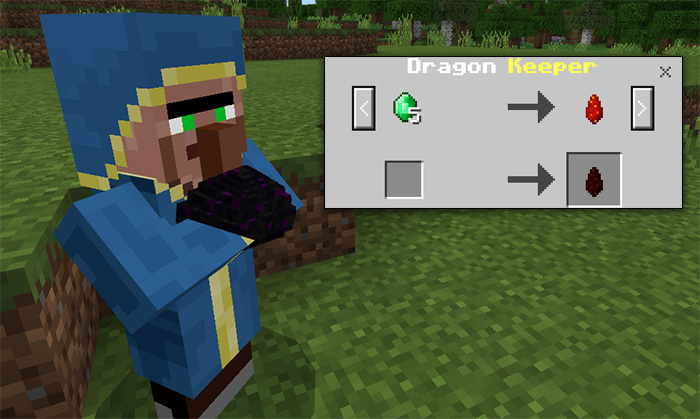 Stages
Stage 1

Wild: 10 health
Tamed: 20 health
Can ride on player's should if tamed and harmless

Stage 2

Wild: 20 health
Tamed: 50 health
Melee attack if it's wild

Stage 3

Wild: 45 health
Tamed: 80 health
Use them as flying mounts
Long range attack and melee attack
Order dragon to sit (sneak and long press the dragon to see the tame options)
Taking Care of Your Dragon
You can use any type of raw or cooked meat to tame or feed (also known as heal) the dragon.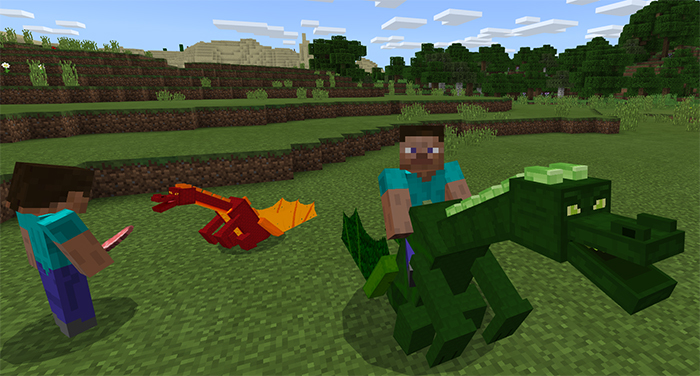 Continue feeding it meat until you see some heart particles and then you will know it's yours as it has been tamed.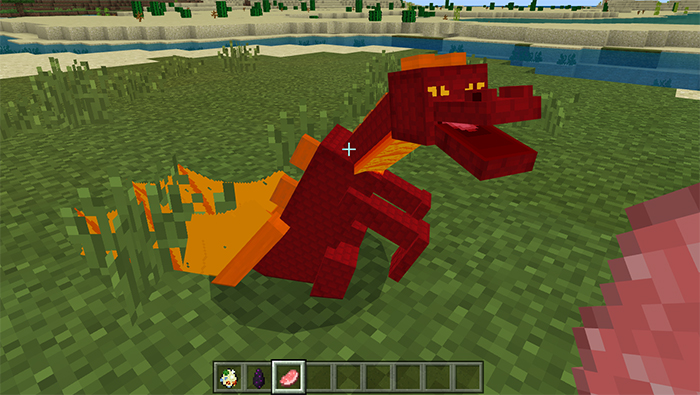 As described further up the dragons will be on different stages in their lives and this also means that there abilities can be very different from another dragon. You can see a full list of features further up on this page. A stage 3 (max) dragon is the only stage that will allow you to ride it. Same goes for allowing it to protect you against hostile mobs.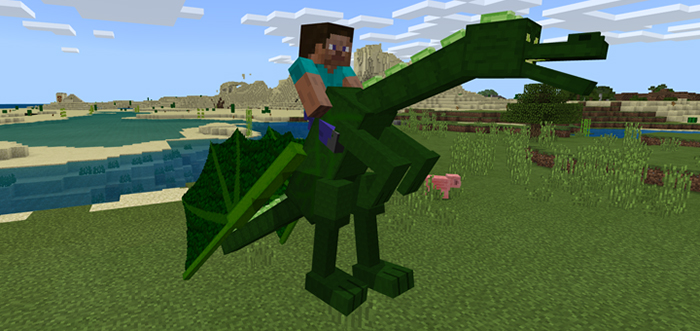 Any time that it sees a hostile mob it will immediately attempt to take it down by spitting fire explosives at the enemy or using a melee attack.
Trailer
https://www.youtube.com/embed/i_gYUEeb5qQ
Installation
Apply the packs for a world
Create the world