Find The Button: GREEN DAY is made by The TRiNITY. In this find the button map game is a Nature Inspired where you will find the button blend with the NATURE OR TREE'S.
Love NATURE & FIND THE BUTTON. Map Created by The TRiNITY. ENJO
Find The Button: GREEN DAY is made up of 5 nature-inspired levels ranging from easy to hard. Well as we always say it is always be depending upon on whose playing.
If you love seeing the green scenery of NATURE, Well this find the button map GREEN DAY is for you. Don't waste anymore time click, download and Play This NOW!!
Play with our Friends (recommended/optional) playing is always fun if your with special someone.
*here are some of the Highlighted picture in the game*
Find The Button: GREEN DAY level: 2
In this level do you think you can find the button? Look around the trees up and under. How about go Dive in the sea of Lily's Do you think a button is hiding there? Good luck hope you find the button.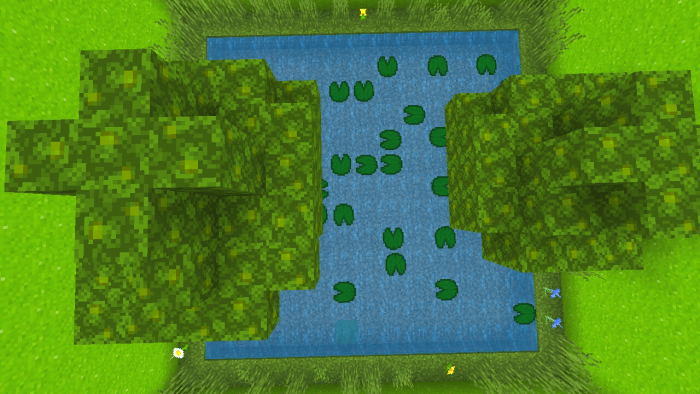 Find The Button: GREEN DAY level: 3
Level 3 is the middle part level in this map. this level is really hard and challenging. Try and Play now... Find The Button run fast you might walk around with wither skeleton guarding the secret button.
IF YOU ENJOY THIS MAP SHARE IT WITH YOUR FRIENDS & SOCIAL MEDIA ACCOUNTS.
Select version for changelog:

Changelog
*Updated text descriptions as advised.*
Change the introductions and text style far away from our past uploads.
Installation
For Zip File
Click and download the zip file of the map down below. After downloading the zip file of the map. click extract folder then copy the folder go to your phone/games/com.mojang/minecraftWorlds then click paste the map there you're ready to go and play. Launch your minecraft application and hit that play button!
For Mcworld File
Just click the McWorld file of the map. After downloading it just click it and you'll be redirected to the Minecraft application and just click the minecraft app so you'll redirected into the game and start playing.