Here we present to you one of the so far best fireworks mod for Minecraft Pocket Edition. It uses cool torch particles as the fiery visuals and introduces several different types of fireworks based on what you want to experience.
Creator: MxGoldo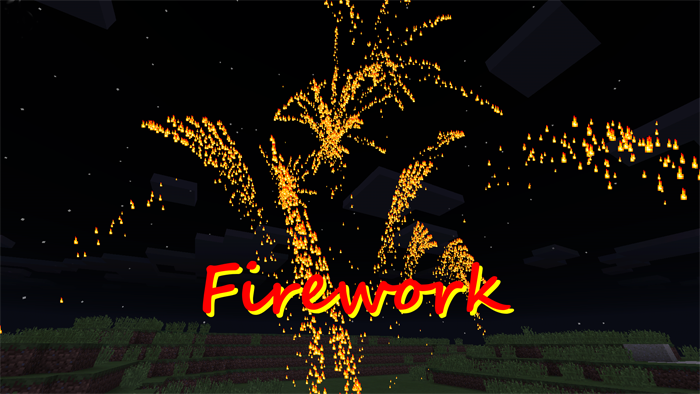 How do I get the firework items?
The fireworks can be crafted with some paper, gunpowder, flint & steel and redstone dust. You can also obtain them easily with the inventory while in creative mode or use the Too Many Items mod.
How to launch a firework?
There are two ways to set off the fireworks. One is by simply tap on the ground while holding the firework to set it off.
If you want to set off multiple fireworks one after the other then you will need a block called Firework Launcher (crafting recipe can be found further down). Place the Firework Launcher next to a chest filled with fireworks. Then tap on the Firework Launcher to set off the fireworks.
Item IDs & Crafting Recipes
Firework Launcher, ID: 94 - 7 Gunpowders + 1 Flint & Steel + 1 Redstone Dust
Fountain (small), ID: 445
Fountain (big), ID: 446
Fountain (triple), ID: 447
Fireball, ID: 448
Rocket (trail), ID: 449
Rocket (ball), ID: 450
Rocket (special ball), ID: 451
Rocket (circle), ID: 452
Rocket (stripe), ID: 453
Rocket (wheel), ID: 454
Rocket (tall grass), ID: 455
Command(s)
/stopfirework - if Minecraft starts to lag use this command to disrupt all fireworks