For those cold winter nights, we have flamethrowers! That should warm us up very nicely. I feel warm just thinking about it. Get your marshmallows ready for toasting! No marshmallows?? Well, we can always roast some monsters!

"Flame on!" Who says that.... The flame guy from the Fantastic Four..? I think so. Flamethrowers also say "Flame on!" But, in their own unique way. I won't be putting these things anywhere near my base. Obvious reasons, they'll burn it to the ground. So, not exactly sure what these things are good for, but gee whiz, they're lots of fun.
Where to get them
Trade with a fletcher. They've been up-skilling, haven't you heard? Fourth-level trade, 50% chance you get a flamethrower, 50% chance you get an enchanted bow. So, 50% chance you get something useful, if not, you'll get a flamethrower. Ha! They cost a bunch of emerald blocks, so, bring your wallet.
How to fix them
I actually have no idea, I'll look it up. Ok, Iron ingots, that is it. Or you can do the sort of cheaty way and just chop them down, pick up the spawn-egg that it drops, and place it back down. You know, I just thought of an interesting experiment that I just have to try. Put one of these in a spawner. Oh man, I think you'll get heaps back. Yikes.
Other things
They have 40 health and they'll target any 'monster' except endermen (intentional) and ghasts (I can't get any of these sorts of mobs to attack ghasts, I have no idea why).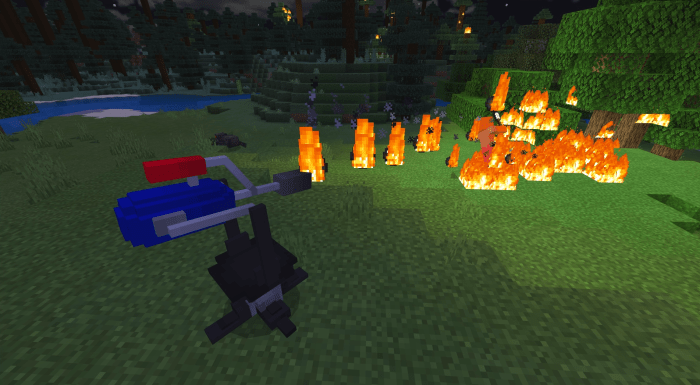 To the hot youtubers out there, if you do a review/showcase, thank you! Please link back to *this page* on mcpedl. Cheers!