With this add-on we add to our Minecraft characters taken from the battle pass of Fortnite chapter 2 and season 2, includes new items that will be useful in our survival mode.
Add-on created by ArathNido. (Twitter)(Youtube)
Warning:
This add-on was published on MCPEDL.COM, it is not allowed to publish this add-on on other websites or applications of Minecraft Addons without the permission of the creator.
If you will review this add-on for youtube leave credits, put the download link from mcpedl and not put the direct download link or create your own download link or you will receive a complaint.
How does it work?
We add 9 characters and they will appear in our minecraft worlds or we can appear them from the creative mode.
Characters and Features:
Agent Peely:
Health: 20
Shoot arrows.
Loot: Bananas
Tntina:
Health: 100
Damage: 4
Loot: TNT
Tame with a diamond.
Brutus:
Health: 100
Damage: 4
Loot: Iron Ingot
Tame with a diamond.
Meowscles:
Health: 100
Damage: 4
Loot: Music disc (I'm a Cat)
Tame with a diamond.
Skye:
Health: 100
Damage: 4
Tame with a diamond.
Midas:
Health: 100
Damage: 4
Loot: Gold Ingot
You can trade with him.
Deadpool/Deadpool X-Force:
Ghost and Shadow:
They are a different version of the characters, they are not possible to tame and will attack the player.
Health: 100
Damege (Midas, Meowscles, Tntina, Skye and Brutus): 18
Agent Peely Shoot: Arrow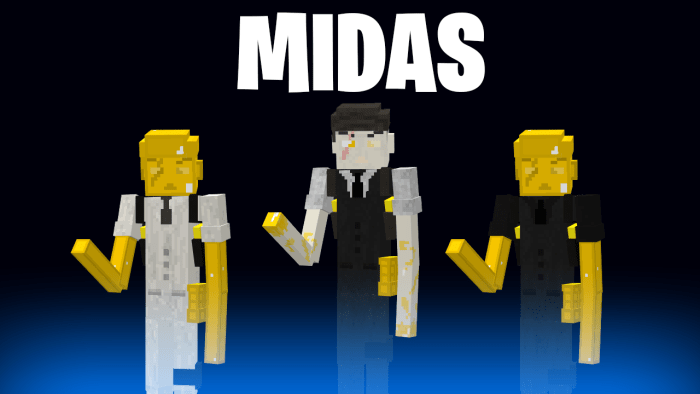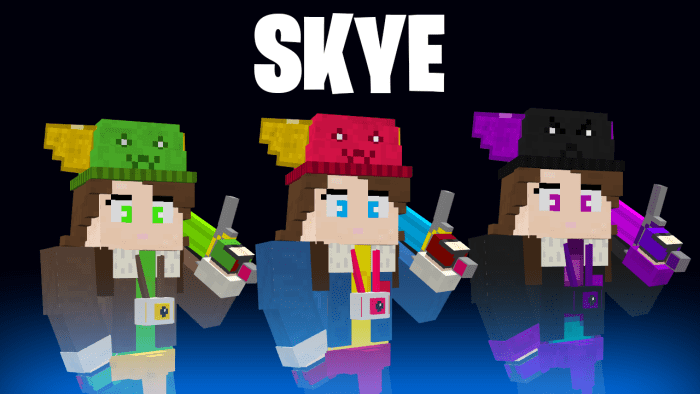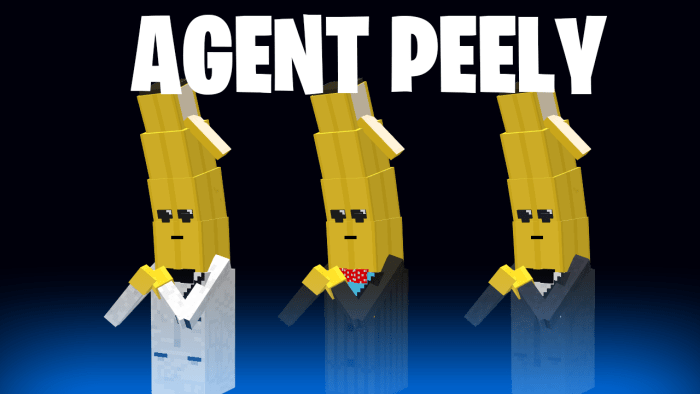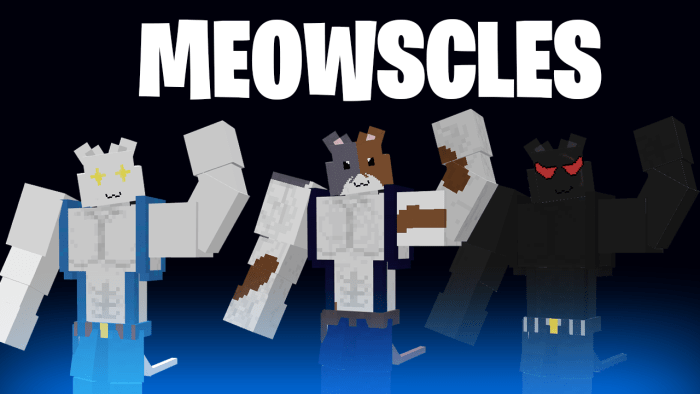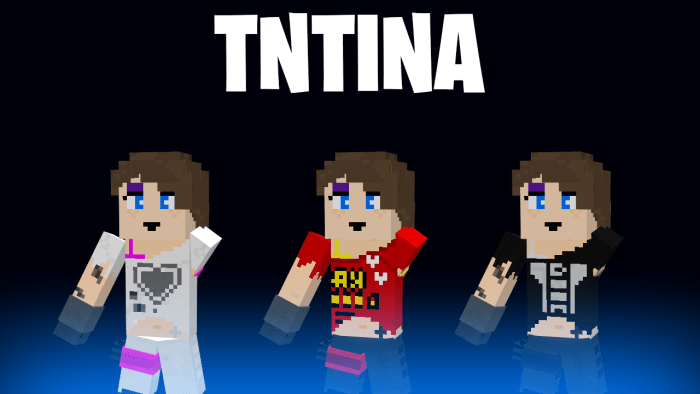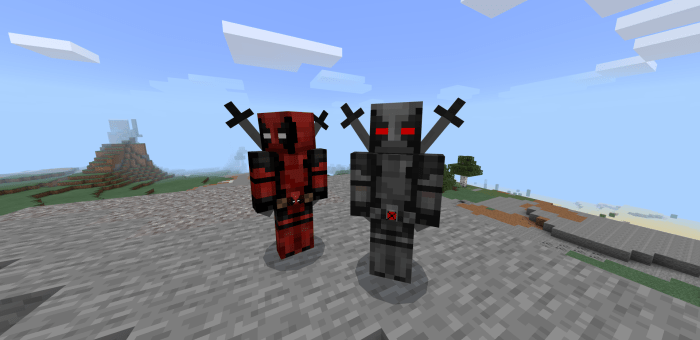 Ollie:
You can find them anywhere in the world, you can tame them using a diamond, you can ask him to follow you or leave him sitting, you can also ride him.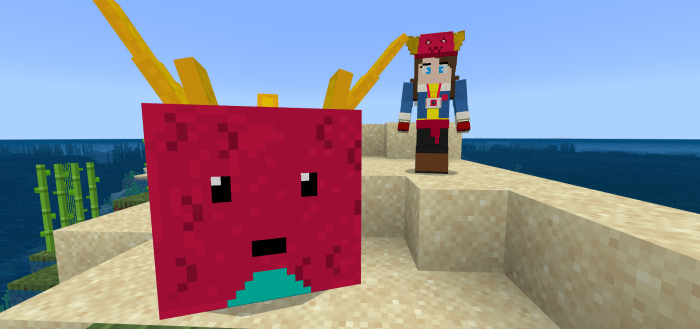 You can also tame their ghost and shadow version.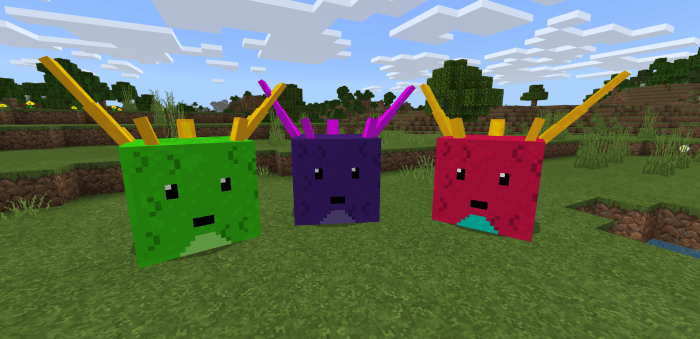 Health: 100
Damage: 4
Tame with a diamond.
Items:
Skye Sword:
The sword of skye can be obtained using this recipe:
You need:
Four glass blocks.
one diamond.
An emerald.
One stick.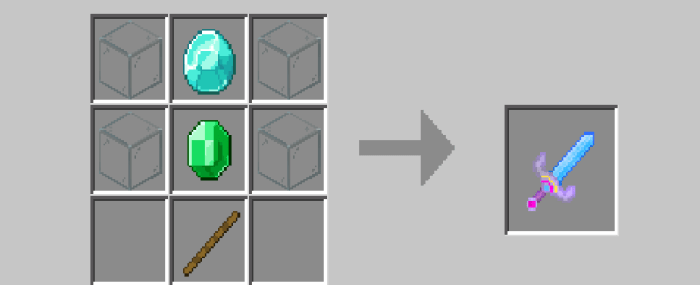 It serves as a sword and even when you have Skye tamed you can equip her with her sword which will increase her attack damage.
Attack Damage: 14
The sword is unbreakable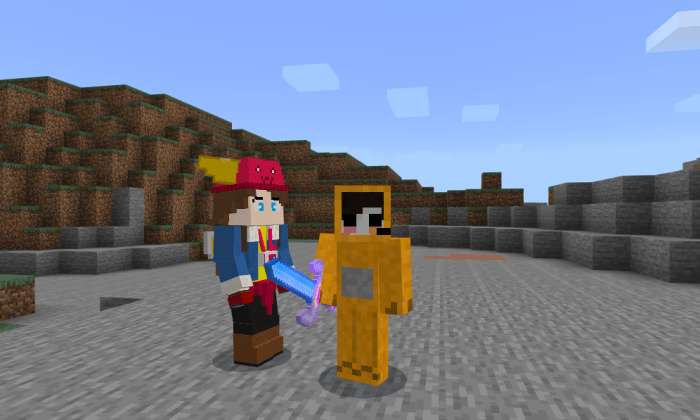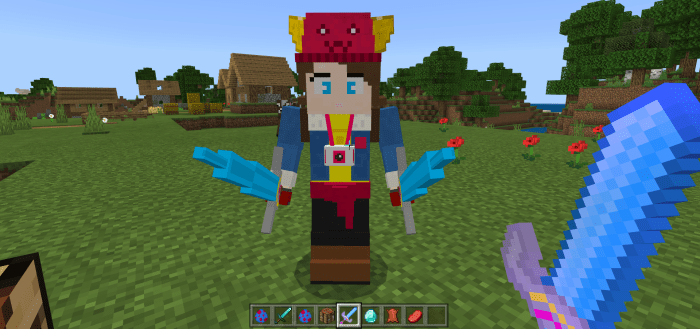 Banana:
The banana serves as food and can only be obtained by killing an Agent Peerly.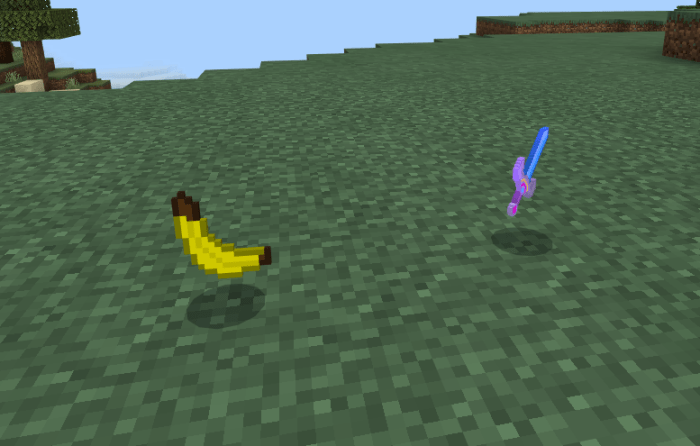 Record I'm a Cat:
The Meowscles can release a record called I'm a Cat, this works like a minecraft record, to hear their tune we have to get a music box and put the record in the box.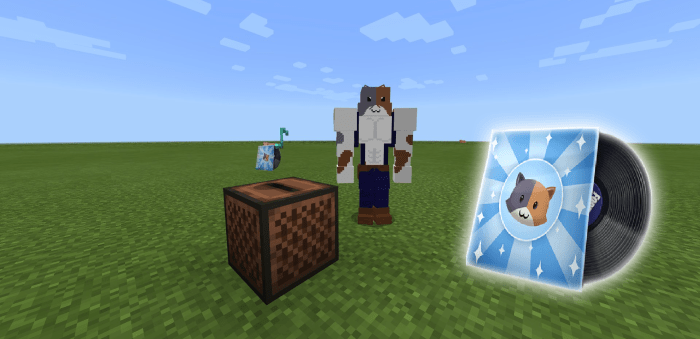 Select version for changelog:

Changelog
The characters from Fortnite Season 2 were added to its Ghost and Shadow version.
Change in the Midas model.
Bug fixes.
Installation
Download Resources .McPack.
Download Behaviors .McPack.
Apply the packs for a world.
Enable "Experimental Gameplay" in the world settings
Create the world.