This add-on features all of the mobs which were included in the Fractured World adventure map. All new mobs have complete new models and textures which creates a whole new experience in the Overworld (or wherever else you can find them). Most of them are quite powerful, and some even are considered bosses, so this is a great option for anyone who is looking for new challenges in Minecraft.
Creator: CookieModder, Twitter Account
How does it work?
Most of the mobs replace ones which was originally found in the Overworld or the Nether. This means that they will all spawn naturally and you can quickly find them in-game.
A full list of the new mobs and their behaviors can be found further down on this page.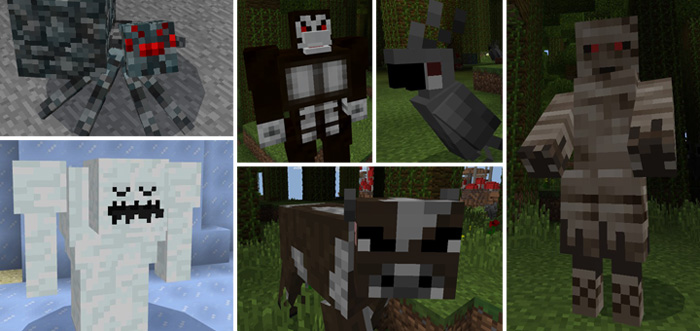 Be careful out there! Some of the mobs are much more powerful than their vanilla predecessors.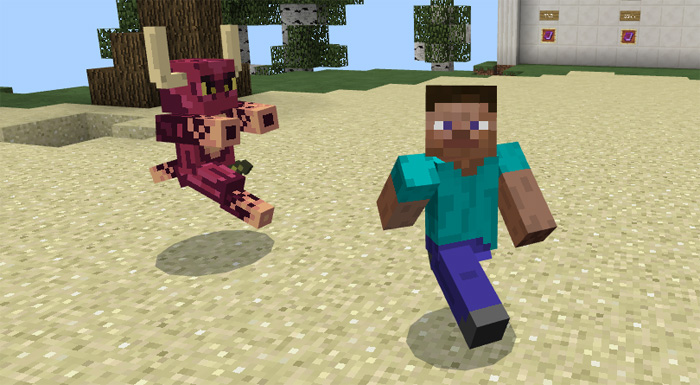 New Mobs
Evil Cow

Replaces Cow
Health: 40 hearts
Damage: 4

Stone MiniGolem

Replaces Creeper
Health: 10 hearts
Damage: 8

Mummy Boss

Replaces Evoker
Health: 140 hearts
Attack types

Beetles

Replaces Vex
Health: 10 hearts
Damage: 3

Mushroom Spider Boss

Replaces Spider
Health: 60 hearts
Damage: 18

Cave Spider Boss

Replaces Cave Spider
Health: 100 hearts
Damage: 5

Demon Boss

Replaces Zombie Pigman
Health: 10 hearts
Damage: 5

Giant Parrots

Replaces Parrots
Health: 35 hearts
Damage: 4

Mushroom Monster Boss

Replaces Witch
Health: 400 hearts
Damage: 10

Snow Golem Boss

Replaces Snow Golem
Face animations
Health: 150 hearts
Damage: 2
Snowball damage: 5

Gorilla

Replaces Iron Golem
Health: 150 hearts
Damage: 20

Snow Minions

Replaces Zombie
Health: 80
Damage: 3
Installation
Activate the packs for a world in-game
Other Files