Don't you think that Minecraft's frozen biomes have very little life? I think so and that is why I have made this addon, to bring more life to these places, well, I don't exactly bring life, he-he!
This add-on includes five new zombies exclusive of the frozen biomes, each one more dangerous than the previous one according to their freezing levels, all of them give slowness effect and none of them burn in the sunlight.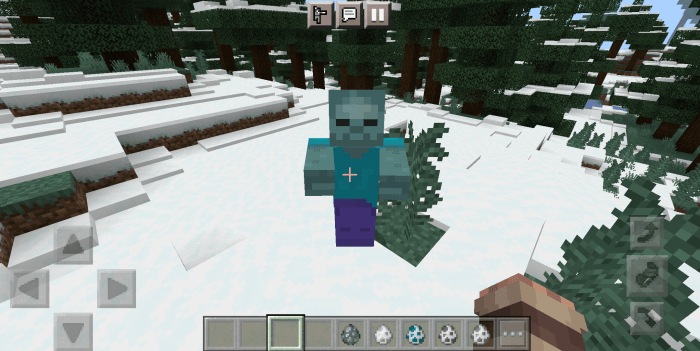 COLD ZOMBIE
The weakest of all, this zombie is the first stage of freezing and he is only cold, it is homologous to the common zombie with the difference that it gives you 10 seconds of slowness effect.
Health: 20
Damage: 3
Slowness: 10 sec.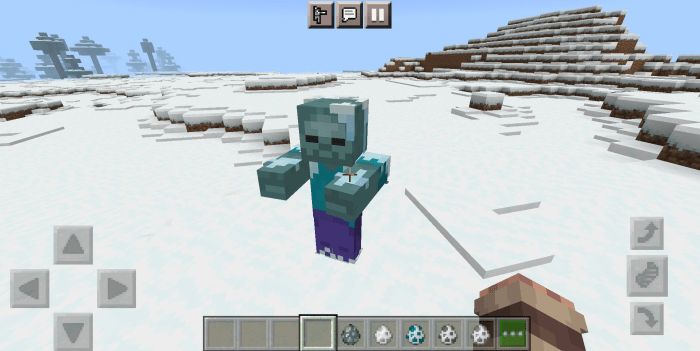 SNOWY ZOMBIE
The second phase of zombie freeze, this doubles the health, damage and duration of slowness of the cold zombie, but spawn less frequently.
Health: 40
Damage: 6
Slowness: 20 sec.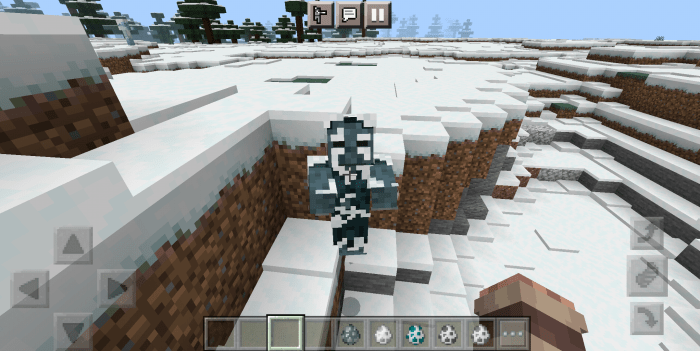 FROZEN ZOMBIE
The third phase of freezing the zombies, with this type you have to be careful and avoid unnecessary confrontations, because his life and health are somewhat high, fortunately he does not spawn so often.
Health: 60
Damage: 8
Slowness: 30 sec.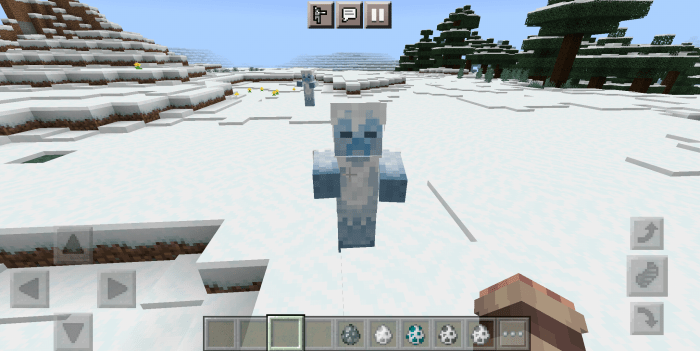 ICE ZOMBI
The most advanced stage of the freezing of the zombies, these dudes are a matter of care, with strong attacks and quite high health added to the slowness effect of 60 seconds, will make this combat the most difficult, I recommend running.
Health: 100
Damage: 10
Slowness: 60 sec.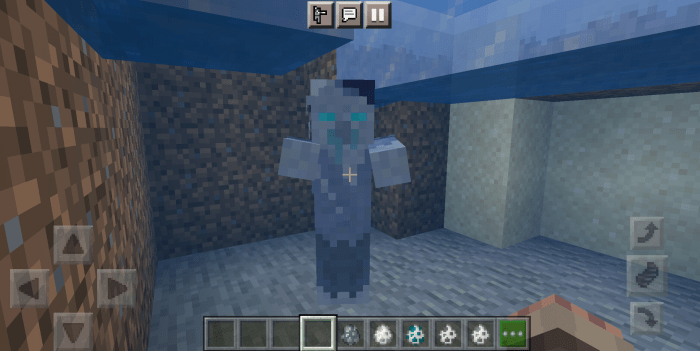 FROZEN DROWNED
It is the aquatic version o a snowy zombie, but it spawns in the water, or when the zombies in this add-on stay underwater for some time, they can carry tridents and cause you a lot of problems, swim as fast as you can.
Health: 40
Damage: 6
Slowness: 20 sec.
It should be mentioned that these zombies can appear with the standard equipment of normal zombies and also have their corresponding and very dangerous baby versions.
NO EXPERIMENTAL GAME NEEDED
WORKS ON REALMS AND SERVERS
Select version for changelog:

Changelog
New appearance of the cold zombie.
New appearance of the frozen drowned.
Añadido el idioma español de México y España.
Installation
Once you have downloaded the behavior and resource mcpack files, open each one with Minecraft and it will do the rest.
If you download Full link, just open the mcaddon file with Minecraft and it will install itself.
The ZIP link is for manual installation by copying and pasting folders.
Remember not to click or touch any of the ads.
Una vez que hayas descargado los mcpack de comportamientos y recursos ábrelos uno por uno con Minecraft y éste hará el resto.
Si descargas el enlace Full sólo abre el archivo mcaddon con Minecraft y se instalará automáticamente.
El enlace ZIP es para instalación manual mediante copiado y pegado de folders.
Recuerda no dar clic ni tocar ninguno de los anuncios.
Do not republish this addon as your own or modify it's contents without my consent. If you are going to review or publish this add-on elsewhere, don't make your own links, use the link to MCPEDL and always give credit to me, you can find my social media and channels on my profile.