And we are back.
After every complaint imaginable we finally did it, behold a renewed version of my critically acclaimed pack, reviewed by 3 YouTubers even in its infant stage. The new and improved 
Funny Death Messages Resource Pack
(Buttons removed from name for length reasons)
I know I know "what took you so long?"
Despite YouTube reviews that I got, I had issues while developing add ons like this, and I eventually stopped, but now I am back with a renewed interest in the game.
for starters feast your eyes upon the new death screen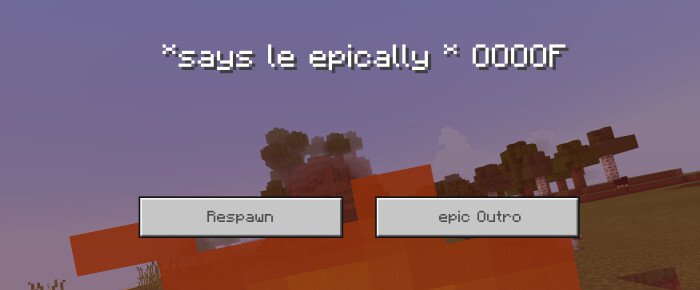 I won't reveal anything else because I feel that I made that mistake last time, go look at the pack for yourself
P.S. Remember once you enable the pack to go back and change to the correct language for all the buttons to activate
Select version for changelog:

Changelog
Updated pack icon
fixed download link
updated minor death messages 
Installation
Step 1. Download The pack
Step 2. Start Minecraft
Step 3. Settings > Global Resources > Apply the pack
Step 4. Restart Minecraft
Step 5. Settings > Language > English Funny Death Messages and Buttons
Step 6. Enjoy