This addon makes all mobs in your worlds invisible. This includes all passive and hostile mobs. Additionally, bosses are the only mobs that don't turn invisible and players don't as well. Use this addon to provide both an interesting, yet challenging survival experience! 🙂
This addon includes:

All in-game Mobs turn invisible
Bosses and players don't turn invisible
You can still see some mobs, such as the following:
Blazes (smoke particles)
Enderman (glowing eyes)
Spiders & Cave Spiders (glowing eyes)
Any mobs holding a bow or sword/weapon, etc…
Any mobs that are wearing armor
Watch video below to see all of these demonstrated in depth! 🙂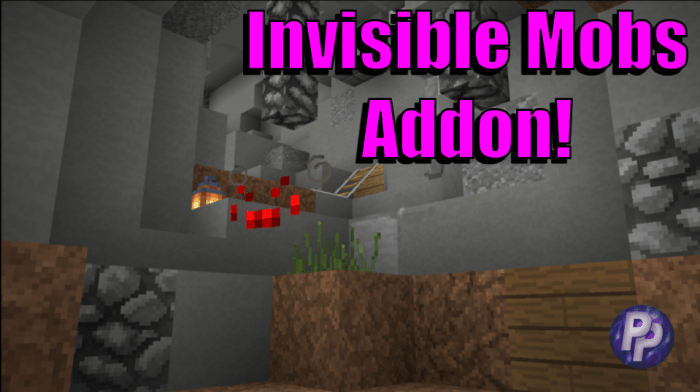 Please help support the PixelPlay Community for more free addons in the future!
Official Youtube
Addon Creator: jesser101 (Owner of PixelPlay MAPS)
---
Additional Notes:

If you experience issues with downloading – feel free to join the discord to receive a raw file of the addon!
Select version for changelog:

Changelog
The Text description is now unique, current description has been removed from other website
Installation
1. Down the mcpack or zip file using the mediafire link .
2. Open the downloaded mcpack file for the addon to automatically install into the game!