This addon upgrades some of the low-tech tools to modern standard weapons. The weapons can be used for exterminating anything which becomes a threat to your survival. If you are tired of struggling for survival then you must give this add-on a try.
Creator: 
Jimbo_Acob
,
Twitter Account
Updated:
19 April, 2018 (
read changelog
)
Features
Shotgun (Fishing Rod): 
It's not really a shotgun since it can only shoot one enemy at the time. But it does have textures which resemble a shotgun. Attack damage: 50.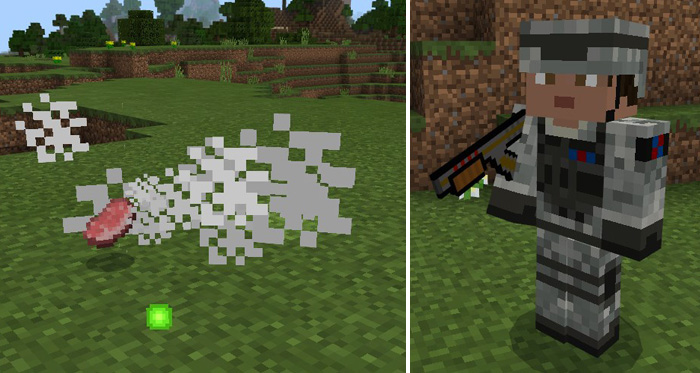 RPG Launcher (Bow): 
This weapon is a launcher which can be used for shooting explosive warheads (arrows) at enemies. It's the most powerful weapons since a large explosion. You can activate a zoom function by sneaking while holding the weapon. You can't move while the zoom function is active.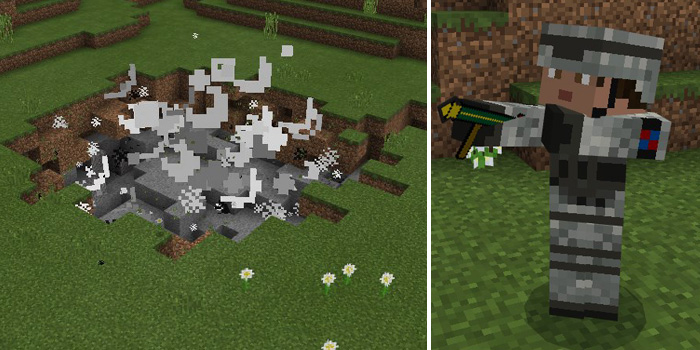 Fire Grenade (Snowball): 
The fire grenade is most suitable to use against groups of mobs. Are you being chased by zombies? Throw a fire grenade at them and watch them burn!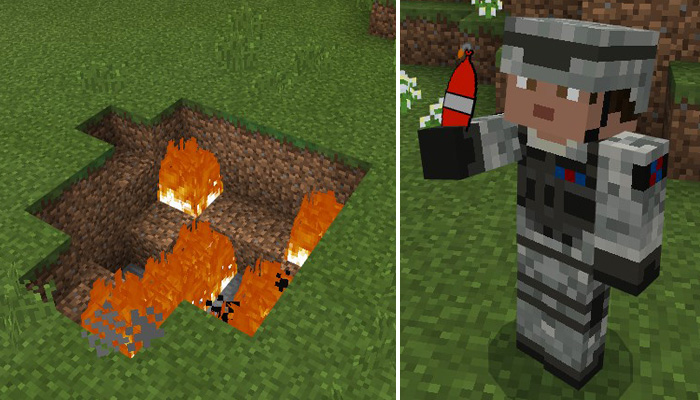 Grenade (Egg): 
The grenade causes a big explosion which will both hurt enemies and destroy the terrain.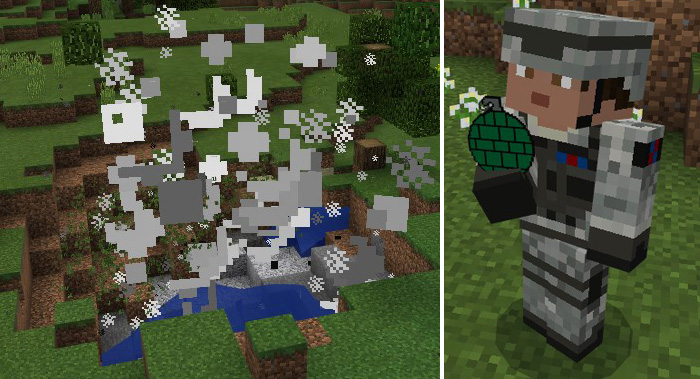 Soldiers (Skeletons)
: They are dressed in uniforms and are usually armed with a shotgun. If you come across one then it will most likely attack you. However, if you get the chance, then try to tame it with the bow and it will work for you.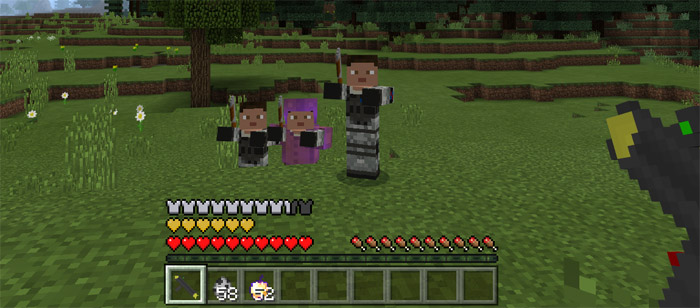 Landmine (Creepers):
 The landmine is an explosive which will detonate if a player is within a radius of 1.5 blocks of the object. It will only explode if the player is in survival mode. It will explode the following mobs: cows, pigs, rabbits and monsters (and players)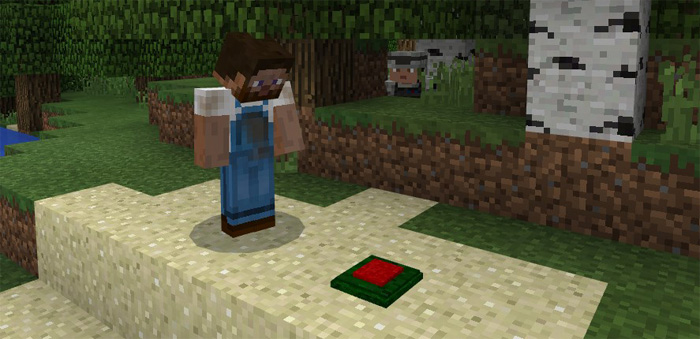 Turret (Iron Golem): 
You can build a turret with four iron blocks and a pumpkin. (It works just the same way as to spawning an iron golem.) The turret is fixed to one position and will shoot any hostile monsters within a 35 block radius. Health: 50 hearts
The turret has a new model - image down below is not up-to-date.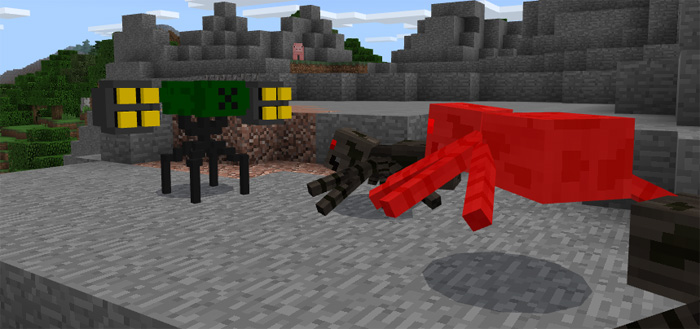 Tanks (Wither Skeletons): 
You can spawn one in the Overworld by using a tank spawn egg. Before you can drive it you will need to fill it up with some coal. The coal works as fuel and will last for 3 minutes before you need to refill it again. While seated on the tank you can hold a key in your hand to control the direction of the tank.
Rideable (fill it up with some coal and then ride with a tank key)
24 slots inventory
Health: 175 hearts
Knockback resistance
Solid entity (stackable similar to a minecart)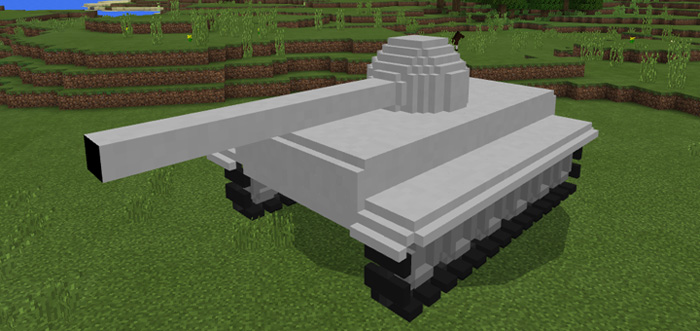 Mech Mob (Husk): 
To ride the Mech Mob you will first need to refill it with some coal. Once that's done the Ride button will appear and you will be able to seat it. The coal fuel lasts four 3 minutes until it needs to be refilled again.
Rideable
Refill with coal every 3 minutes
27 inventory slots
Can jump like a horse (15 blocks up into the air)
Immune to fire
Health: 25 hearts
No fall damage
100 knockback resistance
Stackable
Attacks hostile mobs with melee attacks (attack damage: +20)
Speed: 0.28
Spawns in desert biomes since it replaces the Husk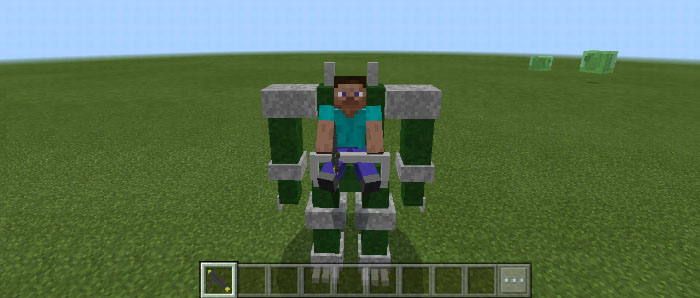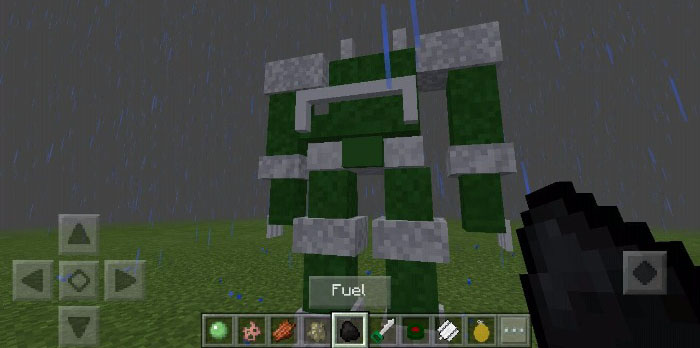 Binocular (Custom Item): 
The Binocular is an item which you can use for viewing things at a far distance. It's dropped by skeletons and has a very low drop loot (0.025). You can also use the following text command to obtain the item: 
/give @p yellow_flower 64 1
Hold the Binocular item and sneak to activate the zoom function. You can't walk or move while the Binocular zoom is active.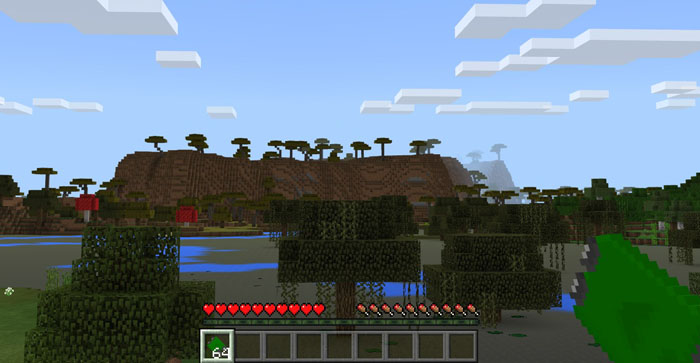 Download Resource .McPack
Activate packs for a world in-game
You can download a .ZIP for this addon here.