Packed with varieties of animated washing machines, an animated clothing rack, a working faucet, and more. Enjoy the laundry days in your minecraft worlds even more with the Laundry Set Addon by yours truly.
The very first laundry addon in mcpedl now with its more improved version! (See changelog section at the bottom for more details)
I wanted a washing machine in my own world but I couldn't find any addon so I made my own instead and I'm sharing it with you! I hope you enjoy adding it to your world as much as I had a great time making this addon.
The Laundry Set addon comes with:
• Automatic washing machine - can be loaded with clothes (Just tap "Load/Unload" button)
• Laundry Basket - now has clothes animation
• Clothing Rack - Has hanging clothes and comes with swaying animation
• Towel Rack - placeable on walls
• Working Faucet with Pail - you can fill and empty the pail with water from the attached faucet
• The Robot Vacuum - the tiny and cute round cleaning robot that roams around your place to keep the floor shiny. It has its very own inventory with 27 slots. You can turn it on by sneaking and it will automatically move around, you can also turn it off in the same manner. This tiny thing can also climb on stairs/blocks, float on the water. and you can even make it follow you by holding gunpowder in your hand while you move around! (doesn't pick up items...yet)
Display Items:
• Pail
• Detergent
• Wash Basin
• Box Vacuum
• Washing Machine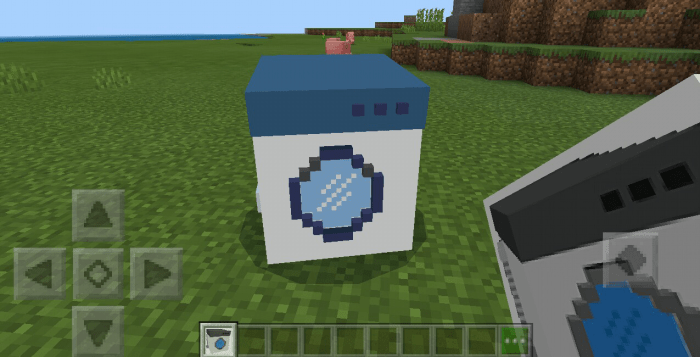 *The very first item I coded and worked ⬆
---------
Here is a gif showing you the changes in the appearance of some items that were made in the update (see changelog v1-0-3) :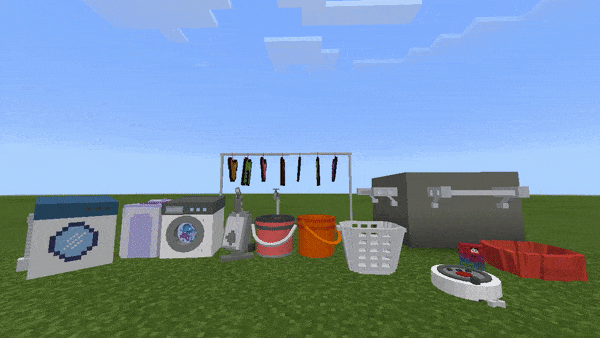 ---------
Ordinary Washing Machine (see changelog v1-0-4)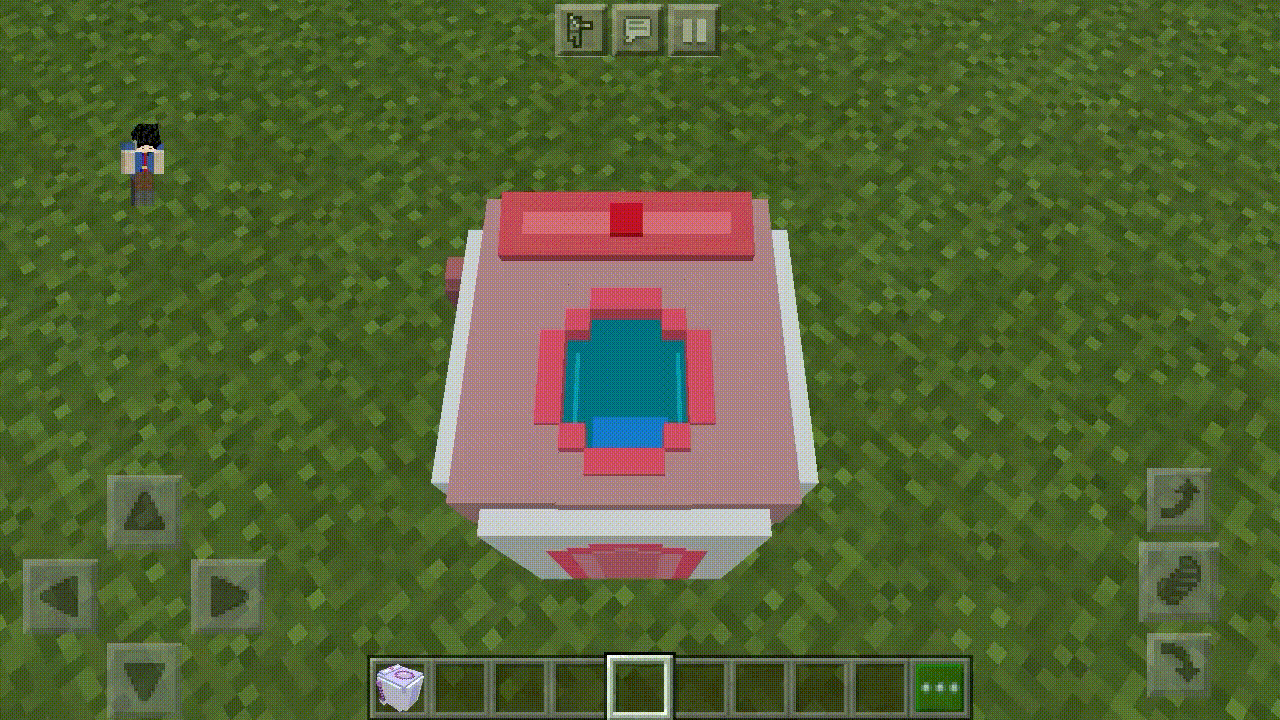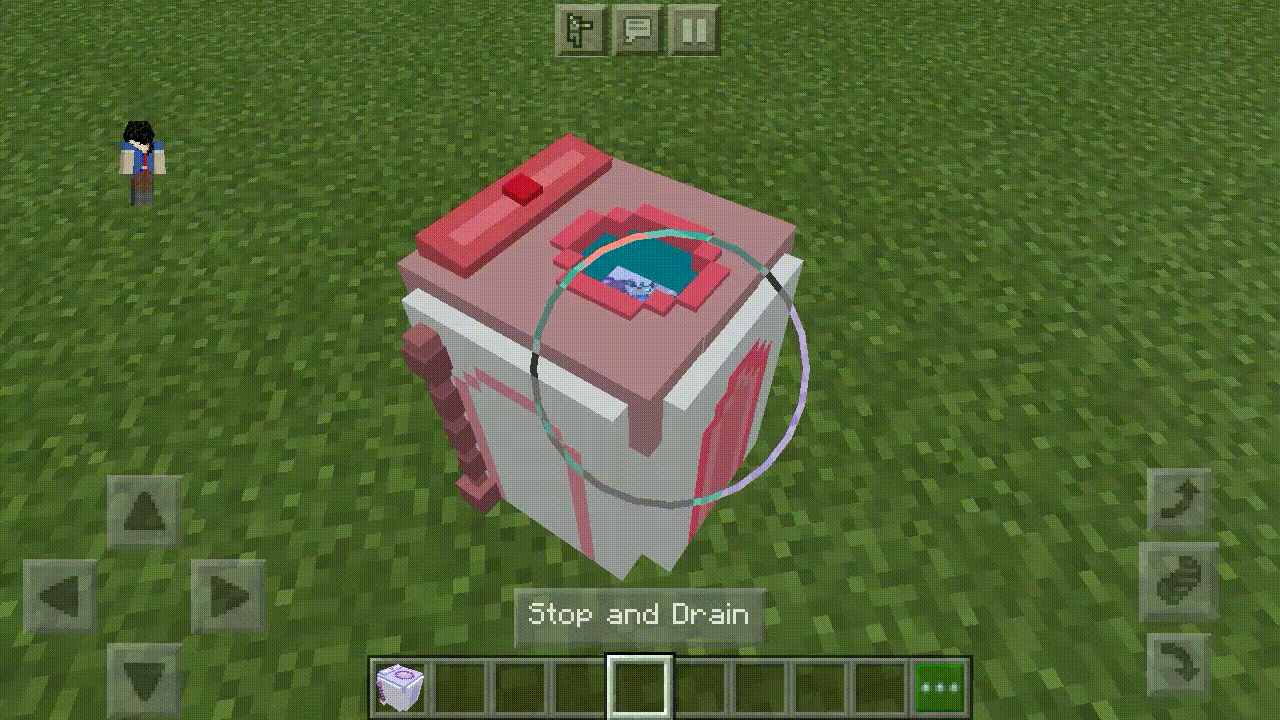 (this gif is buggy ⬆️)
---------
Updated the Laundry basket (see changelog v1-0-4)
The video down below was from the time I first released this addon. (I'll be making a new one once I have finalized the update)
This will be updated in the following weeks so you can subscribe to me here at mcpedl to stay updated. Oh, and subscribe to my YouTube Channel too for more updates.
Check out my other addons:
Join my forums, message me, and see old versions of my addons on this site.
My addons keep on improving because of your constant support. Feel free to drop your suggestions in the comments. I appreciate all your feedback (whether good or bad). Thank you so much my dear fellow Minecrafters!
-----------
NOTE:
You can't post a direct link or a monetized link on another site, but you can post this addon's mcpedl link to take them here.
Really. I mean it.
-----------
Select version for changelog:

Changelog
The Laundry Basket now has clothes animation
I added a towel to the towel rack. Now, it comes with a swaying animation.
the download link has also been updated
I guess I'm done updating this now, I'll be moving on to my Musical Instruments addon (maybe I'll put some music to it, don't know yet). Any suggestions for additional items in this pack before I upload a final video? Just comment it down below!
Installation
How to download in linkvertise:
1. Click "Free Access with Ads" in the black tab at the center of the page.
2. Complete the steps. If you are asked to:
- Discover Articles. Just click on it. A number of articles will be shown--you do not have to click them. You can just click the "X" button and wait for a few seconds
3. Click "Continue" once you have finished the steps and you will be automatically redirected to the file.
YOU NEED TO DOWNLOAD BOTH BEHAVIOR (B) AND RESOURCE (R) PACKS FOR THE ADDON TO WORK.