This add-on adds a magnificent new lion to the game but as you might guess it will ony work for version 1.8 as it is adding an entity instead of replacing. The lion is normally hostile toward players, at least the large adults. However, by feeding them some raw meat you will be able to tame them and make them your pet companion.
Creator: ArathNidoGamer, Twitter Account
How does it work?
Lions can be found in any biome and they can also be spawned by using the spawn egg in Creative mode. They are naturally hostile so you have to be real careful around them. You can feed them some raw meat though to tame them but it might take several tries before you succeed.
A tamed lion will follow their owner and protect you against monsters.
iOS / Android: Hold some raw meat in your hand and long press on the lion and press the interactive button to attempt to feed it.
Windows 10: Right-click the lion while holding some raw meat to attempt to tame it.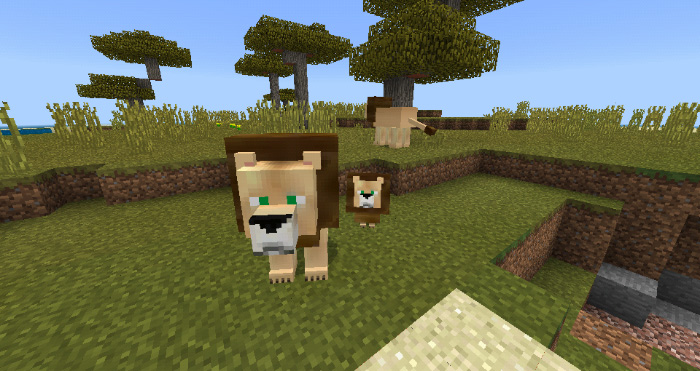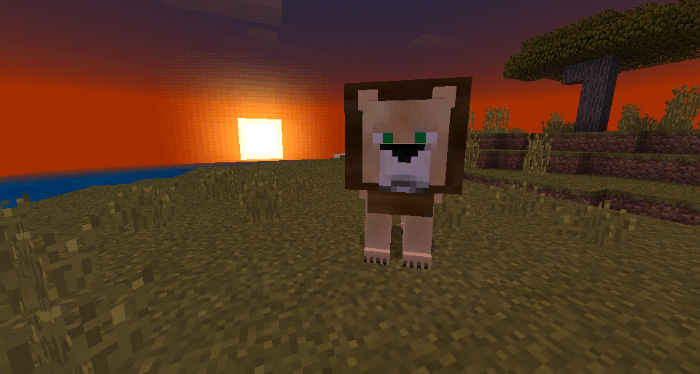 General Features
Wild
Health: 45
Attack damage: 5
They eat raw meat
Tamed
Health: 70
Attack damage: 9
They eat raw meat
Installation
Requirement: Enable "Experimental Gameplay" in the World Settings!
Apply the packs for a world
Create the world