Ever thought that Minecraft needed more food? Then this is your pack! This pack adds more than 50+ Foods. use to replenish those health and hunger points. This pack also includes MorePlants to get the food. There is also a Java Edition Version.

In the "How To Play" section it will show item effects, links, and other info. Plants to generate but it is experimental (turn on pack testing, look below) The items do not show up in the creative inventory upvote this bug! I will update this pack with more info when the pack is in a stable (no bugs) form
Other Links
Want the Java Edition of this mod? Download [​Here]
All Food & items for recipes: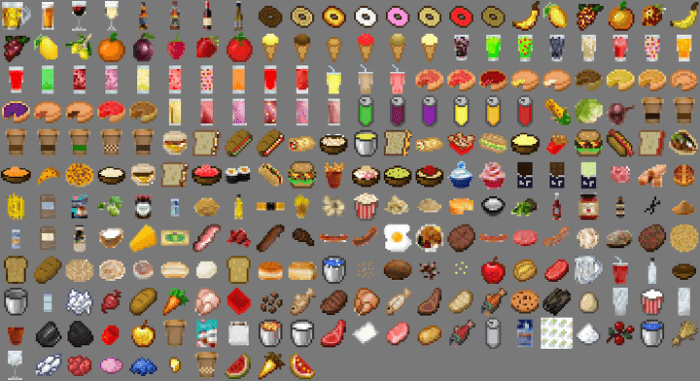 bacon recipe: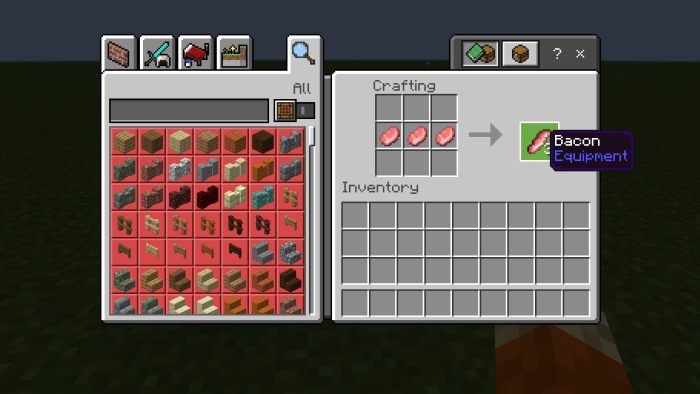 Review Videos:
Playlist:
https://www.youtube.com/playlist?list=PLdB716T3AYTfidSz4WMBWuZ2OE8WxSUbu
THIS IS A WORK IN PROGRESS PACK, EXPECT BUGS!
Built on 1.14.1 windows 10
– – – – – – – – – – – – – – – – – – – – – – – – – –
Ever thought that Minecraft needed more food? Then this is your pack! This pack adds more than 50+ Foods. use to replenish those health and hunger points. This pack also includes MorePlants to get the food.
fixed link. now using linkvertise since mcpedl no longer likes adfo.us if you want an ad-free download to consider donating through my Patreon (min of $15 for 100% ad-free downloads)
V0.1.2 Changelog
+ v0.1.2 will only work in 1.16+
+ Blocks now should work for 1.16 (yes, their is a Minecraft bug that custom blocks do not show up in inventory)
+ Plants will now generate when you place their item varient.
+ Trees and Bushes will now have their custom block that has custom drops (and yes, those blocks are'nt transparent)
+ Coconut tree (item that spawns the tree) is now called Coconut Sapling and has new Sapling texture.
+ Removed exotic trader (until bugs have been fixed)
+ Cleaned up some textures
MCPEDL ad download now use adfoc.us, direct link is still advisable. want to never see ad links again or want to help a Minecraft developer? Consider donating! https://legopitstop.weebly.com/donate.html
V0.1.1 Changelog
+ Changed up texture locations (hopefully will fix for some platforms)
+ Added cakes (not placeable) replenishes 7 hearts when eaten
+ New Items: Rotten Porkchop, nether cookie, netherwart chicken soup, netherwart mushroom soup
+ Rotten porkchops drop from hoglin and zombified piglin (not tested, but should work??)
+ added banner logo art on MCPEDL
V 0.1.0 Changelog
+ Added Ketchup & to recipe doc
+ added give ingredient function '/function give/ingredients'
+ Removed recipe book item (useless)
+ Alcohol will give you their cup after drinking.
+ Fixed flour recipe
V 0.0.9 Changelog
+ Fixed - MF#005B - Dough recipe not working
+ Fixed - MF#006B - 自动生成的树木会损坏建筑物 Auto-generated trees can damage buildings
+ Fixed - MF#004B - Wrong Recipe Output Item
+ Fixed - MF#003B  - Broken Recipes
+ Added new compressed blocks!
+ Added tags to blocks (#morefood) easier to search.
+ New Plantable plants! use the new item (in creative inv) to place plants
+ Added 'How To Play' More Food Section
+ Updated Description
Fixed Mcpedl import error, same version as before. App download should now work.
v0.0.8
+New Tree/Bush textures.
+Leaves/bushes are in creative inv
+New foods Onigiri and Sashimi: Raihan-Art27
+New Ramen: Raihan-Art27
+Plants will now take longer to break.
+added netherite knife for 1.16!
v0.0.7
+ Added tools
+ Fixed text issues
+ Added English (UK) translation
+ Removed plant leaves/blocks from testing.
+ Plants will auto-generate (testing feature)
+ Foods will have different nutrition
v0.0.6
+ New "Test Features" button (BP & RP settings)
+ Morefood villager moved to testing
+ Plant-able Crops!!! turn on pack test features
+ Added the rest of the recipes
+ Added title logo "Minecraft Lots More Food"
+ Added .zip and .mcaddon links/mirrors
+ Added turn on test play to how to install.
v0.0.5
+ Added more recipes
+ New loading messages
+ New splashes
+ Added credit UI
+ Fixed some textures
+ Cleaned up textures
+ Wandering trader is More Food Trader
v0.0.4 Changelog
+ fixed - Some food item textures don't show up.
+ added cooked_bat_meat
+ added some recipes (Check recipes doc)
 -Items
 -meats
 -donuts
 -cakes
 -pies
 -Ingredients
+ squid and bats drop their meat counter part.
+ bacon recipe will now give 4 bacon.
Installation
1. Click one of the links to download
2. Once you have downloaded click the .addon file.
3. It should automatically open Minecraft and install
4. Make sure to have an experimental game on.
Turn on pack testing for auto-generating plants & more!
1. Go to behavior packs
2. Select pack and click the gear/settings
3. Slide the slider to the left until it says "testing - ON"
4. Do the same for the resource pack.
Downloads
Supported Minecraft versions
1.16