Metamorposis Not Enough Items Mod adds the possibility to access a graphical user interface (GUI) where you can change the time of the day, switch between creative and survival mode, enable magnet mode and lots of other options. It's similar to Too Many Items but much more simplistic in terms of features.
This is the first release which explains why it still includes some GUI problems but such issues will likely be fixed in the next versions.
Creator: Metamorposis_2
Features
Switch buttons: heal, survival/creative, trash can (empties your inventory), day/night
Magnet mode: all dropped items/blocks within a 10 block radius will be automatically added to your inventory
Inventory save menu: ability to save current inventory stats to be able to restore it later
Potion selecter: add potions
Potion remover: removes all active potion effects
Item/block list adder: select any item or block in the list
Item/block ID adder: input an ID and have it added to your inventory
Options: customize the resolution of the graphical user interface, change background
To access the new game options tap on the bottom-left N button.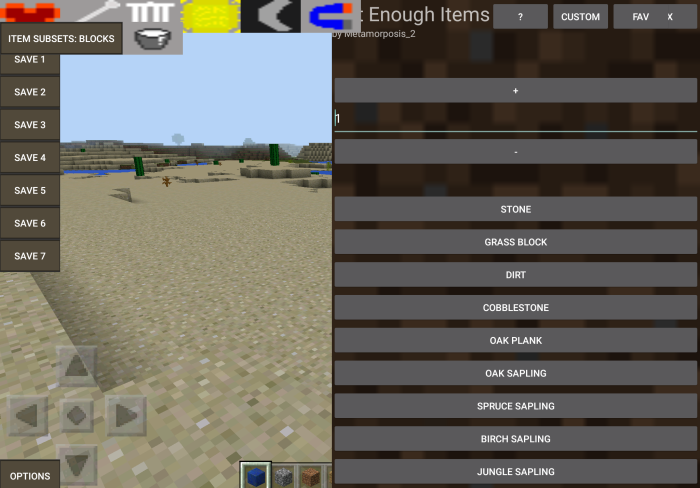 If the GUI doesn't fit the screen you can change the resolution by accessing the options. It's still a little bit glitchy as only some of the buttons adjust to the resolution changes.