Reach the end dimension and kill the dragon, starting only on a grass block. This will change as you break it, you can also be touched by animals or monsters!.
Description
This is a map in which you will start in one block, from this block you will have to get everything you need to go and kill the enderdragon.
To start the game you will have to destroy the only block in the world, the one under your feet. But don't worry, another one will appear, and then another, and then another. Many things can appear such as: blocks of different types, minerals, chests, animals or monsters, so be careful every time you break the block.
Every certain number of broken blocks you will go to the next stage, in total there are 10:
- Forest
- Cave
- Snowy
- Desert
- Jungle
- Oceano
- Nether
- Mansion
- Stronghold
- Miscellaneous
The type of block that appears will depend on the phase you are in, for example, if you are in the forest phase you are most likely to get grass, wood or clay. If you are in the nether phase, you will most likely get blocks of netherrack, lava or netherbrick. So with all phases. Monsters and animals will also appear depending on this factor.
At the beginning of the Miscellaneous stage, the portal to the end will appear! You will have to get the necessary eyes to turn it on and enter this dimension.
Once the enderdragon has been defeated, you will have won the map!
Several types of blocks can appear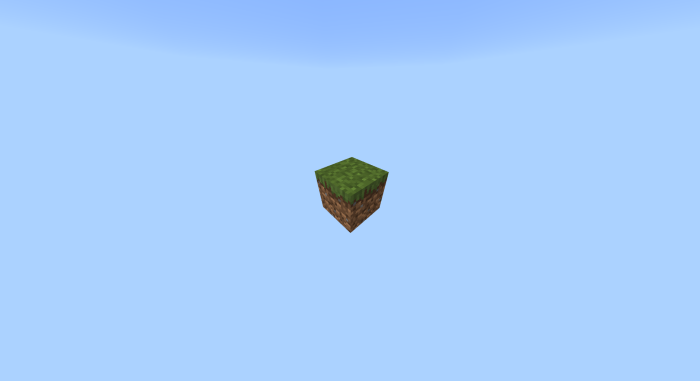 Even special chests
You should expand your base little by little!
When you change phase, bedrock will appear
And, at the beginning of phase 10, the portal to the end!
_______________________________________
Credits
Map made by: Toramtyces
Youtube: https://bit.ly/3e90SxN
Facebook: https://bit.ly/2V9rdmD
Twitter: https://bit.ly/2USuxn7
Instagram: https://bit.ly/2RkXm9E
Personal blog: https://toramtyces.com/
If you make a video of this map, don't forget to place the credits! :D
_______________________________________
Video
_______________________________________
DO NOT PUBLISH THIS MAP IN ANOTHER WEBSITE
Download
Select version for changelog:

Changelog
- No more creepers in the cave phase
- Tree buds are more likely to appear
- The bug that caused only blocks of grass to appear has been fixed.
- Improvements have been made in the map performance.
Installation
For more details on how to install the content of this post, click here:
To download it, go to the blue section "Descarga/Download" in this link and click on the option "McWorld", then just run it.