About a day ago or so it got official that we are getting parrots in version 1.1 for Minecraft Pocket Edition. This will be the first flying bird in the Overworld (and no, bats aren't birds) but if you can't wait and want them in your game right away then give this addon a try. There's a downside though and that's the fact it will replace the bat.
Creator: Gona, Twitter Account
Updated: 15 May, 2017 (read changelog)
How does it work?
The parrots exists as four different colors, but all of them have the same behaviors. You can switch the colors by switching to a different resource pack.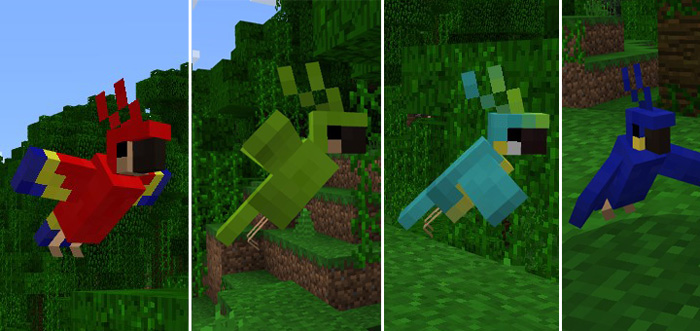 You can tame a parrot by feeding it cookies.
Zombies and husks avoid parrots. This means that if you tame a parrot neither zombies or husks will try to kill you!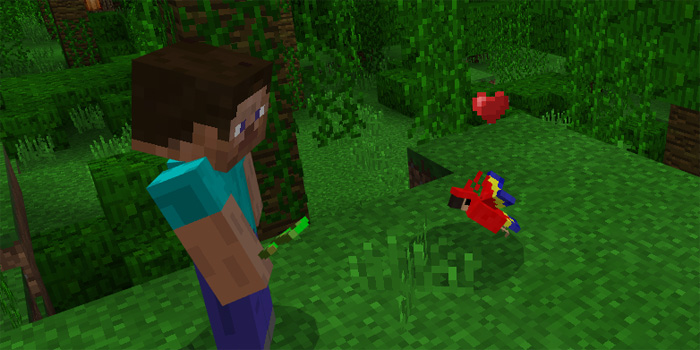 General Features
Replaces bats
Avoids zombie, husks, skeletons and strays
Skeletons and strays hate them and will try to kill them
 Baby
Adult
Tamed
Drops 0-3 feathers when died
Changelog
New color added (grey)
Cookies to tame them
Changed health for adult parrots
Modified textures to look morel like it is for PC
UUIDs updated
Installation
Download one of the following resource packs:

Activate the packs for a world in-game