Make your world looks more modern, build and design your modern house, buildings, offices, bedroom, wardrobe and any other structures with these new decorative modern blocks. Craft modern furnitures with different variations, tiles with different variations and each variation consist of different pattern, build roads with all things you'll need and much more!
Modern Blocks Addon added 400+ modern blocks in the game including modern bookshelf, cabinets, drawers, tiles and each have 16 different colors, wooden furniture that comes in all wood types etc. Some blocks are customizable, like you can add different pattern in Tiles using Tile Pattern, change where furniture is facing using stonecutter and more!
Where To Find Recipes?
FOR THE RECIPE OF THESE BLOCKS OPEN YOUR INVENTORY AND CLICK BOOKSHELF ICON. THE HOW TO PLAY UI HAS BEEN MODIFIED TO MAKE IT RECIPE GUIDE FOR THE ADDON.
Tiles
Different tiles are added in the game for better flooring in building structures.
There are 150+ different tiles added in the game. A tiles have 16 different colors and each can add 5 different patterns, There are also another types of Tiles: Porcelain Tiles which has a rough texture good for flooring outdoor; Wooden Tile that has a wood texture; Checkered Tiles which have 16 different color; Pool Tiles and Bathroom Tiles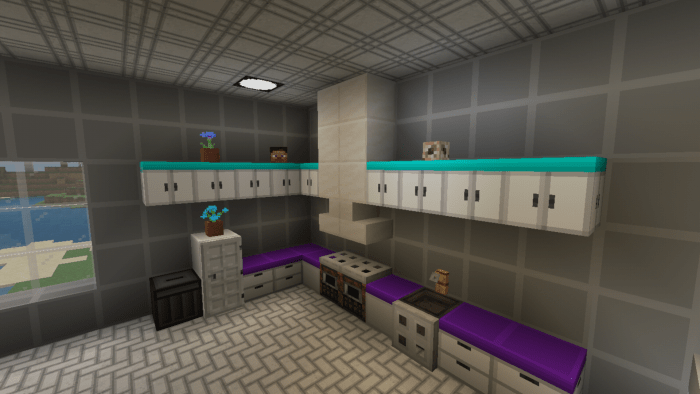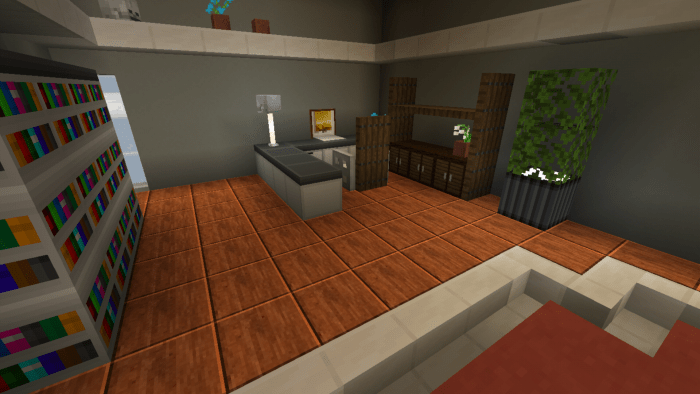 This pool is made with pool tile and pool liner in the border of the pool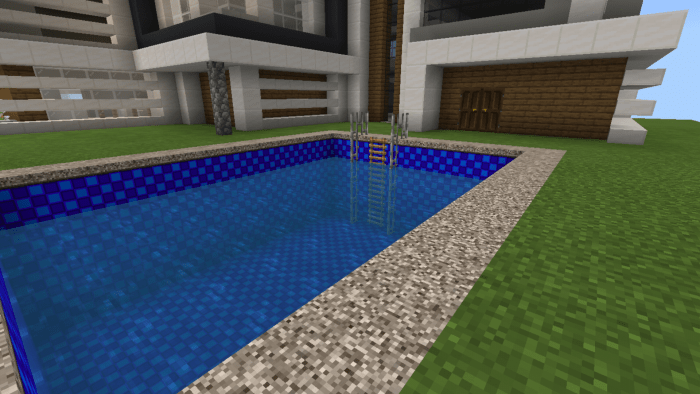 It looks more realistic pool right?
Plastic Blocks
Plastic can made a variety of blocks which have different colors, mostly furnitures. Note that anything that is made with plastic can burn.
Before crafting plastic blocks you need to get Crude Oil. So you must enable Education Edition in the game for recipe of plastic blocks.
Hence Chemistry Table in the game isn't craftable so you can't get crude oil in survival, so I'll add recipe for them. The recipes are same in the add-on I also created called Uncraftable.
Furnitures
A wooden cabinets and drawers are decorative block that is good for decorating rooms, offices, wardrobe and etc. There are also a plastic version of cabinets and drawers.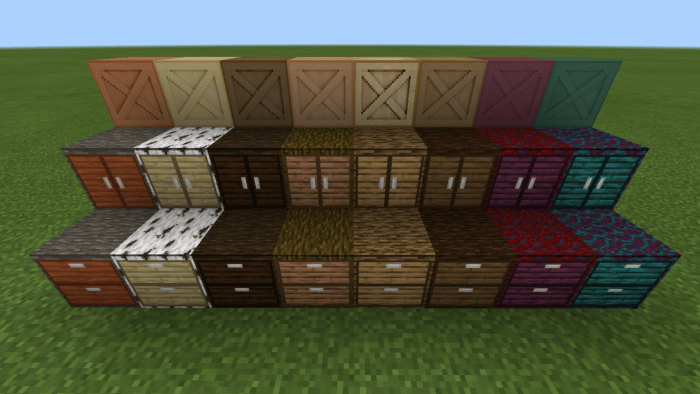 Wallpapers
New wallpaper blocks that have 4 different designs and each design consist of 16 different colors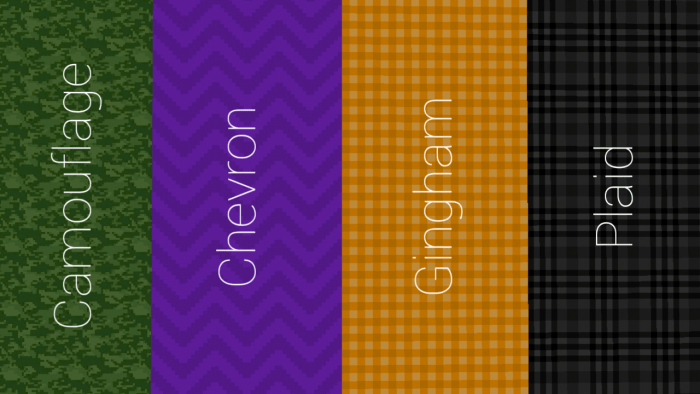 Road Blocks
Road Blocks are added in the game to make a better roads or highway in your builds, there are also different kinds of Road Blocks which you'll really need in building highway. White or Yellow Road Blocks can be used in making broken line in middle of road or use it to make pedestrian lane, use roads with line for making solid line in edge of your highway and more!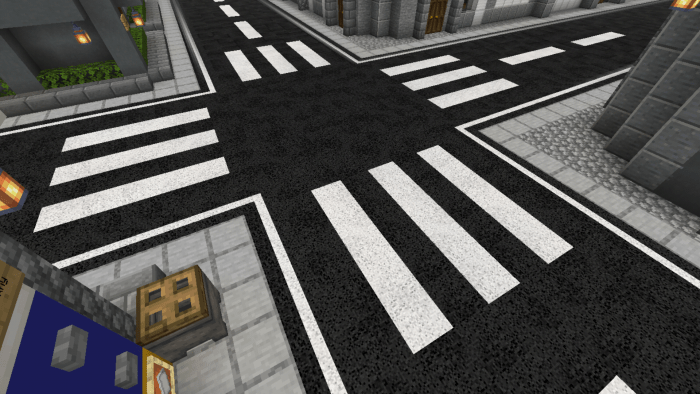 More Blocks
There are more hundreds of blocks not shown in this page, download now and check the recipes in UI to see all of available blocks
Watch Showcase here:
Terms of use
Do not repost in any website or apps
Do not steal any textures in this add-on and add into your own project.
If you want to make a video showcase of this add-on atleast credit me and put the proper download link in MCPEDL
Now Wooden Tiles have different wood types variant
These new tiles can also add different pattern
The previous Wooden Tile is now Wooden Acacia Tile and smoothened it's texture
A total of 98 blocks are added
-Wallpaper
Camouflage
Chevron
Gingham
Plaid
"Each wallpaper have 16 different color"
-New Types of Plastic Blocks
Smooth Plastic Blocks
Brick Plastic
-Other
Bathroom Tiles
Speaker Block
Changes:
Tweaked wooden hopscotch tile
Tweak recipe image in UI
Reorganize UI
What's New
Modified How To Play UI to provide recipe list of blocks
Added 14 new different colors of Tiles
New Wooden Tiles
Each Tiles added have 5 different patterns
Added White and Yellow Road Blocks
Added Road Blocks with White/Yellow Line
Updates & Changes
Floor Tile renamed to White Tile
The previous Blue Tile is now a Light Blue Tile
Recipes of Tiles, Porcelain Tiles and Road blocks has been change and it is no longer recipe shapeless so you can get back the bucket when crafting these.
Crafting Tiles, Porcelain Tiles and Road Blocks now give an output of 4 instead of 1
The texture of all Palazzo Tiles has been updated
The texture of Road Blocks has been updated
For full changelog you can see it in the addon
Added and Changes:
Change the texture of wooden drawer and wooden cabinet and its now have all different wood types
Wooden Drawers and Cabinets can change where it is facing using stonecutter
Added Fridge - Change the direction where it is facing using stonecutter
Added Crates that have different wood types
Added Gate Light
Trashcan now has a function it deletes item on top
Fixes:
Fixed a bug where blocks drop nothing when in survival
Fixed where Porcelain Herringbone Tile can't craft
-Fixed the wrong info description about recipe
-Fixed Reverse button of download link
-Lesser destroy time of Checkered Plastic Tile
-Added New Blocks:
Porcelain Tile - You can add Tile Pattern in it.
Wooden Drawer
Installation
Experimental Gameplay isn't required to use the addon
Requires Education Edition to toggle on for the recipe of plastic blocks. But you can still see all added blocks and items whenever it is not enabled
Downloads
Supported Minecraft versions
1.16