This addon adds 6 modern tools to Minecraft and they replace just two different mobs. For example, one of the tools is a fridge which you can use for storing your food (or any other items) and another tool lets you cook your raw food items in an instant on a kitchen stove. Besides using them for their various tasks you can also use them for decorating your worlds as they are essentially new types of furniture.
Creator: Kiritocris55, Twitter Account
Updated: 24 July, 2018 (read changelog)
How does it work?
To create a modern tool you will first need to find a forge. The forge is an item which is dropped mostly everywhere in the Overworld (since it replaces eggs and eggs are dropped by chickens). Place down a forge on the ground (by throwing the item) and then use any of the following items to build a modern tool.
Fridge - Gray Dye
Tables - Bone Meal, Light Blue Dye, Rose Red, Lapis Lazuli, Pink Dye, Cocoa Beans
Kitchen - Light Gray Dye
PC (MineBay) - Lime Dye
Water Dispenser - Magenta Dye
Stereo - Cyan Dye
Fridge - Gray Dye: A storage container with 27 available slots.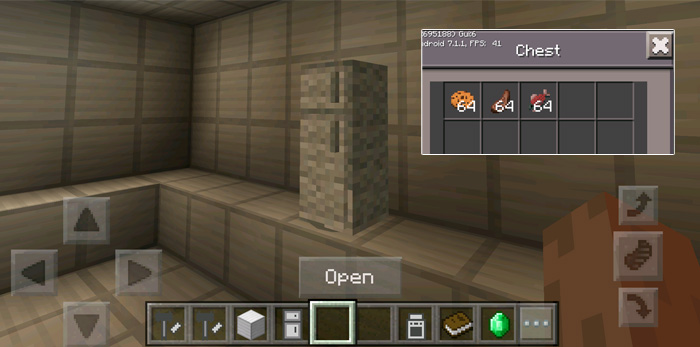 Tables/Chairs - Bone Meal, Light Blue Dye,Rose Red, Lapis Lazuli, Pink Dye, Cocoa Beans: Decorate your home with some nice furniture. You can even sit on the chairs.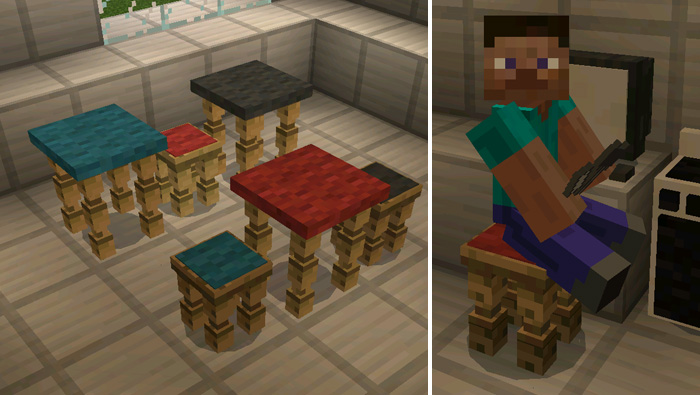 Kitchen Stove - Light Gray Dye: Cook food instantly. This will work for the following raw items: chicken, beef, pork chop, rabbit meat.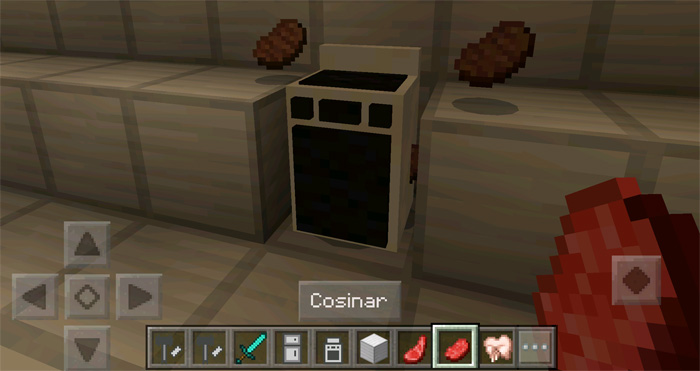 Forge (default): Add coal to the forge and retrieve a random valuable item (diamond, gold, gold nugget or iron ingot).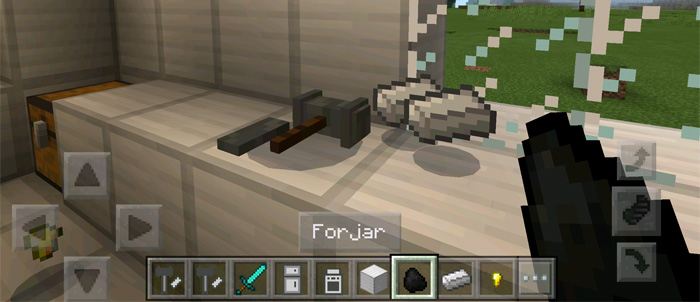 Dump - Shulker Black: This is meant to be a trash bin, even though the name might imply something else. Don't be fooled! iOS/Android: Long press on the trash bin and press Erase to delete the block or item in your hand. It works best in survival mode.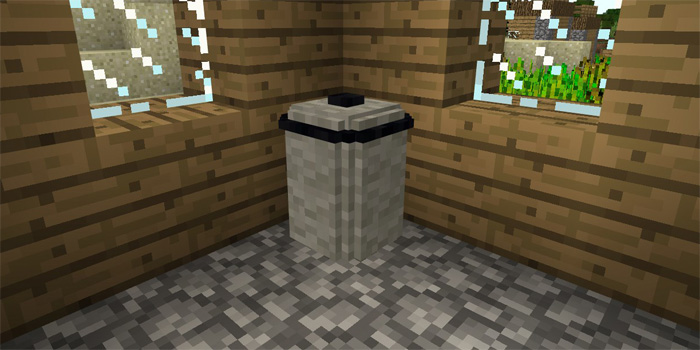 PC - Lime Dye: Use a PC to trade ingots for coins. (These coins are entirely unrelated to Minecraft coins.) The coins can be used for trading with a Postman (see further down).
Iron Ingot: 0 - 1 coins
Gold Ingot: 1 - 2 coins
Diamond: 3 - 5 coins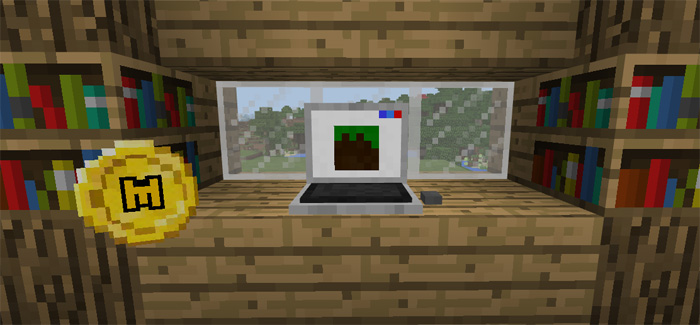 Postman (Villager): The Postman replaces one of the villagers. He lets you access the MineBay market where you can buy and sell all kinds of items.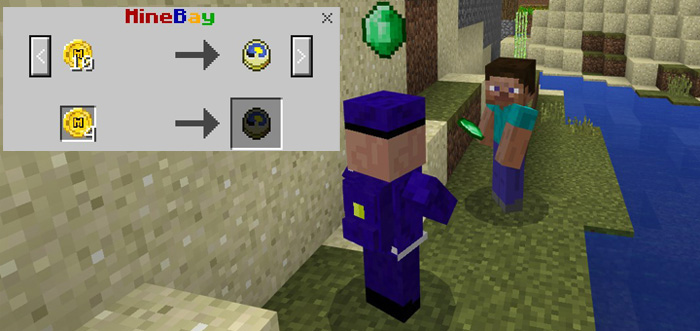 Improved Beds (replaces normal beds): All of the beds now have much more detailed 3D models.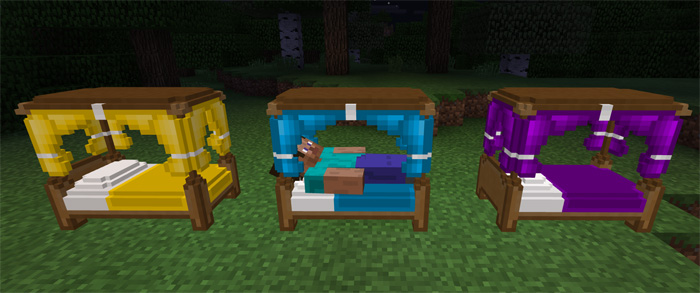 Water Dispenser (replaces Magenta Dye): The Water Dispenser is a very useful device which is used to store and dispense water. Interact with it with an empty bucket to get a filled bucket of water.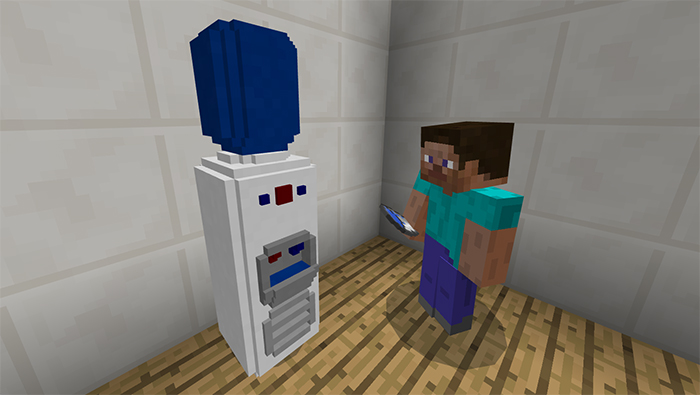 Stereo (replaces Cyan Dye): The stereo is perfect any time that you want to hear some nice tunes in Minecraft. Use any of the included 6 music discs to start listening, and use the OFF button (iron nugget) to turn off the stereo.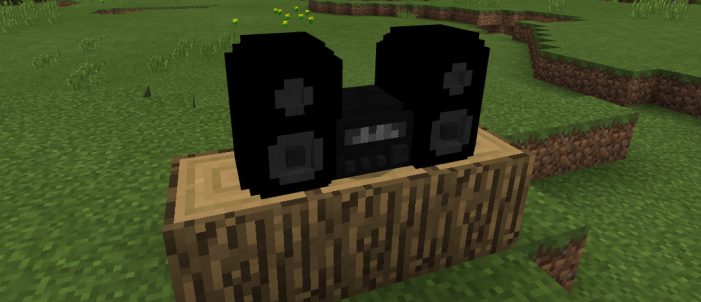 Changelog
Added Stereo (+ 6 new songs)
Added Water Dispenser
Bug fixes
Installation
Activate the packs for a world in-game