The More Food Mod adds 36 food items to the game. It includes realistic food such as hamburgers and taco but also some Minecraftian food such as the delicious diamond cookie. If you think the game is missing out on some of the world's delicious food then use this mod to be able to choose between tens of different dishes.
Creator: Anonymous52, Twitter Account
The new food items work just the same way as the default food. To eat an item you will need to first have some hunger. Hold down your finger on the screen to eat. You can find a full list of crafting recipes further down on this page.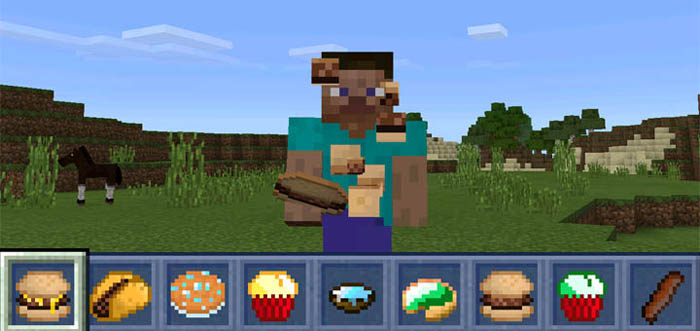 Food IDs & Crafting Recipes
Diamond Pie (646) - 1 diamond + 1 sugar + 1 egg
Emerald Pie (647) - 1 emerald + 1 sugar + 1 egg
Iron Pie (648) - 1 iron ingot + 1 sugar + 1 egg
Gold Pie (649) - 1 gold ingot + 1 sugar + 1 egg
Lapiz Pie (650) - 1 lapiz lazuli + 1 sugar + 1 egg
Diamond Soup (653) - 1 bowl + 1 diamond
Emerald Soup (654) - 1 bowl + 1 emerald
Iron Soup (655) - 1 bowl + 1 iron ingot
Gold Soup (656) - 1 bowl + 1 gold ingot
Lapiz Soup (657) - 1 bowl + 1 lapiz lazuli
Diamond Cookie (643) - 2 wheat + 1 diamond
Lapiz Cookie (644) - 2 wheat + 1 lapiz lazuli
Gold Cookie (645) - 2 wheat + 1 gold ingot
Iron Cookie (651) - 2 wheat + 1 iron ingot
Emerald Cookie (652) - 2 wheat + 1 emerald
Flour (660) - 1 bucket + 8 wheat
Dough (662) - 1 flour + 1 bucket
Top Bun (663) - 3 dough
Bottom Bun (664) - 3 dough
Beef Burger (665) - 1 steak + 1 bottom bun + 1 top bun
Chicken Burger (666) - 1 cooked chicken + 1 bottom bun + 1 top bun
Fish Burger (667) - 1 cooked fish + 1 bottom bun + 1 top bun
Pork Burger (668) - 1 cooked porkchop + 1 bottom bun + 1 top bun
Cheese (680) - 1 bucket + 1 egg
Cheese Burger (901) - 1 steak + 1 bottom bun + 1 top bun + 1 cheese
Taco Shell (777) - 9 dough
Taco (681) - 6 steak + 1 taco shell
Raw Bacon (623) - 1 raw porkchop
Cooked Bacon (622) - cook raw bacon in a furnace
Muffin (677) - 1 sugar + 2 dough + 1 egg
Chocolate Muffin (678) - 2 cocoa beans + 1 sugar + 2 dough + 1 egg
Diamond Muffin (1000) - 1 diamond + 1 sugar + 2 dough + 1 egg
Emerald Muffin (1001) - 1 emerald + 1 sugar + 2 dough + 1 egg
Iron Muffin (1002) - 1 iron ingot + 1 sugar + 2 dough + 1 egg
Gold Muffin (1003) - 1 gold ingot + 1 sugar + 2 dough + 1 egg
Lapiz Muffin (1004) - 1 lapiz lazuli + 1 sugar + 2 dough + 1 egg