MultiPixel is a HD texture pack with new 32x textures that you've never seen before! It's great if you like to improve the look in Minecraft, while keeping the vanilla styling.
Author: Zou Chenyunfei, All Rights Reserved. 
Twitter  @ZouChenyunfei 
Pack Official Twitter: @MultiPixelHD
Discord: Welcome to MultiPixel channel!
Follow us, then you can get the newest information at the first time!
一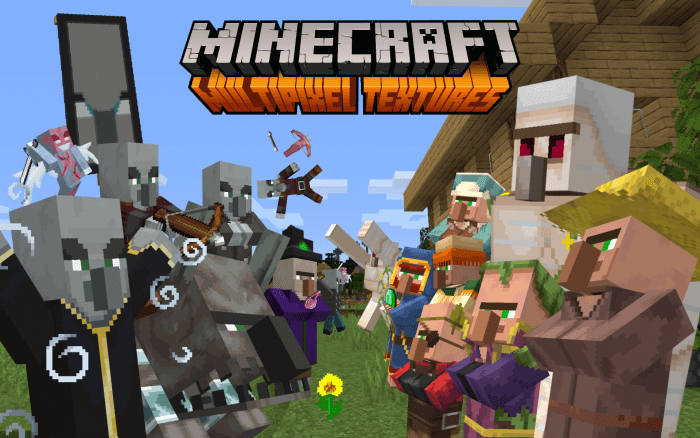 MultiPixel Texture Pack is a default improvement texture pack. The new default texture pack is 16×16 pixels and this one is doubled that in resolution. So basically it's double as good as the new Minecraft textures.
All textures included!
Screenshots
Aspects
Open Global Resources in Settings.
Single Click the MultiPixel Pack
Click Spanners Icon
Quit Settings Screen
This is Bedrock Edition Aspects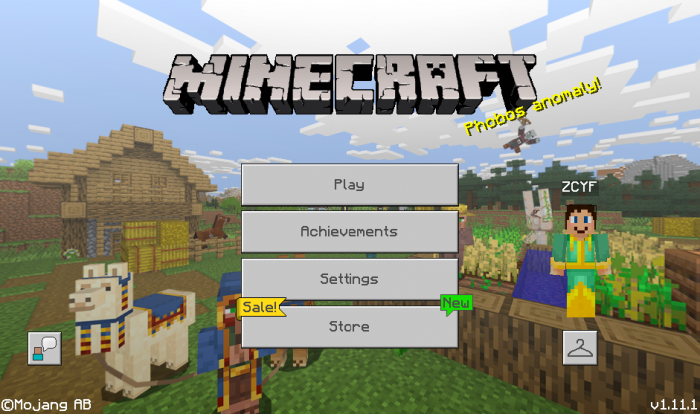 This is Java Edition Aspects (1.16.0.210+ only)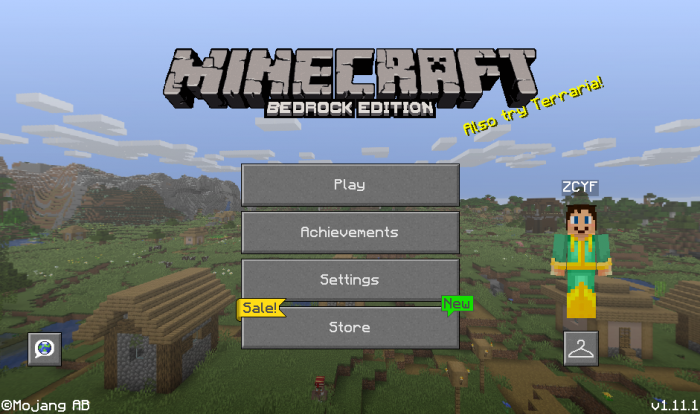 There are the list of features in Java Edition Aspects
Bamboo
Dried kelp
Jigsaw
Nether brick
Water
Illager banner
Sheep
Trident riptide
Map
Spawn egg
Exploding particle
Nautilus particle
Particle no rotation
Flame effect
Rain & snow
Flip blocks
Isotropic blocks
Fonts
Splashes text
Some UI color
Campfire smoke particles
Crit hit particles
Translucent destructed block particle
Zombie Animations
Villager Animations
Cracked Iron Golem
Splash Potion of Instant Damage and Instant Health Particle
Creeper Fired Light
Cat Model
Bed Model
Wither Armor Scale
Water Colors
Carried Item Rotation
Controller Icons
Crimson Stem Top
Warped Stem Top
Crimson Door
2D Fishing Hook
Fireworks Model
Arms of Armor Stands(If not any item in its arm then the arm would be invisible)
Piglin Animation
Zombified Piglin Animation
Drowned Animation(Removed Temporarily)
Different Bars (From @CrisXolt)
RTX on Beta
When using MultiPixel RTX Beta Pack, you can turn on RTX in your world.
Minecraft Windows10 RTX Beta Only!
ANNOUNCEMENT
Why do you see this?
The last link which redirect to MultiPixel resource pack is no longer valid due to somebody reported this resource to MediaFire with malicious intent.
What happened?
Hybred(Twitter: @TheHybred) 's resource packs copied contents from several resource packs, including MultiPixel, Faithful(old), Faithful 32x, Depixel, without indicating the sources. And confirm forged CrisXolt(Twitter @CrisXolt) 's RGB Bar UI license. He also took code from Eringi-san(Twitter: @McbeEringi)'s ESBE 2G and integrated it into his Parallax Shader Pack. Hybred did not admit then blocked Eringi.
I(Twitter: @ZouChenyunfei) contacted Hybred in May 2020; he refuted my reasonable request using his few original images. And Hybred never responded positively to the evidence regarding his/her misconduct I listed. Meanwhile, Hybred is trying to libel MultiPixel on the pretext of some images in MultiPixel appears similar to Faithful. I have already contacted MCPEDL to remove Hybred's resource, which contained unauthorized contents, under the premise that Hybred and I could no longer reach a consensus.
As early as 2019, Faithful Team's organizer @xMrVizzy announced that MultiPixel and Faithful are not in dispute, allowed to upload to MarketPlace. I have joined the Faithful Team in the same year, but I cannot contribute to the Faithful project due to my tight schedule. @xMrVizzy can prove this.
@TheHybred blocked me on Twitter after I condemned his misconduct. He is still spreading his resource pack(contained unauthorized contents) by using Twitter and Discord. He uploaded it to MediaFire and profit from Linkvertise. However, it does not influence me a lot, so I did not continue with this thing.
December 2020, @TheHybred uploaded a resource pack named "Hybred's Tools" to MCPEDL; its armor images extract from MultiPixel and Faithful(only Netherite armors) and adjusted color. I reported to MCPEDL again and successfully removed this pack. @TheHybred continued to argue with me because he does not admit his plagiarism. He threatened me that he would use the law to protect his so-called copyright. After that, he blocked all the users who considered he was plagiarizing.
January 1, 2021, the latest version of MultiPixel Bedrock that I uploaded to MediaFire, has been maliciously reported by @TheHybred using copyright infringement as an excuse, then this share link disabled.
His reason:
————————————————
" I am the rightful owner of some of the files in this pack I am sending you. Specifically the textures under the models section, they are redistributing it without my permission and are costing my financial gain this is very serious.
They keep reposting the content and I'm too busy to keep submitting copyright claims on this file, how can you help ensure this doesn't happen?
I have faith that the information provided is accurate, I truly believe that they have used my assets.

The information is accurate under penalty of perjury."
————————————————
There is no evidence included except absurd complaints.
It seems hard to protect MultiPixel packs on MediaFire. He claimed that he would continue to report my updates. Hybred's resource packs are the worst infringement to MultiPixel.
To support us, follow our Twitter @MultiPixelHD and author @ZouChenyunfei.
Added powder snow bucket item.
Added lots of UI images.
Added Announcement page in Main menu of Minecraft.
Added Goat Entity
Added Goat Horn Item
Added Frozen Effect Image
Added Hover Tab Icon
Added Gift UI icons
Fixed Animation UI
Bug Fixed.
Removed some features causing bugs.
Fixed Strider Legs in the newest Beta
Modified drowned animation to let it be able to be use in new version.
Add 2D glass panes in inventory. (Form [email protected]_Lukas)
Fixed Target Block Textures in New Minecraft Version.
Fixed Iron Golems Animation in Java Aspect.
Added New Brute Piglins Textures.
Added Different Bars. (From @CrisXolt)
Fixed Piglin Animations.
General
Added 2 UI images
Modified some textures slightly
Java Aspect:
Fixed bee spawn egg color
Fixed carried items offset
Added piglin attacking animation
Added zombified piglin animation
Change names of some.images to march new version.
Updated some.textures.
Fixed the bug that let all players be Steve when using Java Aspect.
Minecraft Windows10 Edition RTX Beta Support!
Fixed Pliglin Admire Animation in Java Aspect.
Blackstone, Respawn Anchor, New UIs, Chain Block, Jigsaw Block and more textures!!!
Bug Fixed & Textures Improved.
Fixed nether & the end fog color
Added cracked iron golem in Java Aspect.
Nether Update!
New features in Java Aspect. (1.16+ only)
Chemistry Textures Pack. (Please activate the pack in your world instead of global resources!)
Fixed some icon
Added some feature in Java Aspect (1.15 only!) (drowned animation, 2d fishing hook 3d splash potions, 3d fireworks and more)
Java Aspect
Zombie Animations
Villager Animations
Armor Stand Arms
Splash Potion of Instant Damage and Instant Health Particle
Creeper Fired Light
Cat Model
Bed Model
Wither Amror
Water Colors
Modified some particle
Fixed
Fixed Wither Armor
Modified campfire smoke particles in Java aspect.
Added ranslucent destructed block particles when destroy ranslucent blocks.
Modified crit particles in Java aspect.
Modified end rod particles in Java aspect.
Cancelled own honey comb in Bedrock aspect.
Cancelled own honey bottle in Bedrock aspect.
Fixed no bubbles over soul sand or lava Block under the water when opened fancy bubbles.
-Add bees and some items and blocks about it.
-Redesigned old zombie villagers.
-Add some UI images.
beta 1.13 Supported.
Add lots of images of new version to support them.
Change progress bar
Change experience bar
Change lava
Change fire
Change fire effect
(Replace some textures of Faithful)
Installation
Download MultiPixel Texture Pack

Delete old version of MultiPixel.

Open it by Minecraft.

Settings > Global Resources > Resolution Setting > Choose Aspect you like.(Java Aspect 1.16.200+ Only)

Apply the resource pack.

Reset Minecraft.

Enjoy It!
Downloads
Supported Minecraft versions
1.13
1.14
1.15 (beta)
1.16
Resolution
32x