This addon is inspired by a Japanese manga series known as Naruto. In all simplicity, it tells the story of a young ninja and his dreams of becoming the best and most knowledgeable ninja. Here is a great addon for anyone who is a fan of Naruto or just ninjas in general. It replaces a multitude of mobs, weapons and armors. It's currently quite simple in terms of custom features but hopefully that can improve over time.
Creator: Hexdro, Twitter Account
Weapons
The following weapons are dropped by mobs when they are killed.
Naruto's Awesome Move (Bow) - Explosive high damage
Explosive Kunai (Egg) - Explosive, huge area of effect
Kunai (Snowball) - Deals a lot of damage
Shuriken (Ender Pearl) - Deals more damage than the Kunai, dropped by endermen and skeletons
Demon Wind Shuriken (Fishing Rod) - Bigger shuriken, one hits most mobs
Sasuke's Sword (Diamond Sword) - Thin but strong blade
Samehada - Kisame's Sword (Stone Sword) - Wielded by Kisame
Cleaver Sword (Golden Sword)
Combat Kunai (Wooden Sword) - Ninja sword
Shinobi Katana (Iron Sword) - Also a type of ninja sword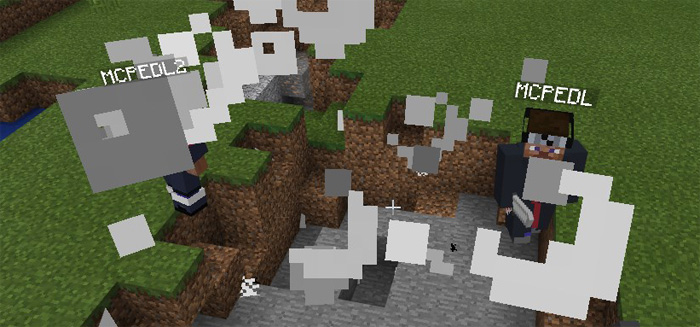 Mobs
There are 7 new mobs in Minecraft. Since most of them are dangerous and have the ability to live both during the day and night it's obvious that the game will get a bit more difficult. But at the same time you got some really nice weapons to help you out.
Itachi (Zombie Pigman) - Strong
B Class Enemy Ninjas (Skeleton) - Some type of ninja which uses chakra skills on you
Konan (Stray) - Uses chakra skills on you
Kisame (Wither Skeleton) - Wields a sword
Zetsu Clone (Husk) - Very dangerous mob, deals a lot of damage
A Class Enemy Shinobi (Zombie) - Found both during the day and night, dangerous
S Class Enemy Shinobi (Zombie Villager) - More rare than the above, but they are also the strongest of all ninjas/shinobis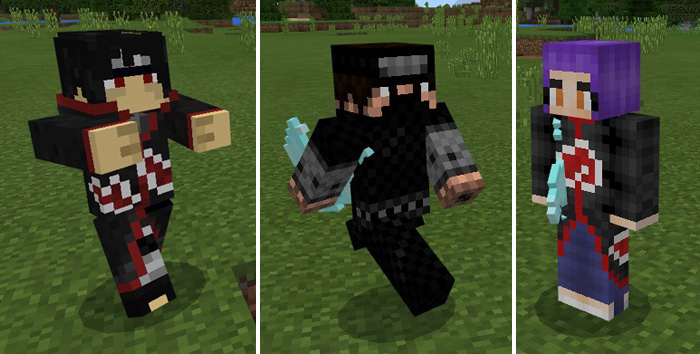 Armor
The armor sets are replaced with a few different Naruto armors (or clothing). The armor sets don't have any special abilities yet (due to addon limitations).
Jounin Armor (Diamond Armor)
Akatasuki Clothing (Gold Armor)
Naruto's Jacket and Clothes (Iron Armor)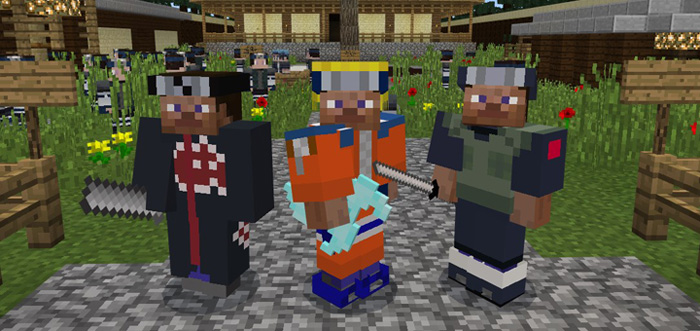 Installation
Activate the packs for a world in-game