PokeCraft is a promising Pokémon mod which is exclusively being created for Minecraft Pocket Edition. This version is an early beta and includes features such as 20+ Pokémon, catch and release system and randomly generated structures. If you want to turn your Minecraft world into the universe of Pokémon then you need to give this one a try.
Creator:
RedStudios
,
Twitter Account
Updated: 
26 December, 2016
Getting Started
Before getting started we highly recommend to
download and use one of the Pokémon player skins
 to really make it look as if you were playing a Pokémon game.
There are currently more than 20 different Pokémon and they spawn naturally in different biomes throughout the world.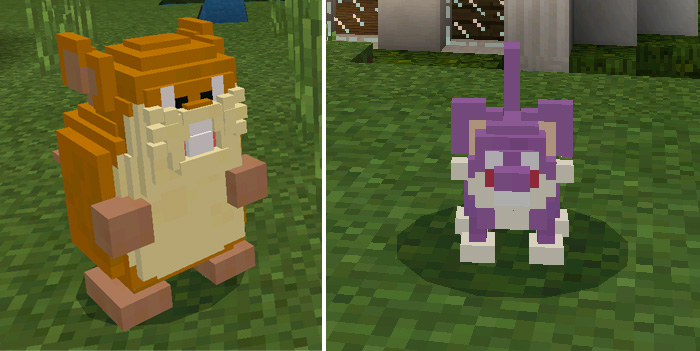 There features still quite limited at the moment. Right now you can only catch and spawn Pokémon. To catch one begin by getting a poke ball from the creative inventory. Find a Pokémon which you want to catch then long press on the screen to through the poke ball and attempt the catch. The catch rate is random and sometimes you are unlucky and have to redo it. In this case, I successfully managed to catch my Pokémon which was an Ivysaur. Don't forget to the pick up the poke ball.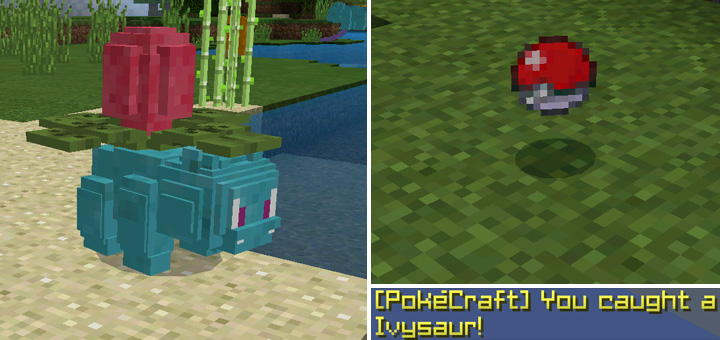 You can catch up to 6 different Pokémon. The mod is using a slot system which can be accessed by the text chat. Type any of the following commands in the text chat to manage your Pokémons:
r = Release / Return Pokémon
s0-5 (e.g. s1) = Select active slot
d0-5 (e.g. d3) = Deletes the Pokémon in that slot
In the future you can expect a more slick user interface for this. Anyways, to summon a caught Pokémon type 
r
in the chat.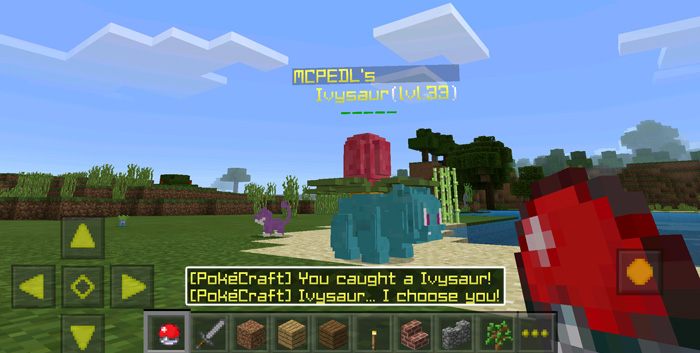 Pokedex and Pokeshops are structures which generate at random in your worlds. Currently there is no use for them but that is likely to change soon.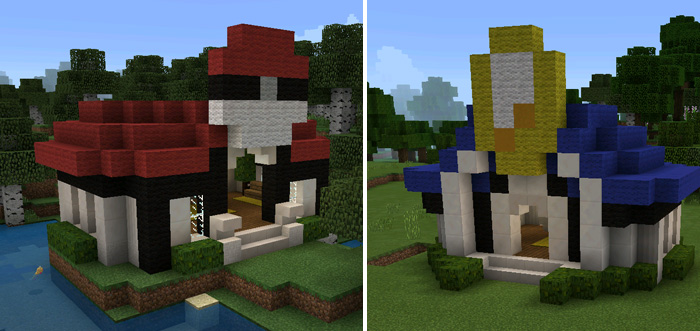 That's all of the features for now. Remember, this is the first beta. Some of the upcoming features are the following:
Battle system
Poke Centers
And more!
Discuss ideas in the comments and help shape the future of this mod!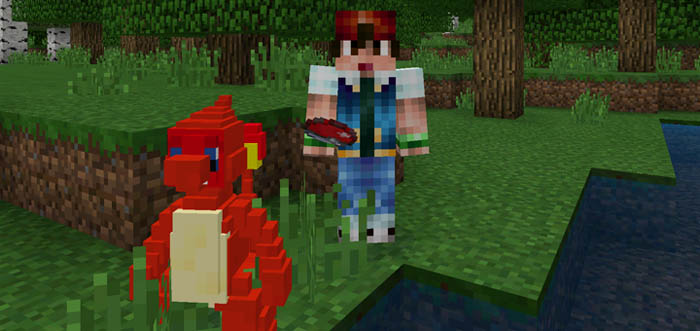 Item IDs
There are many more items than the ones listed here. However, since this is a beta version most of them have no features. Down below you will only find items which can be used in-game. For now, none of the items have crafting recipes.
Delete Pokemon (2003)
Poke Ball (1000)
Master Ball (1001)
Ultra Ball (1002)
Great Ball (1003)
Safari Ball (1004)
Net Ball (1005)
Lure Ball (1006)
Level Ball (1007)
Dive Ball (1008)
Moon Ball (1009)
Nest Ball (1010)
Dusk Ball (1011)
Heal Ball (1012)
Quick Ball (1013)
Repeat Ball (1014)
Timer Ball (1015)
Luxury Ball (1016)
Premier Ball (1017)
Fast Ball (1018)
Friend Ball (1019)
Cherish Ball (1020)
Love Ball (1021)
Park Ball (1022)
Sport Ball (1023)
Heavy Ball (1024)
Install Guide
Download the mod (.JS), resource (.ZIP) and

one of the texture packs

.
Use ES File Explorer to extract the resource .ZIP file.
Copy the PokeCraft-Resource folder and paste it here: /games/com.mojang/minecraftpe/
Make sure to restart the launcher and then open a new or old world to start using the mod features.
Download Mod (.JS) Download Resource (.ZIP) Download Textures (With Sound) Download Textures (No Sound)