The Power Gems PE Mod adds eight valuable gems to the game which can be obtained by mining ores. The ores spawn randomly in the world, usually underground.  The gems can then be used to craft eight different types of armors with one special weapon belonging to each armor set.
The armors are powered with a potion effect each to give the user an extra power when worn.
Creator: TaQuItO_988, Twitter Account
Updated: 7 January, 2017 (support for 1.0.x)
Block IDs & Crafting Recipes
The new ores spawn randomly in the world. But they can always be spawned using the Too Many Item mod.
Amethyst Ore (220)
Amethyst Block (221) - 9 Amethysts
Aquamarine Ore (222)
Aquamarine Block (223) - 9 Aquamarines
Citrine Ore (224)
Citrine Block (225) - 9 Citrines
Crimson Ore (226)
Crimson Block (227) - 9 Crimsons
Peridot Ore (228)
Peridot Block (229) - 9 Peridots
Sapphire Ore (230)
Sapphire Block (231) - 9 Sapphires
Topaz Ore (232)
Topaz Block (233) - 9 Topaz
Tourmaline Ore (234)
Tourmaline Block (235) - 9 Tourmalines

Armor/Weapons/Items IDs & Crafting Recipes
Amethyst
Chestplate Potion Effect: Strength II
Special Weapon Specialty: Super deadly
Amethyst (1000) - 1 Amethyst Block
Power Gem of Strength (1001) - 5 Amethysts
Amethyst Helmet (1002) - 5 Amethysts
Amethyst Chestplate (1003) - 7 Amethysts + 1 Power Gem of Strength
Amethyst Leggings (1004) - 7 Amethysts
Amethyst Boots (1005) - 4 Amethysts
Sword of Black Death (1006) - 1 Amethyst + 1 Power Gem of Strength + 1 Iron Ingot
Amethyst Pickaxe (1007) - 3 Amethysts + 2 Sticks
Amethyst Shovel (1008) - 1 Amethyst + 2 Sticks
Amethyst Axe (1009) - 3 Amethysts + 2 Sticks
Amethyst Hoe (1010) - 2 Amethysts + 2 Sticks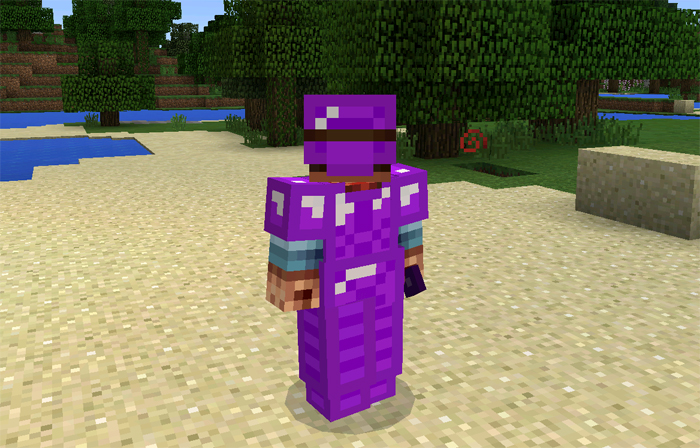 Aquamarine
Chestplate Potion Effect: Jump Boot II (2 blocks jumps)
Special Weapon Specialty: Makes mobs disappear
Aquamarine (1011) - 1 Aquamarine Block
Power Gem of Jumping (1012) - 5 Aquamarines
Aquamarine Helmet (1013) - 5 Aquamarines
Aquamarine Chestplate (1014) - 7 Aquamarines + 1 Power Gem of Jumping
Aquamarine Leggings (1015) - 7 Aquamarines
Aquamarine Boots (1016) - 4 Aquamarines
Sword of the Angels (1017) - 1 Aquamarine + 1 Power Gem of Jumping + 2 Nether Quartz + 1 Iron Ingot
Aquamarine Pickaxe (1018) - 3 Aquamarines + 2 Sticks
Aquamarine Shovel (1019) - 1 Aquamarine + 2 Sticks
Aquamarine Axe (1020) - 3 Aquamarines + 2 Sticks
Aquamarine Hoe (1021) - 2 Aquamarines + 2 Sticks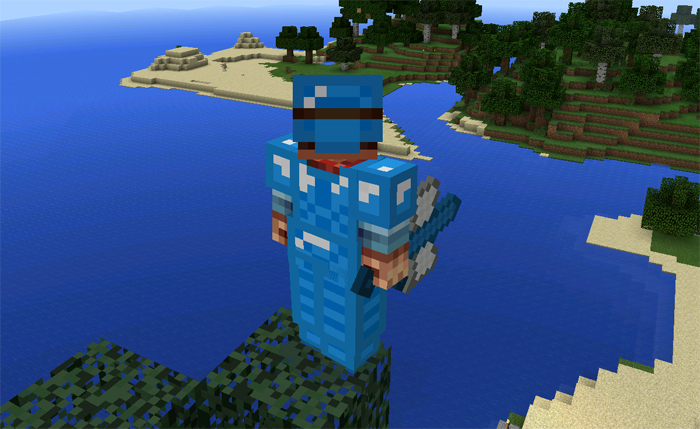 Citrine
Chestplate Potion Effect: Fire Resistance II
Special Weapon Specialty: Sets mobs on fire
Citrine (1022) - 1 Citrine Block
Power Gem of Fire Resistance (1023) - 5 Citrines
Citrine Helmet (1024) - 5 Citrines
Citrine Chestplate (1025) - 7 Citrines + 1 Power Gem of Fire Resistance
Citrine Leggings (1026) - 7 Citrines
Citrine Boots (1027) - 4 Citrines
Sword of Flames (1028) - 1 Citrine + 1 Power Gem of Fire Resistance + 1 Iron Ingot
Citrine Pickaxe (1029) - 3 Citrines + 2 Sticks
Citrine Shovel (1030) - 1 Citrine + 2 Sticks
Citrine Axe (1031) - 3 Citrines + 2 Sticks
Citrine Hoe (1032) - 2 Citrines + 2 Sticks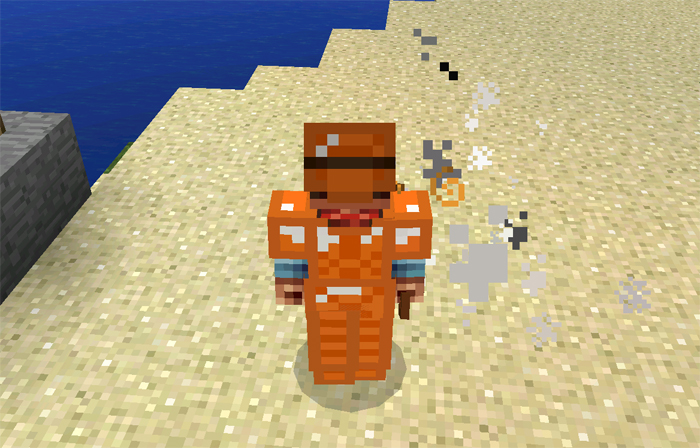 Crimson
Crimson (1033) - 1 Crimson Block
Power Gem of Repair (1034) - 5 Crimsons
Crimson Helmet (1035) - 5 Crimsons
Crimson Chestplate (1036) - 7 Crimsons + 1 Power Gem of Repair
Crimson Leggings (1037) - 7 Crimsons
Crimson Boots (1038) - 4 Crimsons
Crimson Pickaxe (1040) - 3 Crimsons + 2 Sticks
Crimson Shovel (1041) - 1 Crimson + 2 Sticks
Crimson Axe (1042) - 3 Crimsons + 2 Sticks
Crimson Hoe (1043) - 2 Crimsons + 2 Sticks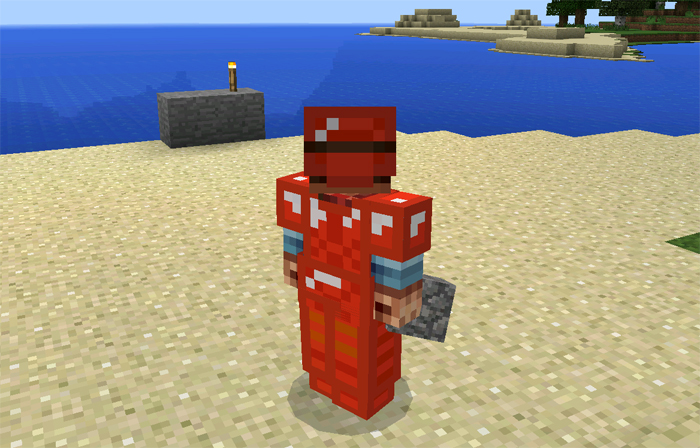 Lapis Lazuli
Chestplate Potion Effect: Breath underwater
Lapis Lazuli Gem (1044) - 6 Lapis Lazulis
Power Gem of Water Breathing (1045) - 5 Lapis Lazuli Gems
Lapis Helmet (1046) - 5 Lapis Lazuli Gems
Lapis Chestplate (1047) - 7 Lapis Lazuli Gems + 1 Power Gem of Water Breathing
Lapis Leggings (1048) - 7 Lapis Lazuli Gems
Lapis Boots (1049) - 4 Lapis Lazuli Gems
Farmer's Magic Rake (1050) - 2 Lapis Lazuli Gems + 1 Power Gem of Water Breathing + 2 Iron Ingots
Lapis Pickaxe (1051) - 3 Lapis Lazuli Gems + 2 Sticks
Lapis Shovel (1052) - 1 Lapis Lazuli Gem + 2 Sticks
Lapis Axe (1053) - 3 Lapis Lazuli Gems + 2 Sticks
Lapis Hoe (1054) - 2 Lapis Lazuli Gems + 2 Sticks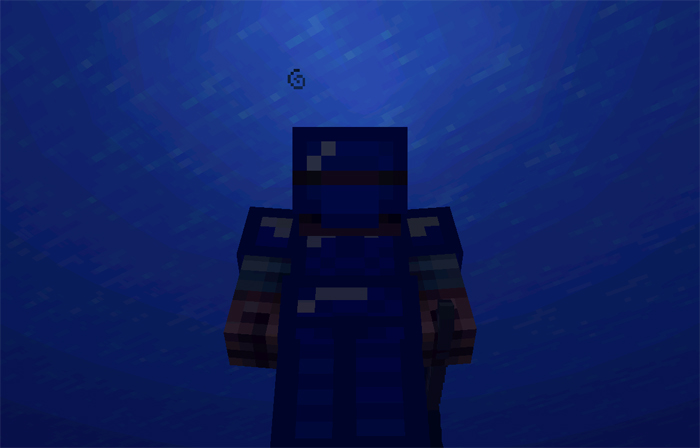 Peridot
Chestplate Potion Effect: Haste II
Special Weapon Specialty: Dig/mine super fast
Peridot (1055) - 1 Peridot Block
Power Gem of Haste (1056) - 5 Peridots
Peridot Helmet (1057) - 5 Peridots
Peridot Chestplate (1058) - 7 Peridots + 1 Power Gem of Haste
Peridot Leggings (1059) - 7 Peridots
Peridot Boots (1060) - 4 Peridots
Super Drill (1061) - 2 Peridots + 2 Gold Ingots + 1 Block of Diamond + 1 Power Gem of Haste + 1 Obsidian
Peridot Pickaxe (1062) - 3 Peridots + 2 Sticks
Peridot Shovel (1063) - 1 Peridot + 2 Sticks
Peridot Axe (1064) - 3 Peridots + 2 Sticks
Peridot Hoe (1065) - 2 Peridots + 2 Sticks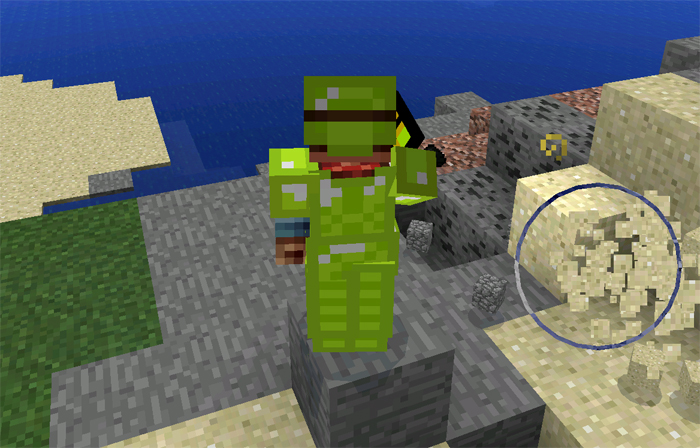 Sapphire
Chestplate Potion Effect: Resistance 1
Special Weapon Specialty: Instant kill mobs
Sapphire (1066) - 1 Sapphire Block
Power Gem of Resistance (1067) - 5 Sapphires
Sapphire Helmet (1068) - 5 Sapphires
Sapphire Chestplate (1069) - 7 Sapphires + 1 Power Gem of Resistance
Sapphire Leggings (1070) - 7 Sapphires
Sapphire Boots (1071) - 4 Sapphires
Sword of the Bull (1072) - 1 Sapphire + 1 Power Gem of Resistance + 1 Iron Ingot
Sapphire Pickaxe (1073) - 3 Sapphires + 2 Sticks
Sapphire Shovel (1074) - 1 Sapphire + 2 Sticks
Sapphire Axe (1075) - 3 Sapphires + 2 Sticks
Sapphire Hoe (1076) - 2 Sapphires + 2 Sticks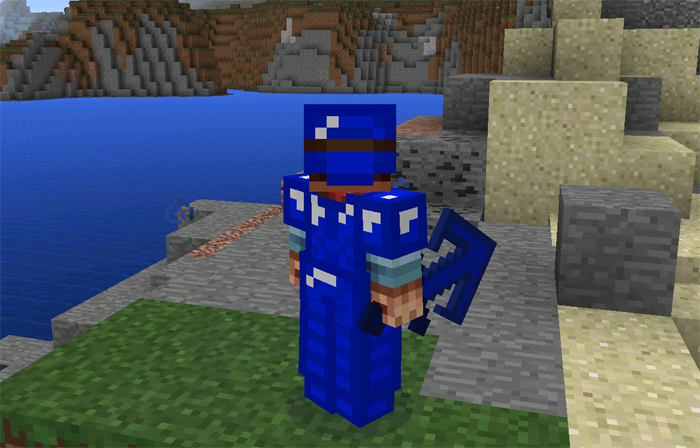 Topaz
Chestplate Potion Effect: Speed II
Special Weapon Specialty: Run a chance of paralysing your enemies
Topaz (1077) - 1 Topaz Block
Power Gem of Speed (1078) - 5 Topaz
Topaz Helmet (1079) - 5 Topaz
Topaz Chestplate (1080) - 7 Topaz + 1 Power Gem of Speed
Topaz Leggings (1081) - 7 Topaz
Topaz Boots (1082) - 4 Topaz
Sword of Paralysis (1083) - 1 Topaz + 1 Power Gem of Speed + 1 Iron Ingot
Topaz Pickaxe (1084) - 3 Topaz + 2 Sticks
Topaz Shovel (1085) - 1 Topaz + 2 Sticks
Topaz Axe (1086) - 3 Topaz + 2 Sticks
Topaz Hoe (1087) - 2 Topaz + 2 Sticks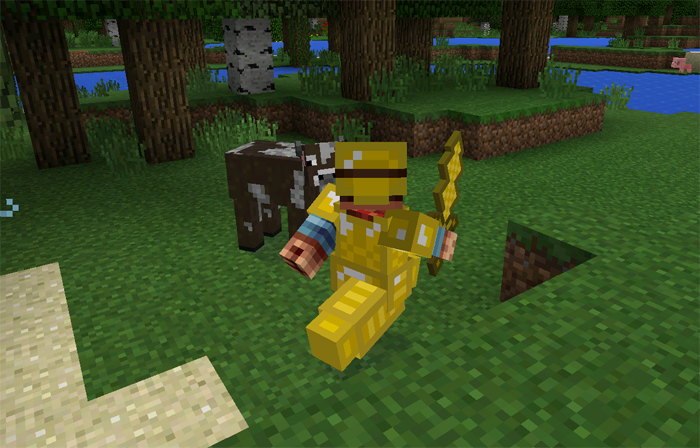 Tourmaline
Chestplate Potion Effect: Regeneration II
Special Armor Specialty: Deadly weapon
Tourmaline (1088) - 1 Tourmaline Block
Power Gem of Regeneration (1089) - 5 Tourmalines
Tourmaline Helmet (1090) - 5 Tourmalines
Tourmaline Chestplate (1091) - 7 Tourmalines + 1 Power Gem of Regeneration
Tourmaline Leggings (1092) - 7 Tourmalines
Tourmaline Boots (1093) - 4 Tourmalines
Scythe of Reaping (1094) - 1 Power Gem of Renegeration + 2 Tourmalines + 3 Iron Ingots
Tourmaline Pickaxe (1095) - 3 Tourmalines + 2 Sticks
Tourmaline Shovel (1096) - 1 Tourmaline + 2 Sticks
Tourmaline Axe (1097) - 3 Tourmalines + 2 Sticks
Tourmaline Hoe (1098) - 2 Tourmalines + 2 Sticks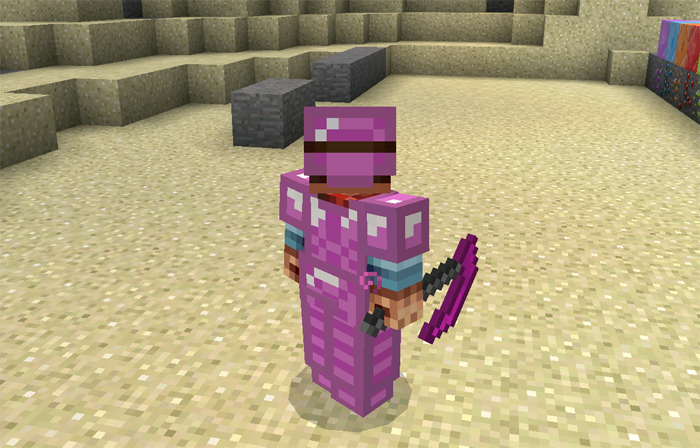 https://www.youtube.com/watch?t=429&v=88PLvtaBtuc