Are you tired of annoying chat backgrounds and oversized titles blocking your screen? ProHUD is a UI pack made conveniently to solve this issue! In this pack, we repositioned some of the HUD elements so that it doesn't block your screen at all!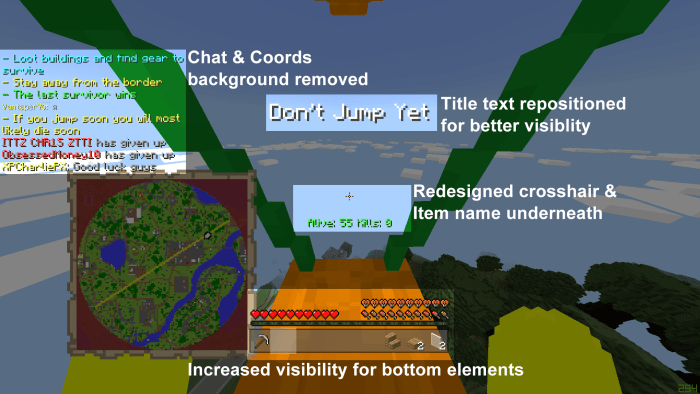 Lifeboat - Battle Royale
Features
Compact chat

CubeCraft - Lobby
The size of the chatbox has been made narrower and displays fewer messages at a time, and the background of the chat and the coordinates have been removed. No longer need to worry about some kid spamming your chat and taking up 25% of your screen.
Improved bottom HUD elements

skybird23333 - UHC Function
The HUD has been repositioned higher and the Hotbar has been made transparent to make it quicker to scan through your items and your statuses. The item name has been put directly underneath the crosshair for it to be seen easier. The crosshair is also remade, now with more accuracy and less "how did I not hit them?".
Smaller title texts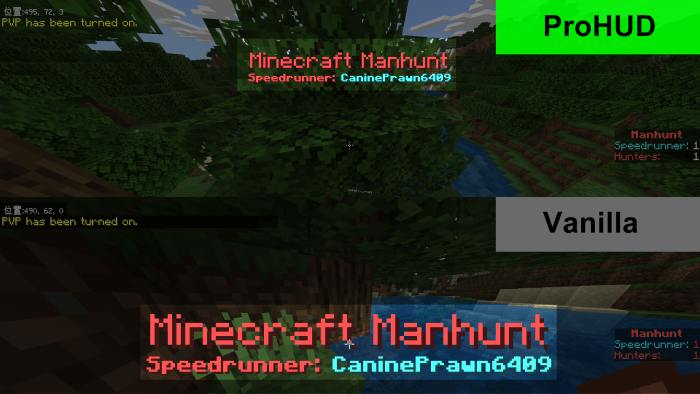 JaylyMC - Manhunt
No longer will you have to worry about the title text taking up almost half of your screen when the game starts. It is placed above the crosshair and the font has been made smaller for better readability. You can now act faster when thinking how to get that top chest in survival games without getting disrupted by that gigantic "GO" in front of your screen!
Device Compatibility
XBOX - Tested with split-screen enabled ✅
Android(16:10) - Fully functional with some misplaced elements, no affections ⚠
iPad(4:3) - Fully functional with UI profile set to classic ✅
PC/Desktop(16:9) - Tested with multiple window size ✅
As said above, this pack might still not work on your device. For maximum compatibility, please set your HUD Scale to the lowest and your UI Profile to Classic.
Contact/Support
Although this pack has been tested on multiple devices, it might still not work on your device. Therefore, you can join our Discord server for support or give us suggestions to improve the pack! We are looking forward to your feedback. The backup download link(without adf.ly) is also available in our server.