This add-on adds a new villager type called the Reasonable Villager. He's way less greedy than the other villagers and can sell you everything from food items to diamonds and emeralds in exchange for just some dirt, wood planks or other items. It's great for anyone who want to improve the functionalities for villagers and make them more useful.
Creator: 
Jujustyle7
,
Twitter Account
How does it work?
The Reasonable Villager wears a brown coat and is slightly taller than the other villagers. You can trade with him just the same way as any other villager but the difference is the type of trades he offers. He accepts most items and blocks but you won't see the trading option unless you've got them on you.
Dirt Blocks = Emerald
Wood Planks = Emerald, Crafting Table, Chest
Wood Logs = Diamonds
Wheat = Melon Seeds, Pumpkin Seeds, Beetroot Seeds
Cobblestone = Furnace
Iron Ore = Iron Ingots
Gold Ore = Gold Ingots
Sugar = Cake
Pumpkin = Pumpkin Pie
And much more!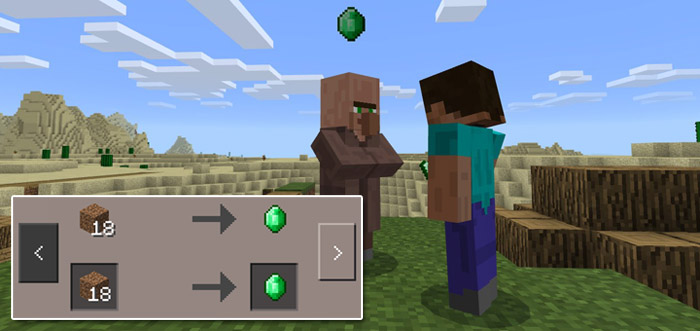 This idea was originally provided by Chris T. via email! Thank you! :)
Installation
Activate the pack for a world in-game
You can get a .ZIP file for this addon here.