Do you master the art of redstone? This map provides the perfect challenge to test your redstone skills with a combination of parkour. In each level you will be provided a blueprint for the redstone and you have to use block rules to figure out how to structure the redstone. If you succeed then a door will open and you can move onto the next level.
Creator: SUEZ
How to play?
In each parkour level you can retrieve items related to redstone. Read the block rules to find out on which blocks you are allowed to place the redstone blocks.
Here's the solution for the first level to give you an idea how it works. Find and stand on a pressure plate to retrieve the redstone items. Then use the block rules to place them on the clay blocks. If you do it right the door to the even more complex level will open.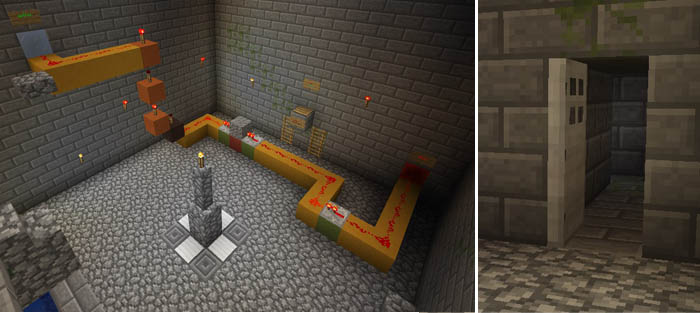 Block Rules
Yellow clay = Redstone (powder)
Brown clay = Redstone torch, wooden button
Orange clay = Redstone torch
Light blue clay = Allowed to place this block, even if there isn't a red block. Not allowed to place blocks on this block.
Red clay = Stone blocks, hopper
Magenta clay = Redstone comparator
Lime clay = Redstone repeater