Fortnite is the massive gaming success of 2018 and 2019 year. SkyGames has created the amazing game in Minecraft! If you love Fortnite, or just Battle Royale in general, then this is one of the best such maps you will find for Bedrock Edition! Creators: SkyGames Team (Twitter) (Website) (View all credits) Commands: Traswen Texture Pack: FogzGamez Builder: leefnut, Inviziy, FogzGamez, TylerSk8Z Updated: 7 March 2019
Trailer:
Features

Cloudy Warfare Addon for the Weapons [No Explosives]
Map by Leefnut [1.0 Version is the original, We have majorly updated it]
10 Minute Game
Working Storm with Randomised Games
Lobby
Random Game Spawning
150+ Chest Spawns
50+ Chest Formations
Compass and HUD showing Circle Location
Settings Board
Full Storyline updated Every Month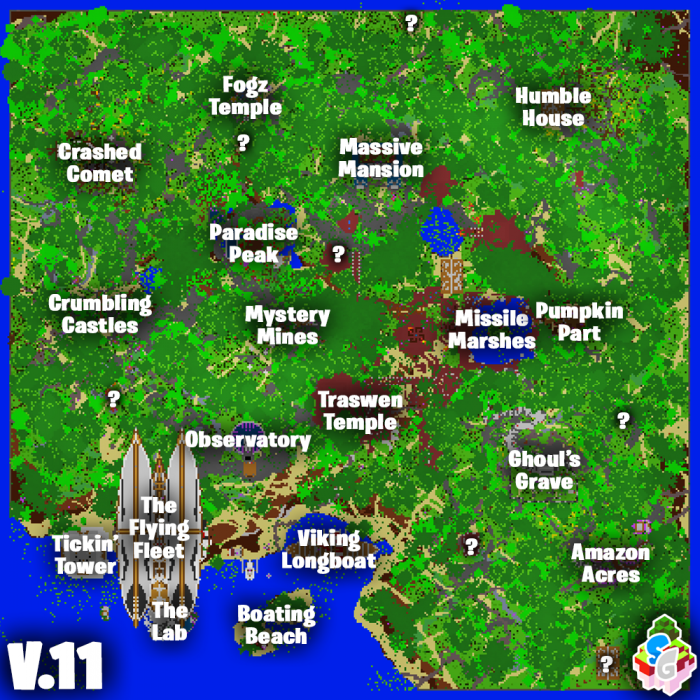 All Locations
The Lab
Viking Longboat
Boating Beach
Humble House
Crumbling Castles
Traswen Temple
Amazon Acres
Missile Marshes
Ghoul's Graves
Crashed Comet
Observatory
Fogz Temple
Mystery Mines
Massive Mansion
Pumpkin Park
Paradise Peak [NEW]
The Flying Fleet [NEW]
Tickin' Tower [NEW]
Bunkers
SECRET CAVE ADDED. SEARCH ALL '?' ON THE MAP
Credits
Changelog
New Features:
All of the trees are back! The version without the trees is boring but is still available on the app 'MCPE Addons'!
New Locations:
Viking Longboat
Humble House
Removed Locations:
- All Christmas Locations
- Mount Weather Bunker
Paradise Peak [NEW]
The Flying Fleet [NEW]
Tickin' Tower [NEW]
New Hidden cave at one of the '?' markers on the map!
Downloads
Supported Minecraft versions
1.9