This is the second installment of the popular Minigame Festival series. This map contains three different minigames such as Package Hunt and Christmas Rush. It's best if you can get a friend (or several) to play with as the games have been designed for multiplayer. Get ready for Christmas with these awesome Christmas themed minigames!
Creators:
SkyGames Team
 (
Twitter
) (
Website
):
MCPEtraswen
 (Owner), 
FogzGamez
 (Co-Owner), 
Luma
, 
Cheete
 (Manager), 
jobetyk
 (Main Builder), 
McMCPE1234
 (Tester), 
AmazingGamerPH
 (Renderer)
Minigames
Here is a list with a brief introduction about each minigame. You can find more information in-game.
Christmas Rush

Elf Role: Defend the Gifts under the massive Christmas tree. You can kill grinches to turn them into elves. If you successfully kill all grinches then you've won.

Gifts n' Elves

A hide and seek minigame where you've got to hide as a present before one of the elves pick you up.

Grinchmas

Package Hunt but with a Christmas twist!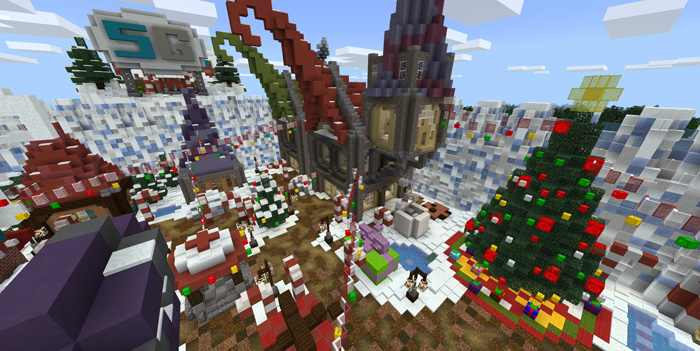 Installation