The Santa's Crew Skin Pack is a wonderful and fun addition to any roleplay or server meetup! Wear the fun skins by selecting them in your skins menu! Play as any of the four awesome characters dressed as cool Christmas people! Download now Cloudies to enjoy the sprit of Christmas!
Creators: 
SkyGames Team
 (
Twitter
) (
Website
) (
View all credits
)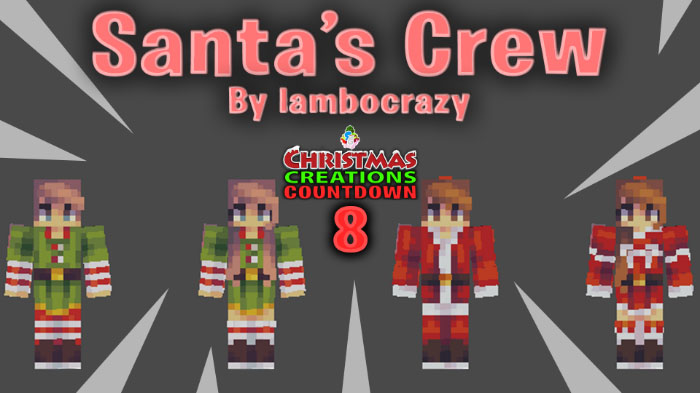 Credits
MCPEtraswen
 (Owner)
FogzGamez (Co-Owner)
Luma (Main Builder)
GianZMC (Builder)
McMCPE1234 (Tester)
AmazingGamerPH (Renderer)
DJTMGaming (Co-Owner)
pattcosmics (Builder)
deadmanplaysMC (Builder)
LUIS6234 (Builder)
Nikilas11 (Builder)
HongyiMC (Programmer)
Mauripichi_
leefnut (Builder)
TylerSk8Z (Builder)
zomorocks26
Lambocrazy (Skins)
Installation
Start Minecraft
Select one of the new skins!